Thinking about a new set of wheels? A car loan can be a good option to finance the purchase of a new or used car, but there may be a limit to how much you can borrow.
A car loan works like this: if you don't have the cash to pay for the car upfront, you may be able to borrow money and pay it off with interest over a period of time.
What types of car loans are available?
Car loans typically fall into two main categories: secured and unsecured. With a secured car loan, the vehicle you purchase is used as security to guarantee the loan (if the loan is not repaid, the lender may sell the vehicle to get its money back). With the other main option – an unsecured car loan – the vehicle you buy would not be used to guarantee the loan. Unsecured car loans are often simply advertised by providers as 'personal loans'.
Whatever the category, taking out a car loan comes with pros and cons (we'll cover these below) but depending on your situation it's an option that could enable you to get the car without needing to lay down the cash upfront.
Are there borrowing limits for car loans?
Depending on your choice of car, the type of loan and your financial circumstances, you may not be able to borrow the total worth of your vehicle. Some providers set a minimum and maximum amount of money you'll be able to borrow when applying for one of their car loans.
There is no set-in-stone rule regarding these amounts – in fact, some providers have no limit to the amount you can borrow.
According to Canstar's database, a common cap for providers who do have an upper limit for their car loans is $100,000. At the other end of the scale, a common minimum amount set by providers is between $5,000 to 10,000. For example, three of the big four banks have the following limits for customers taking out a car loan (ANZ no longer offers a car loan product):
| | | |
| --- | --- | --- |
| Provider | Minimum | Maximum |
| Commonwealth Bank | $10,000 | No maximum |
| NAB | $5,000 | $55,000 |
| Westpac | $10,000 | $100,000 |
Canstar's car loan comparison tables allow you to compare products for loan amounts up to $150,000 and as low as $1,000. Our annual Car Loan Star Ratings methodology states that lenders must offer a loan amount of $25,000 to be eligible for a rating.
The table below displays a snapshot of car loan products on Canstar's database with links to provider's websites, sorted by Star Rating (highest to lowest) then by comparison rate (lowest to highest). These results are based on a loan amount of $25,000, for new cars in NSW for five years.
But how much should you borrow?
Ultimately, this is a question only you can answer taking into account your circumstances and priorities. Research from Roy Morgan shows the average Australian household spent $36,840 on cars in 2015, a figure which equates to 28% of their annual household earnings. This is a pretty significant amount of money, and the same research shows that the intended spend amount increases with income.
Car loans, like other lending products, can help you achieve your personal goals if managed correctly; but if you take out a loan that is beyond your means or with a high interest rate it could turn out to be a costly decision both financially and emotionally. So while picturing yourself in your dream car might be nice, it can help to be realistic when making your decision.
You can use Canstar's car loan calculator to work out what your repayments might be. Depending on the interest rate, the loan amount, the loan term and the frequency of repayments, the total amount owed under your car loan will change.
How do lenders determine how much you can borrow?
So, if you've used the calculator you have probably worked out how much you want to borrow and how much you think you can repay on each due date. However, the final decision may not rest with you – your lender will assess a variety of factors in your application before approving a car loan, including:
Your credit score: Your credit score is often an important factor to consider when it comes to applying for a car loan, as it summarises your reliability as a borrower. Here is a helpful article on how to improve your credit score when applying for a car loan.
Your total yearly income: Having a stable job means lenders may see you as a safer bet, and a higher income may mean you're eligible for a higher loan amount. If your income is below a certain level, you may be rejected for loans above a certain amount.
The amount of savings you have: Lenders often look at people's savings as a form of proof that they do in fact have money on hand should anything unexpected arise. Having a good amount of savings may be viewed by lenders as evidence that you are responsible with money and will also be more likely to meet your repayments.
Your regular living expenses: How much you spend on things like utility bills (gas, electricity), food and fuel costs may also be a significant factor. As well as these costs, your rent or mortgage repayments will likely be taken into consideration by the lender, along with your number of dependents.
Borrow, or save?
Of course, you may not have to borrow anything at all if you have the cash to pay for your car upfront. This can be challenging, though, as for most people saving $20-$30,000 requires a lot of discipline, not to mention time. But, if you do buy the car outright, you could save yourself a significant amount amount of money, as this graphic from ASIC demonstrates – based on a car with a purchase price of $28,000. The total car cost shown includes running costs, like maintenance, registration etc.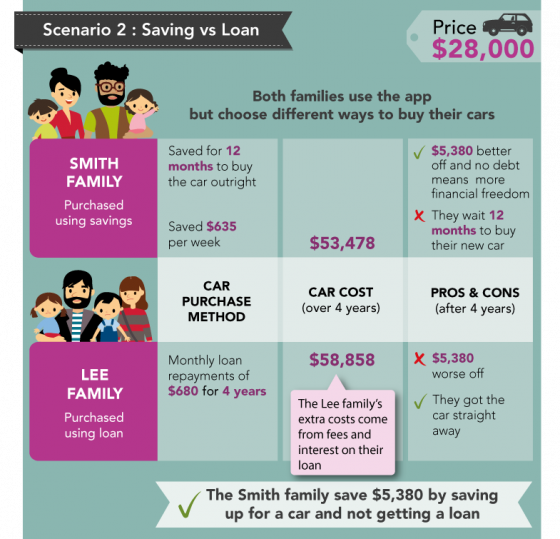 But it's important to note that there are also potential benefits to choosing to get a car loan:
It may mean being able to drive away in the car sooner.
You could have greater flexibility, such as the choice of a more suitable but expensive car that you otherwise might not have been able to afford through your savings alone.
Saving the money to pay in cash requires discipline and may have an impact on your lifestyle.
If you do decide to take out a car loan, consider the interest rates, fees, lending terms, repayment options and more before deciding. You can compare loans based on these criteria with Canstar: