Not only can meal planning help you save money on groceries but you may save time as well. Here are eight tips to help you maximise the savings.
Are you looking for an effective way to save money on food while saving time and reducing mental load as well? Meal planning can be one of the best ways to do this.
When you don't plan meals, you could end up shopping many times a week. This takes time and increases the chances of opting for more expensive convenience meals.
Extra trips can mean using more petrol. And more time in the supermarket means more opportunity to impulse buy. Instead, meal planning helps you to shop once, saving time, trips and treats.
If you want to reduce temptation altogether you can now do all your planning and shopping online – the whole process can be done in minutes.
Here are eight tips to help you maximise your savings.
1. Check your supplies before making a plan
Use up food in the fridge and the pantry before it goes bad. Check what foods need using up before menu planning and plan meals around what you have.
2. Look out for specials
Check your supermarket catalogue to see what is on sale – especially meat – and incorporate items on special into your meal plan for the week.
3. Stock up on staples when you see them on special
One way to reduce the cost of cooking is to stock your pantry with essential ingredients you regularly use when those ingredients go on sale. When it's time to cook, all the necessary ingredients are on hand and you've bought them at a good price.
If you shop for your groceries online, then the easiest way to keep on top of your household staples is to create a quick reorder list with your online supermarket. Then shopping is a matter of scanning your list and clicking the items you need to stock up on.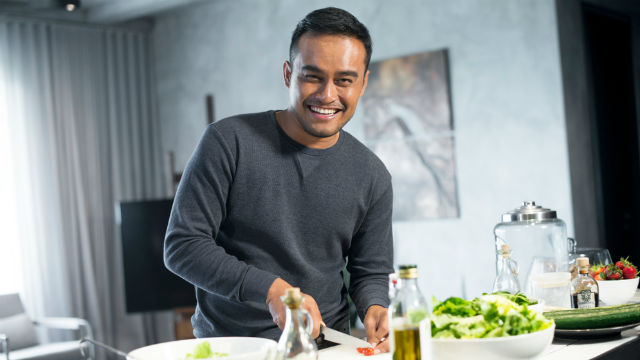 4. Make the most of everything you buy
Australians throw away up to 20% of the food we purchase. That's money going into the bin. By planning what to eat and then eating what you buy, you could be saving hundreds of dollars a year by avoiding wasted food.
If you're buying an ingredient for one meal but only use half, plan a second meal that uses the rest of that ingredient, so it doesn't go to waste.
If your leftovers don't make a whole meal, you can incorporate them into baking for inexpensive snacks. For example, a little bit of leftover yoghurt can be put into muffins. Then freeze excess muffins for easy snacks later in the week.
5. Make extra and freeze the leftovers
Plan meals that can be doubled and then freeze the leftovers for the following weeks.
To save money, rather than doubling an entire recipe, bulk it up with extra vegetables that are cheaper than meat. For example, bulk up spaghetti bolognese with lots of chopped or grated vegetables rather than more mince.
6. Plan meals that do double duty
Leftovers from Sunday night's roast chicken can also be Tuesday night's quick pasta meal. And leftover rice from Monday can be Wednesday's quick fried rice.
7. Consider prepping meals ahead of time
Need easy midweek meals for busy nights? Planning your meals can also help you prep your meals ahead of time too. You could do a once a week prep and cook on the weekend, so you have a fridge full of meals.
8. Create a master meal list
A successful meal plan that saves you money starts with a curated list of favourite recipes. These are the tried-and-true budget meals that you know your family likes. Meal planning then becomes quick and easy when you have a ready list of winning meals to plug into your plan.
You can curate your favourite meals online using websites like taste.com and bestrecipes.com.au. These websites let you save and organise favourite recipes for easy access. Taste.com will also allow you to add ingredients to your Coles online cart, making the whole meal planning and grocery shopping process quick and easy.
The comparison table below shows some of the Savings Accounts on Canstar's database for a regular saver in NSW with links to the providers' websites. The results shown are based on an investment of $100,000 in a personal savings account and are sorted by Star Rating (highest to lowest), then provider name (alphabetically). For more information and to confirm whether a particular product will be suitable for you, check upfront with your provider and read the Product Disclosure Statement before making a decision.
---

About Melissa Goodwin
Melissa Goodwin is the creator of Frugal and Thriving, a website all about how to save money and live large on a budget. She is also the author of Plan Cook Save: How to eat well when money is tight and time is short.
Main image source: Pixel-Shot (Shutterstock)