With age pension eligibility rules being tightened and a low official cash rate, there?s no doubt that income is very much top of mind for many self-funded retirees at the moment. For many retirees account based pensions provide a tax-effective income stream in retirement and each year CANSTAR researches and rates public offer account based pension funds across Australia to determine which ones offer outstanding value for money. This year we looked at 66 different products from 59 superannuation providers, with AMP?s Flexible Super Retirement Account achieving a five star rating for outstanding value in each category assessed. We caught up with Patricia Montague, Director of Superannuation and Investment Platforms to discuss the advantages of account based pensions.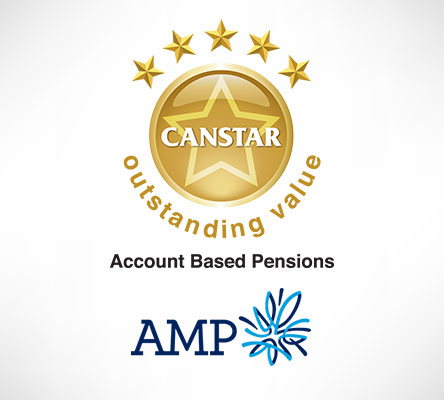 Q: What are some important questions that investors should ask when choosing an account-based pension.
There are many advantages to choosing an account based pension, such as possible tax advantages and access to a diverse menu of investment and product options. An account based pension also gives investors flexibility and control, not only over their investment choice, but also the flexibility to take money out when unexpected things happen. Investors can also choose to take a portion rather than the whole amount, which you don?t have the flexibility to do with other investments such as annuities and term deposits.
However, the most important thing people need to consider is what their goals are. Seek advice so that you?re choosing the right investment options to line up with your retirement goals. For example you may choose an investment option for your day to day living that offers predictable income and an investment option that meets lifestyle goals by providing capital stability while providing a bit more growth. You may also have a goal to leave a legacy or an inheritance, so you might choose some high growth investments. It?s important for investors to have access to high growth investments, even in retirement.
From a technical perspective, investors should also consider at what stage they can start an account based pension, such as using it in Transition to Retirement planning and the tax implications of doing so. They should also consider any social security implications for their situation, any strategies they can use prior to commencing that will improve its efficiency, such as a cash out and re-contribution, and options on death if there is still money in the account based pension.
Q: How important is it nowadays for Super funds to engage with their members online? What types of online resources do members want or expect?
Over the past decade there has been a significant jump in the numbers of customers who engage with their finances, including superannuation, online. Customers want it to be both easy and accessible. So providers need to offer customers apps as well as good online services so customers can access the information at a time that is convenient to them.
Real time delivery is also important for customer engagement. The AMP app combines banking, superannuation and investments so a customer can have a whole of wealth view of their finances. This means they can track their super balance and contributions, monitor investments and keep up to date with markets, which is important because most customers want to have a sense of control over their finances.