Regardless of when you decide to do it, moving out of home for the first time is and always will be a difficult and nerve-wracking experience. You can do yourself a favour though by making sure that you have all your bases covered, or at least as many as possible.
Evaluate why you've decided to move out
Think about it long and hard, and make sure that you're moving out for the right reasons. Otherwise you could end up moving back in after a short period, which will just be a waste of time and money – and might annoy your parents! So if you decide to move out, make sure you're convinced enough to follow through with your choice. You might just want to get away from your family, or move to a city for work/uni, had troubles with housemates or a plethora of other reasons.


Moving out of home? Nine things to think about…
Think about where you want to, and can afford to live
You might want to live in an inner-city flat, but you might only be able to afford a tiny house in the suburbs. It's important to know this, and to be able to reach a compromise. And for high flyers, NSW is the place to be, with rental prices that are some of the highest in the country; Flatmates.com.au advises that the five most expensive suburbs to rent a private room currently are:
Pyrmont, NSW
Zetland, NSW
Potts Point, NSW
Manly, NSW
Darlinghurst, NSW
Odds are that you will have to compromise for a mixture of location, features, space and type of accommodation, so make sure that you consider what you want out of your living space and where you can afford to live. Can you afford your own unit, or are you looking for share accommodation? If you're a student, could you live on campus?
Budget your expenses
The most common difficulties post-move are financial, and this is usually due to poor budgeting or none at all. Make a list of ALL your expenses, not just the main ones. Include your morning coffees and your semi-regular eBay sprees, as this will help you to develop a comprehensive budget that will in turn help to make sure that you're financially sustainable.
Also remember that you'll have to pay bond, which is usually four weeks rent.
Think about non-essential services like Wi-Fi and cable television. Do you really need services like these? Can you afford to pay for them on your own?


The art of living on a university budget…
While you're thinking about expenses…
Home and contents insurance if I'm moving out of home
Thankfully, if you're renting, you only need contents insurance to cover loss or damage to your personal belongings. This is because your landlord's home building insurance (known as landlord insurance) will cover any damage or loss to the building.
If you're a renter in a low income earning situation, don't freak out too much about the average cost of insurance, as you may be able to apply for low cost contents insurance. At the time of writing, this is available through Essentials by AAI (by Suncorp and Good Shepherd Microfinance), which won our 2016 Innovation Award, or Insurance For That (by IAG and – again – Good Shepherd Microfinance). That's not a product recommendation, though, and we recommend that you investigate whether these low cost options would actually provide enough coverage for your situation before applying for any policy.
To the extent that the information in this report constitutes general advice, this advice has been prepared by Canstar Research Pty Ltd A.C.N. 114 422 909 AFSL and ACL 437917 ("Canstar"). The information has been prepared without taking into account your individual investment objectives, financial circumstances or needs. Before you decide whether or not to acquire a particular financial product you should assess whether it is appropriate for you in the light of your own personal circumstances, having regard to your own objectives, financial situation and needs. You may wish to obtain financial advice from a suitably qualified adviser before making any decision to acquire a financial product. Canstar provides information about financial products. It is not a financial provider and in giving you information it is not making any suggestion or recommendation to you about a particular financial product. Please refer to Canstar's FSG for more information.
Sharing accommodation?
If sharing, think carefully about whose name(s) will be on the lease and utilities bills. Be aware that if your name is on a rental agreement and/or a utilities account, all you can be jointly and severally liable for any debts.
Moving day
On the day you move, consider the following:
Will you hire people to help you move, or just ask your mates?
Is the property furnished? If not, you'll have to buy your own furniture, which can be hard on the wallet.
Make a comprehensive list of everything you want to take with you. You'll be less than pleased if you finish moving in, want to sit down and relax, and realise you've forgotten your CD player.
Sort out things like home and contents insurance and utilities before you move in. Otherwise you risk starting this exciting new period of your life with an ice-cold shower, power, or internet.
Don't waste time and money by taking things you don't want with you. See if you can sell them off, and if you can't, just throw them out. The fewer things you take, the easier your move will be, and if you're hiring movers, it'll cost less.
Make sure to notify all important institutions like your bank or your university of your change of address, or go to your post office and set up a mail redirect.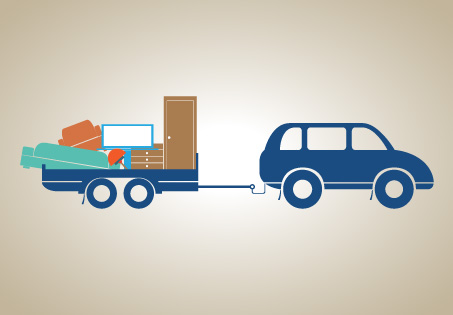 Now you're moved in!
Once you've moved in, even if things went off without a hitch, be careful for the first few months. Keep a tight rein over your expenses, just so you can get a feel for your new lifestyle without having an added financial worry. Keeping a strict financial guide will serve you well in estimating expenses and extra spending money.