Essentials by AAI has won a 2016 Canstar Innovation Award. Canstar caught up with Suncorp, to find out more about the development process and consumer application.
For Australians living week to week, protecting the possessions they have is vitally important, but the cost of that protection can be out of reach. In 2015 Suncorp and Good Shepherd Microfinance announced the launch of Essentials by AAI, the first accessible insurance cover for people on low incomes.
The new product impressed Canstar's Research team and has awarded Essential by AAI a 2016 Innovation Award. We caught up with Suncorp, to find out more about the development phase of the product.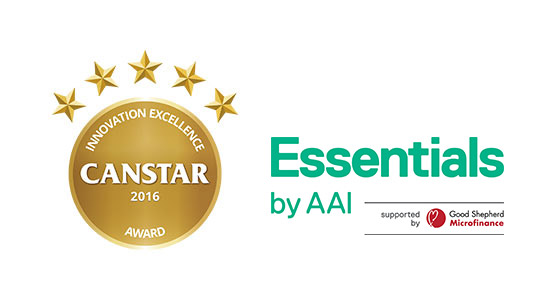 Q: Where did the idea for Essentials by AAI first originate?
A: Over time, Suncorp has become concerned about the rising costs of premiums in different classes of insurance and the number of un-insureds in the Australian market (estimated to be approx. 20% by the Centre of Social Impact). Suncorp had actively supported both the Brotherhood of St Lawrence and more recently Good Shepherd Microfinance (GSM) in trying to understand the issue and consider potential solutions through various consultation processes.
Suncorp is a strong advocate for risk transference in the economy and also wishes for all of our community to be able to access the appropriate financial services to enable this to occur. This vision is in line with GSM's, so Suncorp and GSM decided to work in partnership to see if something could be done to increase access to general insurance and improve our country's overall financial inclusion.
The idea for the Essentials by AAI product was created by an external working group, utilising a humanistic design strategy, to enable the product to meet the needs of its customers.
Shopping around for a home insurance policy?
Whether you're looking for home, contents or combined cover, you can easily compare from 100+ policies with Canstar.
Q: What was the development process for the product?
A: Essentials was co-designed with Suncorp by an External Working Group, who consisted of representatives from Legal Aid, Financial Counsellors, Consumer advocates, RMIT and the Financial Ombudsman Service (FOS). Additionally we partnered with Good Shepherd Microfinance and set up a pilot with some of their "Providers" in their micro-lending network to allow us to understand the needs of our customers and to design a product that met those needs. We designed various prototypes and tested them with the "Provider" network which allowed us to tweak and alter to ensure the product truly met the needs of our customers. The whole strategy was very open and collaborative.
Q: As the first product of its kind, what were some of the challenges in the development phase?
A: We were unable to create everything that the External Working Group would have liked, due to our own internal limitations, current legislation and the practicality of cost. However we got pretty close. It is a unique product, given the way the customer can build it, have different classes of insurance on one policy (therefore one payment) and access CentrePay/Basics Card to pay for it. Multiple features inside Essentials have been developed specifically for its customers, this includes different underwriting rules, different pricing structures, different excesses etc.
Q: Insurance can be a very difficult product for consumers to understand and you use a simplified PDS and animation on your website to convey the insurance messages and details. Is this something that you might roll out for your other insurance products?
A: Yes we have been looking at this for other products, especially the more complicated ones.