Canstar has announced the winners of its new Youth Banking Award, which recognises the bank and customer-owned institution on our database offering outstanding value when it comes to the products, tools and learning resources they provide young customers and their parents.
As part of the Award, Canstar analysed 190 youth banking products from 45 financial institutions.
"Our new Youth Banking Award aims to help parents to identify the providers that have tools and resources to assist in guiding their kids in their early banking experiences, while also directly lifting the kids' knowledge and understanding," Canstar finance expert, Steve Mickenbecker, said.
"At the same time, the Award highlights products that encourage saving, through their product design and interest incentives. Banks are positioned to not only provide the theory around finance, but to reinforce theoretical learning by providing products and services that encourage the development of sound financial habits."
What makes for an Award-winning youth banking provider?
Canstar's Youth Banking Award recognises providers that offer outstanding value to Australian pre-teens, teenagers and their parents based on the following criteria:
Product rates and fees, transaction capability and features, including those that encourage saving behaviour.
Tools and resources designed specifically for children, including savings activities and calculators, pocket money tools, saving goal trackers, specific youth banking apps and video tutorials.

Tools and resources specifically for parents, such as parental controls, notifications and alerts, merchant restrictions, online banking access and learning resources.
To be eligible for consideration, institutions must offer a savings account that can be used by a consumer under 12 years of age, as well as products aimed at those aged between 13 and 17 years old. These can include products such as junior saver accounts and youth transactor accounts.
With school banking programs currently under review by the Australian Securities and Investments Commission (ASIC), Canstar has reviewed its approach in the important youth segment. The separate Junior and Youth Banking Awards have been merged into the new Youth Banking Award, recognising that they are steps in the same journey to financial maturity. School banking now plays no role in any of Canstar's Australian research methodologies.
Our research team noted that this year's Youth Banking Award winners excelled across the full range of criteria assessed.
Bank of the Year – Commonwealth Bank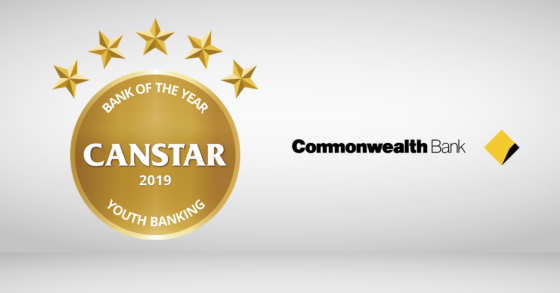 Commonwealth Bank of Australia (CBA) won Canstar's 2019 Youth Banking Award – Bank of the Year. It was recognised for the comparatively wide range of tools and resources it made available to both children and parents.
Canstar Research noted the following specific aspects of CBA's performance:
Its Youth Saver account, which at the time of the Award announcement offered an interest rate of 2.1% for balances up to $50,000 when the account holder makes at least one deposit and no withdrawals during a month.

Its Smart Access account, which is fee-free for the youth market and offers a debit card, Apple Pay, and access to CBA's

Award-winning online banking platform

.

Its mobile app developed specifically for children under 14, which allows customers to view their balances and set savings goals, but does not allow for external transfers.

CBA's wide range of tools which allow parents to monitor and manage their children's spending.
Customer-Owned Institution – Newcastle Permanent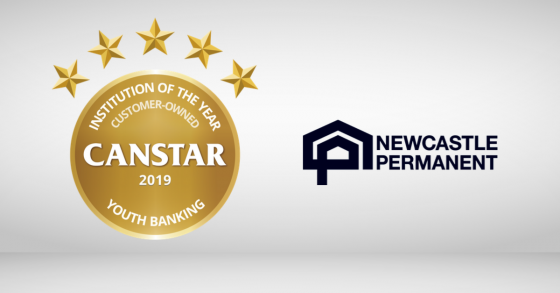 Newcastle Permanent won Canstar's 2019 Youth Banking Award for Customer-Owned Institution of the Year. It earned the top spot largely through a combination of competitive products and the extensive monitoring resources it offered to parents.
According to Canstar Research, the following factors were key to Newcastle Permanent's win:
The Smart Saver Account, which at the time of the Award announcement offered an interest rate of 2.55% to young customers when the balance in the account grows by at least $10 and the account holder makes no more than two withdrawals in a month. The account also offers access to a debit card.

No account-keeping or everyday transaction fees on the Everyday Account.

The option for parents with children under the age of 14 to have complete control of their child's account, along with the ability to review savings and spending. The controls can either remain in place or be relaxed once the child turns 14.

A range of activities aimed at helping pre-teens learn to track their savings and set savings goals.