Canstar has revealed the 2019 Bank of the Year and Customer-Owned Institution of the Year Award winners for Online and Mobile Banking, having considered 79 providers from across Australia.
After rating online and mobile banking functionality offered by banks and Customer-owned institutions, Canstar has announced the winners of the 2019 Bank of the Year and Customer-Owned Bank of the Year awards for Online Banking and Mobile Banking. Canstar's Online and Mobile Banking Awards recognise institutions that offer quality online and mobile banking services to enhance customer experience.
Canstar Research considers banks for the Bank of the Year Awards, as well as Customer-owned institutions such as mutual banks, credit unions and building societies for the Customer-Owned Bank of the Year Awards. The Award recipients are institutions that receive the highest score across a range of criteria encompassing functionality and customer satisfaction.
In deciding the winners, the following factors were considered:
Payments and transactions:

Domestic
International
Bill payments
Contactless

Research and applications:

Calculators
Product information (including quick links and transparency of information)
Application (including process and ID verification)
Education tools

Security

Secondary authentication
Automatic log-off/lock out functionality
Suspicious transaction alerts
Not-at-fault transaction policy

Banking assistant features:

Account status and information
Budgeting tools
Alerts
Compatibility
Account maintenance
Other services (such as ability to access account information across other products)
Product specific (such as home loans and credit cards)

Support:

Community
Customer support
Location services
The Bank of the Year – Online Banking and Mobile Banking Awards also consider customer satisfaction results collected as part of Canstar Blue's Most Satisfied Customer Awards for Major Banks and Challenger Banks. Canstar Blue is Canstar's sister company dedicated to providing customer reviews collected from Australians and professional market research groups to help consumers compare brands of their choice.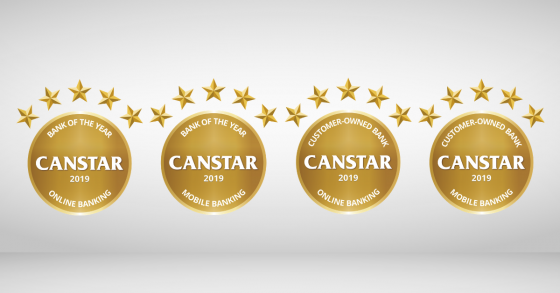 Bank of the Year – Online Banking & Mobile Banking: Commonwealth Bank
Commonwealth Bank (CBA) has maintained the top spot as Bank of the Year – Online Banking for the tenth consecutive year, while also taking out Bank of the Year – Mobile Banking Award for the fourth year in a row.
Canstar Research said one of the drivers behind CBA's win in both categories again this year was its comprehensive package of transaction features, including its early adoption of a number of New Payment Platform (NPP) tools, such as PayID. This service, powered by Osko, allows customers to send and receive money instantly between eligible accounts by registering a mobile or landline number, email address or even an ABN, ACN or ARBN as a form of PayID. Commonwealth Bank also provides a full offering of contactless payment options with Google Pay, Samsung Pay and Apple Pay now on board, while also continuing to offer customers the ability to withdraw money from CBA-owned ATMs without needing a card (Cardless Cash).
Canstar's Research team also specified CBA's suite of account management options as a key factor in its online banking win.
In addition, the research team said CBA also met the needs of its saving-oriented customers by offering a wide range of budgeting and saving tools, such as spending and projected savings graphs, saving goal options and auto-categorised spending, all accompanied by calculators and various education tools. This support, the team said, continues with the bank's customisable alert options through SMS, email, and in the CBA app.
Customer-Owned Bank of the Year – Online Banking & Mobile Banking: Beyond Bank
Canstar Research identified Beyond Bank as providing leading online and mobile banking for customers, naming the institution as the winner of Customer-Owned Bank of the Year – Online Banking for the fifth consecutive year, and Customer -Owned Bank of the Year – Mobile Banking for the fourth year running.
According to the research team, the two key factors which led to Beyond Bank taking top spot again this year was its standout performance within online account management and support functionality.
Beyond Bank, they said, led the way in offering a range of card and account maintenance options for consumers, such as the ability to set card limits, manage pins, cancel or lock lost or stolen cards, activate new cards, set up Apple Pay, Google Pay or Samsung Pay, register a PayID, set SMS alerts, and close credit card accounts, through the mobile app or on the website.
Canstar's Research team said Beyond Bank also met the needs of its saving-conscious consumers by providing multiple budgeting tools, such as spending and savings graphing. This graphing is accompanied by product-specific calculators, such as mortgage and term deposit calculators.
Another strong selling point, according to the research team, is Beyond Bank's online support features. This includes a live chat support service on its website and the option to send customer enquiries through Twitter and Facebook, with a fast response time reported for the latter.