One of Australia's largest supermarket chains has apologised after admitting it owes thousands of staff up to $300 million for underpaid wages and super stretching back nine years. Here's why it pays for consumers to check their super statements regularly, and what you should do if you think you might be owed money by your employer.
Woolworths "unreservedly" apologised in a statement on Wednesday to its 5,700 past and present salaried staff who were underpaid by a total of $200 million to $300 million when they worked in its supermarkets and metro stores. That could work out to an average of about $52,000 per employee.
The blunder was discovered earlier this year, when Woolworths conducted a review due to the implementation of a new enterprise agreement, which saw it look at its records between September 2017 and August 2019. But the retail giant now estimates the underpayment issue could go as far back as 2010.
Woolworths said its supermarket and metro staff who'd been underpaid during that two-year period would be reimbursed by Christmas.
"Affected current and former salaried team members will receive their full entitlements, including back payments with interest and superannuation contributions, as soon as possible," Woolworths said in a statement on Wednesday.
Canstar finance expert Effie Zahos said consumers needed to be on the money as well.
She said that it was really important for all consumers to not only check their pay slips, but also their super statements to make sure they are receiving super payments.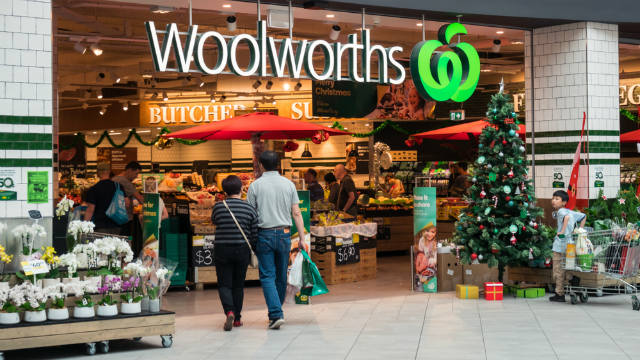 "When you get paid, you can see how much your boss paid you and how much super was contributed, but that doesn't mean that super money has actually gone into your super fund," Ms Zahos said.
"By law, super funds only have to pay super contributions quarterly."
Industry Super Australia (ISA) found in September that about 2.85 million people were missing out on almost $6 billion in super due to the time lapse between wage payments (made weekly or fortnightly) and super payments (made quarterly).
Since then, the Morrison Government has re-introduced proposed legislation that would allow a one-off amnesty for unpaid super with no penalty, which it expects to result in 7,000 employers coming forward to repay around $160 million of superannuation.
The Australian Institute of Superannuation Trustees and ISA have both told a Senate committee they are against the legislation, because it would create a situation where the government was "rewarding bad employers".
For consumers who want to stay on top of their super, Ms Zahos said there were already some funds with mobile apps that notify members when they had received a super payment from their employer, and it could be worth checking if yours could do the same.
How can I find out if I've been underpaid by Woolworths or other companies?
Woolworths has launched a web page to help supermarket and metro employees who think they may have been underpaid to find information and contacts.
On the page, Woolworths said it was "deeply sorry" to all affected employees.
The initial review that uncovered the payment scandal will now be extended to the Woolworths Group's other businesses, including Big W and its liquor arms, Woolworths said.
Woolworths will provide an update of the remediation process at its half-year results in February 2020.
If you are concerned that you may have been underpaid by Woolworths, or another company, there are some simple things you can do:
Thanks Stevo, we're 100% committed to making things right and will pay all entitlements owed to our team in full. Please click here to see if you're eligble – https://t.co/F6DYeOws3E

— Woolworths (@woolworths) October 30, 2019
Companies who underpaid staff put on notice by Ombudsman
The FWO came out swinging after the news broke yesterday, saying Woolworths would be held to account for its breach of workplace laws.
FWO head Sandra Parker also put other large companies on notice over the "massive scale" of underpaying staff, specifically naming Wesfarmers, Qantas, Commonwealth Bank, Super Retail Group and Michael Hill Jewellers as offenders.
"Lately, we are seeing a disturbing number of large corporates publicly admitting that they have underpaid their staff," said Ms Parker.
"Some of these matters go back many years and several comprise millions of dollars owed to workers. This is simply not good enough."
Ms Parker said the FWO would consider the full range of enforcement options available to it under the Fair Work Act, including court enforceable undertakings and litigation.
.@Woolworths has admitted it underpaid staff up to $300M. The supermarket giant discovered the shortfall when it checked its compliance with the industry award. Fair Work Ombudsman Sandra Parker is speaking to media. $WOW #7NEWS https://t.co/dza4IqUiHj

— 7NEWS Brisbane (@7NewsBrisbane) October 30, 2019
Woolworths just reported strong sales results, thanks to Ooshies and Discovery Garden
The underpayment announcement from Woolworths overshadowed its first-quarter sales growth – announced the same morning – which beat that of its main competitor, Coles.
Woolworths said the result was driven by the success of its Lion King Ooshies and Discovery Garden collectables campaigns.
Its quarterly food sales rose 6.6% on a comparable basis from the same period a year ago, beating the 0.1% rise from Coles.
The company's growth is widely expected to moderate over the remainder of the financial year.
Image source: ArlifeAtoz2205 (Shutterstock)