Scott Phillips from Motley Fool shares his thoughts on Afterpay and other buy now pay later stocks on the ASX
.
Buy Now Pay Later. Four little words that have captured the attention of – and have thus far made a lot of money for – plenty of Australian investors.
There's Afterpay, Zip, Sezzle, Openpay, Splitit, Plus Flexigroup's Humm and CBA's stake in Klarna to name a few. In case you're wondering, there are only three meaningful global credit card companies (Amex, Visa and Mastercard) and maybe one or two regional players of any size.
How have buy now pay later shares performed?
After tumbling precipitously in early March (at one point shares were down 78% in just over a month), Afterpay is up more than 650% since then.
Over the same period Zip is up 370% and Splitit has gained 530%. Openpay is up 915% (that's a 10-bagger in less than 5 months!) while Sezzle has put on an extraordinary 1,690% – enough to turn $10,000 into $179,000 in less than half a year.
Did I mention investors have made money?
What's next for these companies?
The question on everyone's lips, then, is "what next?". The answer, unfortunately, is that we just don't know. Right now, the dominant narrative is a version of the following:
"Everyone is going to be shopping online. Almost every online retailer offers a BNPL option. And, as a consumer, if you had the option of costlessly amortising your payments, why wouldn't you?"
Which, while simple, is also hard to refute.
Some recent numbers from consulting firm McKinsey suggest that e-commerce penetration in the US went from 5% to 15% between 2009 and 2019. Then, in the first quarter of 2020 alone, shot up from 15% to more than 30%. That's a larger increase in three months than in the prior 360 months combined.
And, once you've signed up for one – or many – of the BNPL players, why wouldn't you use them? I mean, you can either pay $100 right now, or $25 per week for the next month!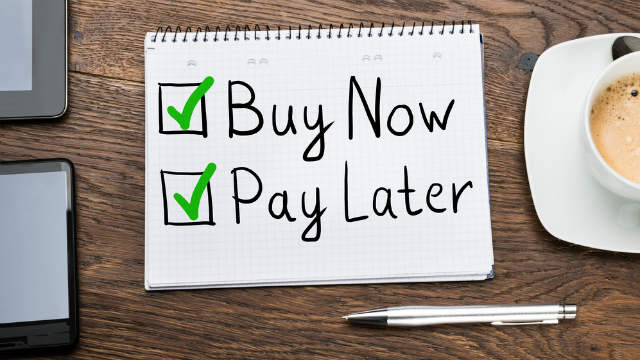 Will there be even more competition in the future?
So the theory is pretty sound, at least when it comes to what the boffins call the 'use case' for this new payment method. But that many players? Just in Australia?
Won't international BNPL options spring up? Won't your bank and/or credit card company want to recover some of that business (and profit) for themselves?
Remember when Uber was the only thing people talked about? If local taxi company Cabcharge had tried to offer a similar service before Uber itself turned up, the government (plus law enforcement and the courts) would probably have come down on it like a tonne of bricks.
"You can't have civilian drivers in unmarked cars without tamper-proof meters!" Except that a little tech start-up could, because it had nothing to lose and went right under the radar until, suddenly, it was too large for governments to actually do anything about.
Ditto Airbnb, which did something Hilton would have probably been taken to court to prevent.
Can you imagine if Amex had tried to set up a BNPL service, with no credit checks and without being subject to the national credit code? The outrage (and legal action) would likely have been thick, fast and overwhelmingly negative.
But a little group, originally called Afterpay Touch, could, and did. Because it had nothing to lose, and was too small for anyone to worry about.
Which isn't to take anything away from what it has achieved. It is a stunning success to be thriving in a market that was too competitive for good old Bankcard (remember that?) to survive.
But now? Won't the incumbents try to strike back? You bet. Will they succeed? That's a much harder question to answer. Walmart let Amazon walk right past it. Ditto Blockbuster and Netflix.
Perhaps the biggest question is how many – and which – of the would-be BNPL players will survive. After all, Afterpay is now worth more than one-fifth of what American Express sells for.
Which is a helluva price tag, compared to Amex – with a global presence, a storied brand, and a proven business model, through all sorts of economic conditions.
Still, perhaps Afterpay and its ilk are the new breed. They have, quite literally, the whole internet as their potential market. And Visa and Mastercard are 20 times Afterpay's value – so if it could be truly disruptive on a global scale, there's plenty of opportunity left, while the others are minnows, who could make a fortune with only a fraction of a percentage point of market share.
That small word which carries a lot of weight. The problem for investors is that, unlike in decades past, we're not being given time to see the story unfold.
Afterpay's near-$20 billion market capitalisation is for a business which doesn't yet earn a profit. And sells for a whopping 61-times sales. I'm not saying it's not necessarily worth that price – just that this isn't a story you can watch in instalments.
The share price builds in a lot of sales growth. And a meaningful conversion from sales into profits. In short, if you want to buy now whether you'll pay, or be paid, later is much less clear.
Share growth data as at 3 August, 2020.
---
About Scott Phillips
Scott Phillips is Chief Investment Officer at The Motley Fool and runs the Motley Fool Share Advisor, Million Dollar Portfolio and Everlasting Income services. Scott holds a Bachelor of Commerce, a Graduate Diploma in Accounting.
This article was reviewed by Editorial Campaigns Manager Maria Bekiaris before it was published as part of our fact-checking process.
Main image source: rosstomei (Shutterstock)