Introducing the Macquarie Bank new digital banking offering, winner of a 2017 CANSTAR Innovation Excellence Award.
Macquarie Bank's new digital banking offering – including an upgrade to their mobile banking app and online banking platform – is a slick, sophisticated product that allows customers to manage all aspects of their finances in one place.
We are pleased to congratulate Macquarie Bank on this innovative online banking platform, which has won a 2017 CANSTAR Innovation Excellence Award.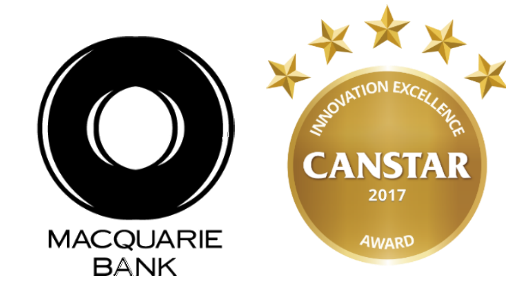 What is the Macquarie Bank new digital banking offering?
Macquarie Bank's new digital banking offering is a combination of the mobile banking app and money management tool.
This enables customers to view their personal banking and wealth management holdings in one place, with both the mobile banking app and the online banking platform updating in real time. It also enables customers to more easily track their spending and stick to their budget and/or savings goals.
Standout features
Some of the features included in Macquarie Bank's updated digital banking offering include:
Machine learning technology automatically categorises spending: The system automatically categorises the transactions into individual groups (e.g. groceries, travel, leisure, food and drink, or technology). Macquarie is using the same machine learning tools as Netflix. (This is a new feature to the market.)
Search the way you speak technology: Similar to Google, customers are able to post questions in the search bar (e.g. "What did I spent at restaurants this summer?") and immediately see the transactions listed.
Tag and track transactions: Customers are able to add hashtags (e.g. #tax), making it easier when it comes to tracking and reconciling statements, tax returns, and the like.
Upload receipts and warranties: Customers can upload a copy of receipt or warranty using their mobile phone or computer. This comes in handy when buying large item, such as a fridge or TV.
Set saving and spending goals: Customers can set and track their budget.
Push alerts: Each time a customer makes a transaction, they will receive a push notification on their smartphone. So you know who's doing what with your account at all times.
Personalised Login: Customers are able to personalise their accounts, e.g. setting their own login ID, photo, and account nicknames.
Additional Security: Customers have the ability to temporarily lock and unlock their cards via the mobile app.
Android Pay: Collaboration with Google.
CANSTAR's verdict
When looking at the balance between the degree of innovation and market disruptiveness or 'wow' factor, and how the solution will impact and help people, with all of these considered this product stood out. Having multiple features in one platform allows their customers to better manage their money and also provides greater insights into their spending behaviours.
Every year, CANSTAR looks for the products being launched in the area of financial services to make our lives easier and more convenient. The products that CANSTAR judges to be the most innovative in their field are awarded a CANSTAR Innovation Excellence Award.
For more innovative and award-winning products, visit the CANSTAR Innovation Excellence Awards for 2017:

CANSTAR is an information provider and in giving you product information it is not making any suggestion or recommendation about a particular product. This information has been prepared without taking into account your individual objectives, financial circumstances, or needs. Before you decide whether or not to acquire a particular financial product you should assess whether it is appropriate for you in the light of your own personal circumstances, having regard to your own objectives, financial situation, and needs. You may wish to obtain financial advice from a suitably qualified adviser before making any decision to acquire a financial product. Please refer to Canstar's Financial Services and Credit Guide (FSCG) for more information, and read our detailed disclosure, important notes and liability disclaimer.
The inclusions mentioned represent a selection of what is covered at the time of writing. Additional terms and conditions may apply to different features. Additional fees may apply to the product. Please ensure that you read the product disclosure statement (PDS) to determine all the current options and inclusions for the product you are considering.