CommBank (Commonwealth Bank of Australia) is a provider of online and mobile banking accounts, credit cards, home loans, personal loans, superannuation funds, home and contents insurance, car insurance, life insurance, credit insurance, financial advice and more.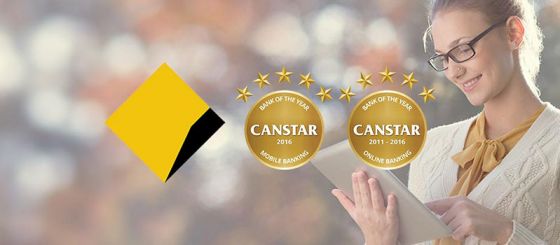 "CommBank CAN."
Canstar is pleased to congratulate CommBank on winning the 2016 Awards for both Bank of the Year – Online Banking and Bank of the Year – Mobile Banking.
The inclusions below represent a selection of what is covered. Additional conditions may apply to different features. Canstar is not making any suggestion or recommendation to you about this product. Please ensure that you read the product disclosure statement to determine all the current policy options and inclusions for the product you are considering.
Features of CommBank's mobile and online banking
Everyday Transactions: Commonwealth Bank's mobile banking app and online banking platform have many outstanding features, including the ability to manage your payments and finances via either desktop or smartphone:
Ability to schedule future payments
Ability to save new payees and billers
Ability to make additional loan repayments when needed
Ability to change daily transfer limit
Ability to change address and passwords on the account
Ability to modify limits on credit cards
Ability to restrict transaction types on credit cards and debit cards
Ability to place a temporary lock or block on a card
Budgeting Tools: CommBank offers some excellent budgeting tools. For example, their mobile banking app offers the ability to automatically categorise spending behaviour, which customers can then view as graphs of their transaction behaviour in the online banking platform's budgeting tools. The information from these budgeting tools can also be exported for use elsewhere.
Other calculators and tools on offer through the Commonwealth Bank website and app include:
Mortgage repayment and borrowing calculators
Stamp duty calculator
Savings calculator
Credit card calculator
The website also offers financial tips and articles about the financial market.
Alerts: Customers can customise the alerts they receive, such as notifications before making a transaction that would incur a fee or overdraw their accounts.
Identity Verification Options: CommBank allows customers to choose the type of secondary authentication they would like to use for their mobile banking app and online banking platform. Their mobile banking app has fingerprint verification enabled, making signing into the app much quicker, easier, and more secure.
Smartwatch App: CommBank's smartwatch app does more than just check the balance of your accounts. It can also be used to withdraw cardless cash from an ATM, making CommBank the first institution to let customers make transactions using a smartwatch app.
Location Search: Looking for your nearest ATM or branch? You now have the option of entering your postcode, suburb, or current location into the location search tool.
Faster Online Applications: Customers can now make a complete application online for products that require ID verification (deposit accounts, credit cards, and personal loans) using either desktop online banking or the mobile banking app.
About CommBank
The Commonwealth Bank of Australia (CommBank) was founded in 1911 as the government bank for our young nation, and they are still Australia's largest provider of financial services.
For smartphone enthusiasts or simply those short on time, CommBank's Property Guide mobile app makes it easy to search for your next home on the go. Using the app, you can now search for properties, assess the estimated market price, work out how affordable a mortgage on that property would be, and apply for a home loan from CommBank. Co-created with Realestate.com.au and RP Data, this app is available for Apple and Android devices. First home buyers can also watch CommBank's series of videos on buying a home on the YouTube app.
In 2015-2016, CommBank embarked on a wave of new innovations in technology, online banking, and mobile banking. For starters, the CommBank mobile app is soon to have a new function called Photo-a-Bill (currently in beta), which lets you take a photo of a bill and pay it automatically, with the app recognising the biller payment details in the photo.
Other new updates already live in our CommBank app include the ability to store loyalty cards, view your whole financial portfolio, make mobile phone Tap & Pay contactless payments, manage your travel money cards, and notify us of travel to activate your credit card's free travel insurance.
Other recent technological innovations include:
Committed $10 million for quantum computing research at the Centre for Quantum Computation and Communication Technology (total commitment $15 million).
Committed $1.6 million in 5-year partnership with the University of New South Wales, to develop a centre of expertise for cyber security education.
Established blockchain research and was a founding member of the R3CEV research team.
Opened a new CommBank Innovation Lab in Hong Kong to connect customers, employees, and start-up communities to the latest FinTech developments.
CommBank supports the Australian community in many ways. For example, they sponsor the Clown Doctors to help kids in hospital forget they're sick, and distribute more than $2 million in community grants every year. You can watch the story of how a grant helped Starz Dance hold a special recital for their special needs children's class.
CommBank is also big on protecting our environment, having won three CDP ASX 200 Climate Leadership Awards in 2014 (among other awards) for largest relative carbon reduction, climate performance leader, and best climate disclosure.
Please note that CANSTAR is an information provider and in giving you product information CANSTAR is not making any suggestion or recommendation about a particular banking product. If you decided to apply for a banking product, you will deal directly with a financial institution, and not with CANSTAR. Rates and product information should be confirmed with the relevant financial institution. For more information, read our detailed disclosure, important notes, and additional information.