Everything you need to know about what features are offered for direct
income protection insurance
, and which providers offer which features.
If you've ever tried researching insurance products and policies on your own, you'll know they talk a lot about features and cover but don't often explain what these features and cover really mean. But don't worry – here at CANSTAR, our Research Team can do this kind of comparison one-handed and blindfolded while playing tennis.
We've nailed down each of the usual features on offer for income protection insurance, what each feature refers to, and how many providers offer particular features in their policies. Visit our comparison pages and you'll see we've given each product a star rating and summarised what key features they do and don't offer, so you can see which ones offer outstanding value.
The most important income protection features to understand
The most important features to know about when choosing an income protection product for yourself are:
The sum insured amount: The actual amount of benefit that you will potentially be paid each month if you are off work due to sickness or injury. This is typically up to 75% of your regular monthly income, with a cap at a certain dollar amount per month. A policy is typically more expensive with a higher sum insured amount.
Benefit period: The maximum length of time for which you may receive monthly payments from your insurance provider if you are sick or injured to the point where you can't work. A policy is typically more expensive with a longer benefit period.
Waiting period: The number of days you need to be off work after an accident or illness before you may be eligible to start receiving monthly payments from your insurer. This is not the same as for health insurance, where the waiting period starts from when you first buy your insurance policy. A policy is typically more expensive with a shorter waiting period.
Let's talk about those features – and many more – in more detail.
1. Maximum sum insured / monthly benefit
More than half of the products included in our direct income protection rating (67%) offer a maximum sum insured amount of $10,000/month, with nearly a quarter capping cover at $7,500/month.
Two providers have higher cover, with Zurich offering up to $12,000/month and NobleOak offering up to $25,000/month.
2. Typical benefit period
The direct income protection products we rated this year typically had benefit period options ranging from 6 months to 2 years. One third of the products we rated (6 out of 15) give the option of a 5-year benefit period.
Our Canstar database shows that a maximum benefit period of cover up to age 65 is highly appealing to consumers. The largest proportion of people comparing income protection on our website filter their search to include this benefit period as a feature.
Benefit period
Products offering this benefit option
Number
Percentage
(of the 15 products we rated)
6 months
9
60%
1 year
14
93%
2 years
15
100%
5 years
6
40%
Until age 65
1
7%
Source: Canstar Direct Income Protection Star Ratings, 2017
3. Waiting period
According to the Canstar database, people comparing direct income protection on our website are most commonly looking for a 28 or 30 day waiting period:
It's natural that people don't want to wait too long before their cover kicks in, and thanks to group insurance research from Rice Warner, we know that the waiting period makes a huge difference to how soon employees can return to work. Claimants with a short 30-day waiting period are 68% more likely to get back to work within a year than those who have a longer 90-day waiting period.
One useful industry trend identified by Rice Warner in 2016 is that some super funds are beginning to extend the waiting period on income protection provided through a super fund. This is not necessarily a bad thing. Instead of missing out on income protection through super if you have a standalone income protection policy, or vice versa, the benefits from income protection through super could start (if you are eligible) when your benefits from a standalone policy stop.
4. Partial disability benefit
A partial disability benefit covers you if you return to work but at a reduced capacity (e.g. part-time). If you have been off work due to sickness or injury during your waiting period, and you then return to partial work duties, you could receive a reduced monthly benefit until your benefit period ends or you return to work completely (whichever happens first).
Only 1 of the 15 Direct products we rated has a partial disability benefit as a standard inclusion. The other 14 don't even offer it as an optional extra.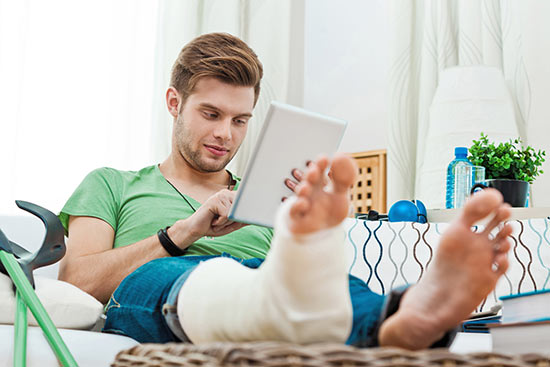 Able to work part-time from home while sick or injured? Ask if your insurer offers a partial disability benefit.
5. Recurrent disability benefit
What if you get sick or injured, make your claim for income protection insurance, and then 6 months later, the same illness or injury comes back and you are once again unable to work?
CANSTAR considers how each insurance provider deals with this situation, which is called Recurrent Disability. Specifically, we ask insurance providers whether they will waive the waiting period if your previous claim condition reoccurs for the same or related reasons as last time. All have answered yes in our 2017 ratings.
6. Specified injury and illness benefit
A specified injury benefit is a monthly benefit paid for a certain number of months if you have any of the specific injuries listed in your policy. The number of months the benefit is paid for depends on which specified injury you have. The best part is that you do not have to serve a waiting period – it is a pre-set benefit paid automatically for a pre-set number of months.
A third of the direct income protection products (6 out of 15) we rate offer specified injury benefits as a standard policy inclusion, while the remainder do not even offer it as an additional extra. The number of specified injuries covered ranges from 8 to 21 injuries. The number of months the benefit will be paid for ranges from just 1 month up to 24 months (2 years).
Similarly, a specified illness benefit is a monthly benefit paid for a certain number of months if you contract any of the specific illnesses listed in your policy. There is no waiting period and there is a pre-set benefit period for this particular benefit.
Of the 15 direct products we rate, 4 offer a specified illness benefit as a standard policy inclusion, covering 3 to 30 illnesses depending on the provider. The number of months the benefit will be paid for ranges from 3 to 6 months.
7. Pre-existing conditions exclusion
Pre-existing conditions are any injury, illness, or other medical condition that could affect your health and your ability to work. Many insurance providers exclude pre-existing conditions from cover, which means that if your condition worsened so that you could not work anymore, you would not be eligible to claim an income protection benefit payment.
If you have any pre-existing conditions such as asthma or a heart condition, you should check whether a policy excludes pre-existing conditions, and whether your condition is excluded.
Some insurers also exclude other situations, for example where the illness or injury is self-inflicted or occurred while serving your country during a war.
Our Canstar database shows the majority (68%) of people comparing direct income protection insurance are relatively young, in their 40s or younger. These folk are naturally less likely to have pre-existing conditions that would exclude them from cover.
How to compare income protection cover and features
As you can see, there's a lot that can differ from policy to policy. To find the policy that suits your situation best, compare direct income protection with Canstar.
We've made it easy for you to find insurance that provides outstanding value – in 2017, Canstar compared 15 direct income protection insurance policies from 13 providers. Compare features and price for direct income protection in Australia on the Canstar website:
Find out more about direct income protection with our latest star ratings report:

The inclusions mentioned represent a selection of what is covered at the time of writing. Additional terms and conditions may apply to different features. Additional fees may apply to the product. Canstar is not making any suggestion or recommendation to you about this product. Please ensure that you read the product disclosure statement (PDS) to determine all the current options and inclusions for the product you are considering.
Canstar is an information provider and in giving you product information Canstar is not making any suggestion or recommendation about a particular insurance product. If you decided to apply for an insurance policy, you will deal directly with an insurance provider, and not with Canstar. Premiums, coverage, benefit limits, and product information should be confirmed with the relevant insurance provider. For more information, read our detailed disclosure and our Financial Services and Credit Guide.