What is direct income protection insurance? What does it cover? Why do you need income protection? Compare direct income protection with Canstar.
Often it seems we're always busy, working, working, working – but what would we do if we were stopped in our tracks by an unexpected injury or illness?
Income protection insurance could be worth considering. This cover means if you were unable to work because of illness or injury, your insurer may pay you a monthly benefit so you can still afford to do things like:
Pay your rent or mortgage
Buy groceries
Insure your car and fill it with petrol
Phone people and send cute emoji texts
Have electricity and running water
Keep your family's health insurance to protect against the unexpected
Pay your children's school fees
Repay the debt on loans or credit cards you owe
Pay for other living expenses
What is direct income protection insurance?
Since the waiting periods and claim periods vary so much from insurer to insurer, it's important to compare your options on the Canstar website and choose the insurance provider that gives the best value for your needs.
In 2017, Canstar compared 15 direct income protection insurance policies from 13 providers. Compare features and price for direct income protection in Australia on the Canstar website.
What does direct income protection cover?
Insurance providers will typically cover you for a monthly benefit payment that is 75% of your regular salary.
You may ask, "What if I can't prove my regular salary because I'm a casual worker or work on commission?" When making a claim for direct income protection, you need to be able to tell your insurance provider what you earn on average. Looking at your most recent payslips can be an effective way to show your usual income.
You can choose a waiting period, which is the amount of time that you must be off work before you can claim a benefit. This varies from only 14 days through to 90 days. You can also choose a benefit period, which is the maximum length of time that the policy will continue to pay you, and may be as short as 6 months or as long as to age 65.
Why do you need income protection insurance?
There are several main reasons why income protection is so vital:
One person has a work-related injury or illness every minute in Australia.
Nearly 2 in 5 workers do not receive any financial assistance (sick leave, workers' compensation, government benefits, or income protection insurance).
Income protection can provide a certain amount of financial security during times when illness or injury take you away from work for an extended time period.
We discuss these reasons in more detail below.
Because workplace injuries are common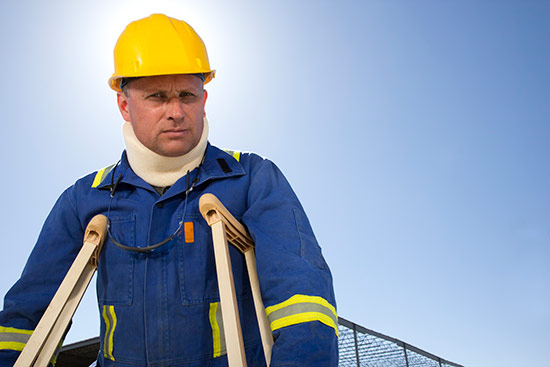 According to the ABS (2014), 531,800 Australians experienced a work-related injury or illness in 2013-2014. That's one person hurt while working every minute. The majority (61%) had to take some time off work as a result. If you don't have enough sick leave to cover it and aren't eligible for workers' compensation, or if you are a casual worker or contractor without sick leave, this time off can wreak havoc on your budget.
The most common work-related injuries and illnesses according to ABS data are:
Sprain or strain (33%)
Chronic joint or muscle conditions (21%)
Cut or open wound (14%)
That's not to mention all the injuries and illnesses that aren't work-related but that will still require you to take time of work. Outside of work, data from the AIHW (2015) shows that mental health conditions, back problems, and asthma are the most common chronic conditions affecting young workers aged under 45 years old.
Workers with severe or complex injuries can remain unemployed long-term, which has a negative effect on their children and even grandchildren, according to studies by Growing Up In Australia.
90% of injured or ill people in 2014 were employees, but employers were not immune, with 10% of injuries and illnesses happening to business owners and managers (ABS, 2014).
Because 2 in 5 workers do not have any income while not working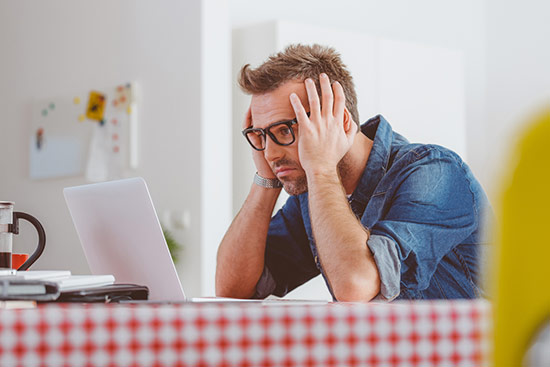 Nearly 2 in 5 workers (39%) did not receive any form of financial assistance for medical bills or time off work in 2014 (ABS).
Only 61% of workers with an injury or illness in 2014 received some sort of financial assistance while they were off work (ABS). Of these, just 6.9% received income protection insurance and half received workers' compensation.
The number of work-related injury and illness is lower now than in previous years, thanks to efforts by employers and initiatives by organisations such as Safe Work Australia. Australia thankfully has very safe working standards compared to many countries – but we also face a higher cost of living when we have to take extended periods of time off work.
Statistics show the average Aussie worker has little or no insurance covering them if they're unable to work. According to Map My Plan's 2015 Financial Fitness Report, less than 1 in 4 Aussie workers have income protection insurance. Ironically, more than 75% of Aussies have comprehensive car insurance to cover damage to their car in an accident, but aren't covered for their income if they themselves are damaged and can't work.
Because income protection really does help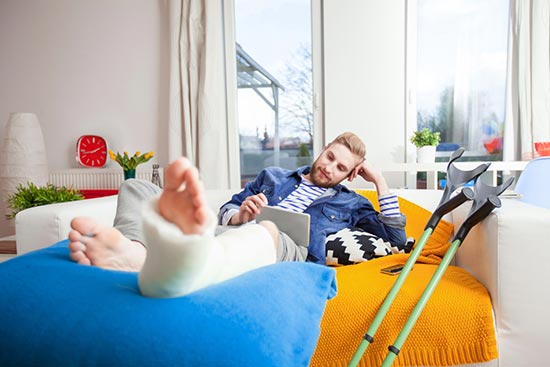 Research by NobleOak Life Ltd shows that those who take up income protection have common financial fears that can largely be covered by Income Protection, Trauma, or TPD (Total and Permanent Disability) insurance:
Being forced to stop work for more than 2 months because of sickness or injury
Cancer
Being permanently injured or sick and unable to work
Heart attack
Stroke
These fears are the very reason that Canstar works so hard at helping people understand the types of insurance available – so that everyday Aussies can find the right cover to help them stay on their feet financially if anything were to happen.
Income protection insurance is designed to help alleviate the fear of "being forced to stop work for more than 2 months because of sickness or injury". As we explained above, income protection can typically cover you for a monthly benefit payment that is 75% of your regular salary for as long as your policy's benefit period allows while you're unable to work, after any waiting period that applies to your policy.
Who offers direct income protection insurance?
The insurance providers who offer direct income protection cover and were rated by Canstar in 2017 are:
AAMI
ANZ
Citibank
InsuranceLine (TAL)
Medibank
NobleOak Life Ltd
RAC
RACQ
Suncorp
Zurich Australia
Here at Cansatr, we've done the hard work for you by researching and rating the direct income protection policies on the market in Australia. All you have to do is compare your options and choose the policy that provides the best value for your situation:
Find out more about direct income protection with our latest star ratings report:
The inclusions mentioned represent a selection of what is covered at the time of writing. Additional terms and conditions may apply to different features. Additional fees may apply to the product. Canstar is not making any suggestion or recommendation to you about this product. Please ensure that you read the product disclosure statement (PDS) to determine all the current options and inclusions for the product you are considering.
Canstar is an information provider and in giving you product information Canstar is not making any suggestion or recommendation about a particular insurance product. If you decided to apply for an insurance policy, you will deal directly with an insurance provider, and not with Canstar. Premiums, coverage, benefit limits, and product information should be confirmed with the relevant insurance provider. For more information, read our detailed disclosure and our Financial Services and Credit Guide.