Whether you're an electrician, plumber, carpenter or otherwise, being a tradie can be a riskier job than most. In fact, according to Safe Work Australia, in 2016-17, approximately 19% of all serious workers' compensation claims were made by technicians and trades workers, while claims by labourers made up a further 25%.
We've looked at some of the options for tradies who are considering protecting themselves and their equipment, but also their income should they become unable to work for certain reasons.
Income protection for tradies
According to a 2018 survey by insurance provider NobleOak, 61% of labourers and tradies said they are covered by some form of life insurance or income protection cover. While the survey showed that this is above the total rate of cover across all occupations in Australia (56%), it's lower than other occupations which some may see as less risky, such as office workers (65%) and professionals like doctors, dentists and lawyers (69%). That said, the percentage of labourers and tradies who say they have life or income protection insurance in place rose by 17% between 2017 and 2018.
So what is income protection insurance and do tradies actually need it?
What is income protection insurance?
Income protection insurance is designed to replace some of your income if you're unable to work due to injury or illness. In the event of a successful claim, income protection will pay you a benefit of up to 75% or so of your regular income until either you return to work, your agreed benefit period ends, or you turn a certain age (typically around 65 to 70 years old), depending on your policy.
The Australian Taxation Office says that unlike many other types of insurance, income protection premiums are tax deductible. Income protection can be taken out directly from an insurer or through an adviser. Additionally, it is usually available to take out either inside or outside of your superannuation.
Why might tradies need income protection?
From handling power tools to working with electricity to doing heavy lifting, the life of a tradie can be full of hazards. According to the Australian Bureau of Statistics, in 2017-2018, 23% of people who experienced a work-related injury or illness were technicians and trades workers.
Another reason is that in some situations, building sites may stipulate that tradies must have income protection cover before they can work there.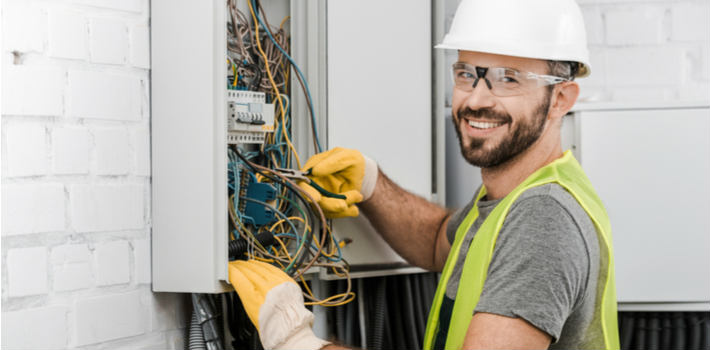 Additionally, if you're self-employed or working as a sub-contractor, income protection may be particularly worth considering as you might not be entitled to take paid sick leave and may not be covered by workers' compensation (we'll get into some key differences between income protection and workers' comp later on in the article).
So, why don't more tradies have income protection insurance? Money appears to be a big factor for. According to NobleOak's December 2018 survey, 53% of those labourers and tradies surveyed who don't have life or income protection said it was because of high costs.
How much does direct income protection cost for tradies?
The cost of income protection insurance generally depends on a number of factors including your age, gender, smoking status, and occupation. According to Canstar Research, tradies tend to pay higher premiums compared to those working in professional, white collar and light blue collar jobs. One of the reasons behind this is that tradies may be exposed to a higher risk of work-related injury.
To give you an idea of how much you might expect to pay, Canstar Research has crunched the numbers and calculated the average monthly premiums paid by both male and female electricians based on different levels of cover. Bear in mind that the exact amount you pay will likely depend on factors such as your personal circumstances and the insurer you choose.
Average Monthly Premiums for a male electrician by age
Monthly Benefit of $3,125
Monthly Benefit of $6,250
Age
Smoker
Non-Smoker
Smoker
Non-Smoker
22
$95
$74
$181
$142
27
$96
$75
$182
$142
32
$99
$77
$189
$147
37
$109
$85
$207
$162
42
$130
$101
$247
$193
47
$174
$136
$331
$259
52
$262
$205
$499
$390
57
$405
$317
$771
$602
Average Monthly Premiums for a female electrician by age
Monthly Benefit of $3,125
Monthly Benefit of $6,250
Age
Smoker
Non-Smoker
Smoker
Non-Smoker
22
$117
$92
$226
$175
27
$122
$95
$232
$181
32
$129
$101
$245
$191
37
$145
$114
$276
$216
42
$186
$145
$355
$277
47
$253
$198
$483
$377
52
$375
$293
$714
$558
57
$551
$431
$1,049
$820
Source: Canstar 2019 Direct Income Protection Star Ratings. Monthly benefit amount of $3,125 is based on 75% of monthly income for an annual income of $50,000. Monthly benefit of $6,250 is based on 75% of monthly income for an annual income of $100,000. Premiums have been rounded to the nearest dollar.
Workers' compensation versus income protection
You might be thinking that income protection sounds quite similar to workers' compensation, but there are actually a few major differences between the two.
Workers' compensation is a type of insurance payment that is paid if an employee is injured at work or becomes sick due to their work. The Fair Work Ombudsman advises that it includes payments to employees to cover both their wages while they're unable to work and their medical expenses and rehabilitation costs. It is mandatory for most employers to take out workers' compensation insurance to cover their employees. It comes at no cost to employees. The Ombudsman suggests contacting the workers' compensation regulator in your state or territory if you have any questions about this type of insurance.
In comparison, income protection is designed to cover policyholders for injuries or illnesses sustained either inside or outside of work. This means that unlike workers' compensation, you may be covered even if you injure yourself off-site or if you have a non-work-related illness. Income protection may also be appropriate for self-employed tradies who generally will not be covered by worker's compensation. However, coverage and premium costs can vary between different income protection insurers and policies, so it could be a good idea to check with your insurer upfront and read your product disclosure statement (PDS) before signing up.
What other insurance might tradies need?
In addition to income protection, there are other types of insurance policies that tradies can also consider in order to protect themselves. Some common examples include public liability insurance, product liability insurance, commercial car insurance, and portable and valuable items insurance.
Some insurers may also offer a bundle of some or all of these insurance types under the banner of 'tradies insurance'. It could be worth doing some research on your specific industry, to help you determine whether any other types of insurance are appropriate for your own circumstances.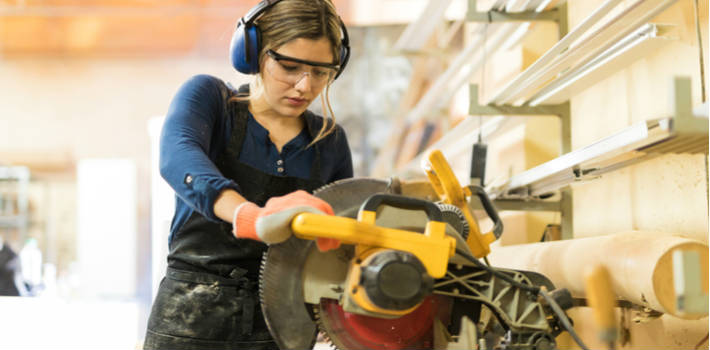 Public liability insurance
Public liability insurance is designed to protect you if you cause personal injury to a third party or damage their property – for example, if you were fixing a client's roof and in the process accidentally caused injury to someone below. Public liability may be compulsory for some tradies and may be particularly important if you're self-employed or a sub-contractor.
Product liability insurance
Similar to public liability insurance, product liability insurance may cover you if a product or job you worked on causes injury to a third party or damages their property. For example, you could be eligible to make a claim if something happens after you've finished a job, such as a problem with a fitting causing property damage or injury to a third party down the track.
Commercial car insurance
If you drive a ute, van or car from job to job, you may want to consider commercial car insurance to cover you for theft, loss or damage to your vehicle. Commercial car insurance may also extend to covering your tools of the trade, depending on the policy.
Portable and valuable items insurance
Portable and valuable items insurance may cover the things you carry with you for work. For example, your phone, laptop and, importantly, your tools of the trade. This type of insurance may help you cover the cost of repairing or replacing these types of items in the event that they are damaged, lost or stolen. Items used for business or trade purposes may not be covered as part of a standard home and contents insurance policy, so it could be worth contacting your insurer to find out if you need to take out standalone portable and valuable items insurance. Check the PDS for details of what you are covered for before proceeding.
There are a range of insurance options out there for tradies wanting to protect themselves and their tools. If you're considering taking out income protection insurance, you can compare your options with Canstar.
---
Thanks for visiting Canstar, Australia's biggest financial comparison site*