Canstar has revealed the policies and providers on its database that took out top spots in this year's Direct Income Protection Star Ratings and Awards.
The current coronavirus emergency taking place around the world has left many Australians thinking about how they can protect themselves, both from the illness and the economic fallout that has followed.
Income protection insurance is one form of protection that offers eligible customers who have served their waiting period a level of cover if they can't work due to sickness or injury.
Consumers will need to check with their insurer regarding what cover their existing policy, or a new one they are considering, might provide for coronavirus-related events, as well as when they would become eligible to receive any benefit payments under their policy.
Canstar Group Executive, Financial Services, Steve Mickenbecker explained that income protection is particularly relevant for consumers who are looking to the future and how they can safeguard their income if the unexpected happens down the track.
"To get the best out of income protection or any other insurance, you should be planning ahead," Mr Mickenbecker said. "You take out insurance when circumstances dictate that you and your family need protection from the unforeseen and unwanted. It could be too late if you wait for lightning to strike."
If you are considering taking out income protection cover, to help you weigh up some of your options, Canstar has assessed 16 direct income protection policies from 14 providers on our database and rated them based on their performance across a range of variable factors.
How does Canstar rate income protection policies?
Canstar assesses each eligible policy across 80 different consumer profiles, considering age, occupational category, gender, and smoking status.
In each profile, products are given a Star Rating based on a combination of price (monthly premiums) and features, including those related to the application process and initial policy options, payment options, available cover, the claims process, customer support and the policy termination process.
The Outstanding Value Direct Income Protection Award is then given to the providers deemed to offer the strongest overall value, based on their policies' cumulative performance across all 80 profiles.
Which providers won the Outstanding Value Direct Income Protection Award this year?
NobleOak and Virgin Money have won Canstar's Outstanding Value Direct Income Protection Award for 2020.
When averaged out across all consumer profiles considered, the winning insurers' monthly premiums were 11.5% ($32) cheaper than the average of all of the other insurers rated, at a $6250 monthly sum insured amount.
NobleOak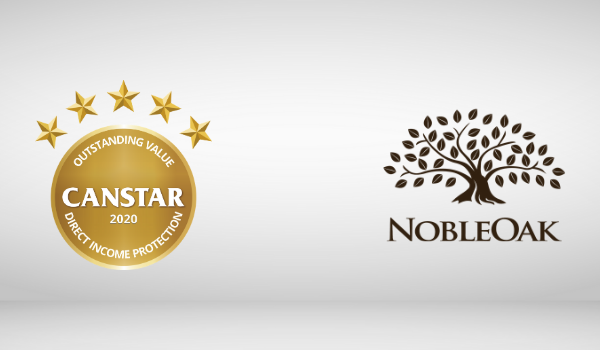 This is the fifth year in a row NobleOak has taken out top honours in the Direct Income Protection Award, having first won it in 2016. Its Premium Life Direct Income product scored a 5-Star Rating across all consumer profiles.
According to NobleOak, its Premium Life Direct Income product offers the following benefits and features:
A monthly benefit of up to $25,000
A benefit period of either two years or up until you turn 65
Fully underwritten cover, which NobleOak says means greater certainty in the event of a claim
These were among the features that made a contribution to NobleOak retaining its Award this year, on top of the value it offers when it comes to premiums, according to Canstar Research.
Virgin Money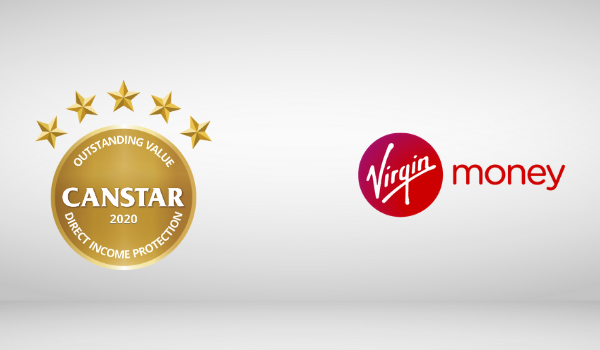 Winning for a fourth consecutive year, Virgin Money maintained the strength of its income protection offering, which at the time of the Ratings consisted of two different products, Income Protection – Quick & Easy and Income Protection Tailored (please note that Quick & Easy cover is no longer offered). Virgin Money even managed to improve on its 2019 performance across some of the consumer profiles.
Virgin Money's income protection products come with a range of features and benefits, including:
Insure yourself for up to 85% of your income, for a maximum benefit of $10,000 a month with the Income Protection Tailored product.

Optional cover for involuntary unemployment.

A choice of several different waiting and benefit periods under the Tailored policy, including:

Choose a 14, 28, 60, or 90-day waiting period

Choose a benefit period of 6, 12, or 24 months, or five years.
Along with its premium costs, Virgin Money's range of features was a large part of why it won a 5-Star Rating for income protection this year, according to Canstar Research.
Please note: Virgin Money Australia stopped offering new income protection quotes on 26 March 2021. New policies were no longer offered from 1 April 2021.
To learn more about how the direct income protection Star Ratings are calculated, you can read the methodology document.
---
Thanks for visiting Canstar, Australia's biggest financial comparison site*