Currently, around 90% of companies use some form of cloud computing, with numerous applications operating on the cloud such as email, streaming video and audio, and social media.
As widespread as it is today, cloud computing is expected to grow even further. By 2025, it's projected the cloud market will reach $700 billion, and will grow 20% year-over-year over the next five years.
What actually is cloud computing?
Cloud computing is a broad term that basically means any process that does not take place locally, on a single computer hard drive. Cloud computing can use a vast network of computers and servers to carry out complex and data-heavy processes, greatly decreasing the end user's workload or storage requirements.
Typically, there are four methods by which the cloud can be delivered to end-users:
Public – Used to deliver services on the internet
Private – Aimed at internal use within an organisation
Hybrid – A combination of public and private
Community – Between businesses and organisations
Cloud computing and COVID-19
One main advantage of cloud computing is that it is accessible from almost anywhere. All one needs to access a cloud service is a computer or smart device, and a decent internet connection. It's clear to see why cloud computing has been vital in maintaining connectivity during COVID-19- and why companies operating in this space have seen significant growth in their share prices.
As numerous countries around the world employed various lockdown measures like work-from-home, cloud computing companies were pushed to their limits. The new workload came on top of the existing, already high usage, as the average employee uses 36 cloud services every day.
Working remotely means maintaining a proper virtual office environment, and that requires constant communication, including text, video and voice calls. Despite some fears that this may reduce productivity, many companies actually embraced the change. Around 74% of companies say that they will shift some employees to permanent WFH positions, and having a robust cloud infrastructure is one of the main reasons.
Cloud is a reality
The cloud is here to stay, at least for the foreseeable future. Currently, it supports so much of our daily activity that it would be impossible for contemporary society to function without it. Moreover, since cloud infrastructure has been established as the norm, many near-future technologies will also depend on it.
One example is driverless cars. A key aspect of supporting an autonomous traffic system is car-to-car and infrastructure-to-car communication. In other words, most of the computational power that will support and enable the driverless revolution will take place in the cloud.
Another example that will help strengthen the impact of cloud computing is the rollout of 5G. This next-generation network is being deployed around the world and will serve as additional infrastructure for the cloud. The increased bandwidth will enable more devices to become connected to cloud services and will also mean additional computing power for existing services.
Investing in the cloud
For those who want to build a comprehensive cloud portfolio, Infrastructure as a Service (IaaS) and Platform as a Service (PaaS) providers are the place to start.
IaaS and PaaS are offerings already covered by some of the largest stocks around including Microsoft, Amazon, Alphabet's Google, Alibaba, IBM, even Facebook, and its PaaS for advertisers. These building blocks for cloud-based services are expected to be the fastest-growing segments of the cloud.
Gartner expects annual IaaS and PaaS spending, which came in at $40 billion and $32 billion respectively, to nearly double by the end of 2022. As large, diversified tech giants, these companies can make up the core of an investment portfolio.
Not to be forgotten, though, are the hardware companies that make cloud infrastructure and platform services possible. Arista Networks and NVIDIA are two of the largest companies in this space, but investors who want to broaden their search even further should look for companies categorised as 'network hardware, storage, and peripherals'.
The future is bright for cloud computing stocks. As the world becomes more connected and a growing number of devices become linked to the global network, the cloud will only become more powerful and ever-present. Moreover, as new cloud-related technologies emerge, the cloud will only deepen its roots in our everyday lives, becoming an even greater part of contemporary society.
Main image source: Shutterstock by Blackboard.
---
If you're comparing Online Share Trading companies, the comparison table below displays some of the companies available on Canstar's database with links to the company's website. The information displayed is based on an average of 6 trades per month. Please note the table is sorted by Star Rating (highest to lowest) followed by provider name (alphabetical). Use Canstar's Online Share Trading comparison selector to view a wider range of Online Share Trading companies.
---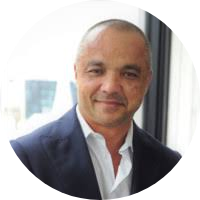 Robert Francis is the Australian Managing Director of multi-asset investing platform eToro. Before Robert Francis joined the world's largest multi-asset investment platform eToro in June 2017, he was leading operations for the Exchange Traded Options desk and the International Trading Desk. Heading up eToro in Sydney, Australia, Robert is an expert in stock markets with over 13 years of experience and senior positions at CommSec and TD Waterhouse.
This article was reviewed by our Content Producer Isabella Shoard before it was published as part of our fact-checking process.
---
Thanks for visiting Canstar, Australia's biggest financial comparison site*