The market for reverse mortgages is growing once again, and older Australians have the option to add to their retirement income by accessing home equity. Just what exactly is a reverse mortgage?
Reverse mortgages may be regaining popularity
Reverse mortgages declined in popularity during the GFC, but the Productivity Commission's 2015 report into ageing has put them back in the spotlight.
According to Deloitte and SEQUAL's 2015 report, there are 40,000 reverse mortgages on issue in Australia, amounting to $3.6 billion worth of loans. The average loan size for a reverse mortgage is $92,000, which shows an increase from $86,000 in 2013 and $84,000 in 2012.
Reverse mortgages were first made available in Australia in the early 1990s, with the Advance Bank (now St. George Bank) leading the way. By 2006, more than 20 banks, credit unions, and non-bank lenders were offering reverse mortgages, and because of the large number of providers, brokers were used for 50% of reverse mortgages.
But the GFC took a hit out of the capital markets that mortgage lenders relied on. That said, it seems that the reverse mortgage market may be growing steadily again since then.
When would you use a reverse mortgage?
The Productivity Commission's 2015 report found that the number one reason for accessing a reverse mortgage was to be able to afford aged care or other healthcare costs. This is largely so that people could grow older in their own home.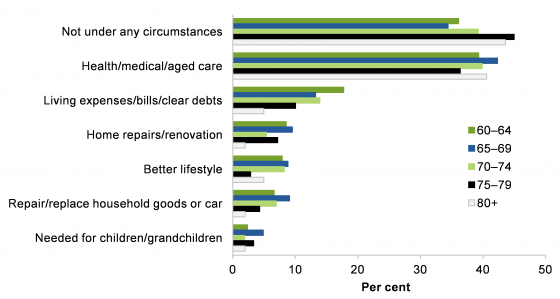 "Under what circumstances would you use your home to fund your retirement?" Source: Productivity Commission survey.
Deloitte's 2013 report found a similar result, and the main reasons why older Australians chose to utilise a reverse mortgage then included the following:
Regular income source: 1 in 2
Debt repayment: 1 in 3
Home improvement: 1 in 7
Who is the average reverse mortgage holder?
Reverse mortgages help older Australians achieve a "modest" retirement
Of the many pensioners who are currently not achieving a modest standard of retirement, 96% could use their home equity to reach a modest standard for the rest of their lives, without ever going into negative equity. What's more, they probably wouldn't lose their pension, as Deloitte reports that a reverse mortgage has very little, if any, impact on pension entitlements. Note that you should check with the Department of Human Services before making any financial decisions, to determine what impact a reverse mortgage might have on your personal situation.
However, drawing on home equity as an income source during retirement has been labelled "the last resort" for the majority of retirement-age Australians, who don't want to be in debt in their old age. Only 1% to 2% of older home owners have taken up an Equity Release Product to access their home equity. Nearly 40% told the Productivity Commission survey that they would never use home equity products to provide income during their retirement.
Pensioners typically only draw down a mere 2.5% of their wealth per year until they pass away, according to a longitudinal analysis of Centrelink records up to 2015 (Productivity Commission, 2015). Reflecting the "last resort" approach to debt in the family home, seniors usually access this wealth through savings, investments, and selling assets.