Qualifying for a home loan may have just become easier, after each of the big four banks relaxed one of their financial tests for hopeful home buyers.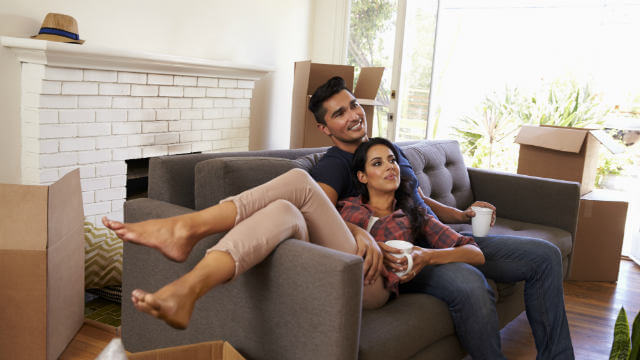 ANZ, Commonwealth Bank (CBA), National Australia Bank (NAB) and Westpac have now all announced they have moved to reduce the interest rate they use in affordability calculations during the home loan application approval process.
The affordability – or "serviceability" – calculation is a test designed to see if people could afford to pay off their home loan if there was an interest rate hike.
Until earlier this month, banks were required to apply an interest rate of at least 7% – more commonly 7.25% – to that equation. However, this minimum rate has been removed.
Instead, new guidance from the Australian Prudential Regulation Authority (APRA) recommends that banks should now add at least 2.5% – called a buffer rate – to the advertised interest rate on the loan. As an alternative, banks can also now set their own "serviceability floor rate".
APRA decided to relax the lending restriction on 5 July, in an environment of record-low interest rates driven by two successive cuts to the official cash rate. The new rules only apply to Australian authorised deposit-taking institutions (ADIs), meaning banks and other lenders regulated by APRA.
The big four banks have all set their new serviceability floor rates at either 5.5% or 5.75%, and all now have a 2.5% buffer rate (see details and effective dates, below).
Why do consumers need to know their bank's serviceability rates?
When a customer applies for a home loan, the bank uses the serviceability rate to work out repayments on the amount being borrowed. The bank then makes a judgement about whether or not the applicant would have the capacity to cover those repayments, and then – after also considering other factors as set out in their loan policies – either approves or denies the application accordingly.
CoreLogic senior research analyst Cameron Kusher said the changes to the serviceability tests meant "accessing finance to take out a mortgage is becoming somewhat easier".
"This means that some people that previously couldn't get a mortgage will be able to, while those that were previously able to get a mortgage can potentially borrow more – a lot more in some cases," Mr Kusher said.
If you're thinking about applying for a home loan, it could be worth trying to find out what serviceability rate could apply to the loan you're considering, as this could potentially help you to work out your likelihood of obtaining approval. It could also help you decide what banks may suit your needs: Different banks can have different policies and serviceability rates, which means that approval from some lenders could be more difficult than from others.
In many cases, lenders will use whichever rate is higher – their own serviceability floor rate, or the advertised rate of the particular home loan a customer is applying for plus the 2.5% buffer from APRA's guidance.
For example, "hypothetical bank 1" sets its serviceability floor rate at 5%, and its buffer at 2.5%. According to its policy, "hypothetical bank 1" could calculate serviceability like this:
A person applies for a home loan with an advertised interest rate of 5%.

Advertised rate of 5% + buffer rate of 2.5% = 7.5%

This is higher than the bank's floor rate of 5%.

Therefore, for this serviceability calculation, the bank would use the higher rate of 7.5%.
A person applies for a home loan with an advertised interest rate of 2%.

Advertised rate of 2% + buffer rate of 2.5% = 4.5%

This is lower than the bank's floor rate of 5%.

Therefore, for this serviceability calculation, the bank would use its floor rate of 5%.
However, let's say "hypothetical bank 2" sets its serviceability floor rate at 4%, while still keeping the buffer of 2.5%. If that same person who went to "hypothetical bank 1" instead applied for a loan with an advertised rate of 2% at "hypothetical bank 2", they would most likely have their serviceability assessed with a rate of 4.5%, since this would be higher than the floor rate.
Therefore, even though that person's capacity to pay back the loan at the advertised rate had not changed, it would be harder for that person to qualify for a loan from "bank 1" than it would be for a loan with the same advertised rate from "bank 2", due to "bank 1's" higher serviceability floor rate.
Bear in mind that the serviceability calculation is only part of the eligibility assessment process, and each bank has its own way of working out if a person qualifies to be offered a home loan overall.
What could the change in serviceability rates mean for the property market?
It was among a number of factors that was improving the property market, Mr Kusher said, noting that there's been a slight pick-up recently in Sydney and Melbourne property prices after a period of price slippage.
"ANZ recently published some data highlighting that serviceability floor changes were responsible for approximately 30% of the tightening in lending standards and reduced borrowing capacities. So it is certainly having a material impact," he said.
"It is still a lot more difficult to get finance than it has been over the past 20 years or so, comprehensive credit reporting has also been expanded so lenders have a lot more information than ever before about borrowers. Given this, we expect lenders to continue to act with a level of conservatism. However, undoubtedly these changes mean that more people will have access to finance for mortgages than have had so since late 2014, when the 7% buffer was introduced."
What are the big four banks' new home loan serviceability rules?
ANZ's new rates were effective as of 15 July, 2019. The bank's new floor rate is 5.50% and its buffer, or "sensitivity margin", is 2.5%.
The rates apply for new applications that have not been assessed on or after the effective date, with a few exclusions, a fact sheet about the change states. Declined or expired loans that are resubmitted on or after the effective date will be reconsidered with the new rates, the fact sheet says.
CBA's Executive General Manager Home Buying Dan Huggins said the bank welcomed APRA's decision.
"Following a review of our serviceability rates based on APRA's new guidance, our portfolio and our risk appetite, we have introduced a new 5.75% floor rate and 2.5% interest rate buffer," Mr Huggins said.
NAB's Chief Customer Officer – Consumer Banking, Mike Baird, said the bank also welcomed APRA's new ruling.
"We believe now is the right time to change the approach to how the affordability rate floor is determined, given the continuing low interest rate environment," Mr Baird said.
"After careful consideration, NAB will implement a home loan serviceability rate floor of 5.50% and a new buffer rate of 2.50%, effective 5 August, 2019.
"As a responsible lender, serviceability is assessed using a number of factors and we consider all lending applications on a case-by-case basis."
Westpac's General Manager Home Loans, Will Ranken, said the bank had already moved serviceability rates, with the changes coming into effect on 16 July, 2019. He indicated that Westpac's floor interest rate had decreased to 5.75% (from 7.25%) and the interest buffer had increased to 2.5% (from 2.25%).
"The new serviceability assessment rates may have a positive impact on the borrowing capacity of qualified borrowers," Mr Ranken said.
He encouraged customers to contact the bank to discuss the issue.
Have other banks changed their serviceability rates?
Some of the other lenders that Canstar has contacted said they have also reduced their serviceability and buffer rates.
A Suncorp Bank spokesperson said the lender had "revised our home loan serviceability assessment in line with APRA's changes".
"We have reduced the interest rate floor for home loan serviceability assessments from 7.25% to 5.5% and increased the sensitivity buffer from 2.25% to 2.5%," the spokesperson said in a statement.
"This change will deliver positive benefits for customers wanting to enter the property market.
"As always we encourage aspirational home owners to do their homework, ask questions of their broker or bank and have a clear understanding of what they can afford to repay each month."
The bank moved its rates on 17 July – the floor rate from 7.25% to 5.3%, and the buffer from 2.25% to 2.5%. "Loans that are formally approved prior to Wednesday 17 July 2019 and request reapproval of an increased loan amount will require a full loan resubmission including supporting commentary on how the new loan amount aligns with borrower needs and objectives," a fact sheet about the new rates stated.
Heritage Bank will reduce its interest rate floor for home loan serviceability effective 1 August, 2019. The floor rate will go from 7.15% to 5.75%, and the buffer will increase from 2.20% to 2.50%.
Heritage CEO Peter Lock welcomed APRA's decision.
"The previous floor rates and buffers were simply no longer appropriate, given the historic low interest rate environment we are now in," he said.
"This change will make it easier for people to qualify for a home loan, or to borrow more, without adding extra risk.
"Prudent measures are still in place to ensure people can afford their loan, but we've been able to remove what had become an artificially high barrier to home ownership."
More to come as more lenders announce changes to their serviceability rates and buffer rates.