The latest investigation into home loan prices is expected to reinforce the not-so-new news that you need to shop around for the best deal – and work out why many consumers don't.
Australia's banks are about to feel the heat of yet another spotlight of inquiry into their banking practices, hot on the heels of a banking royal commission, which revealed widespread misconduct, and a Productivity Commission inquiry into financial competition.
On Monday, Federal Treasurer Josh Frydenberg tasked consumer watchdog the Australian Competition and Consumer Commission (ACCC) with an investigation into the mortgage prices charged by Australia's banks, saying he wanted to increase competition and enable consumers to switch between lenders more easily.
The call was sparked by his frustration with the big four banks, in particular, for failing to pass on the full benefits of this year's three cash rate cuts to their home loan customers in the form of interest rate relief. He went as far as urging customers to shop around for the best deal, before launching the inquiry.
This is not the first time the ACCC has conducted such an investigation – it finalised an inquiry into mortgage pricing just last year. It found the big four "profit from the suppression of borrower incentives to shop around and lack strong incentives to make prices more transparent".
1. Investigate home loan interest rates
Mr Frydenberg said the ACCC would investigate the prices charged for residential mortgages across the entire market, including by the major banks, smaller banks and non-bank lenders. The ACCC will find that there is a potentially customer-dizzying array of home loan choices on offer, each with different benefits, rates and discounts – which can vary depending on what type of customer you are and when you took out the loan.
An analysis of the 5,300-plus home loan products on the Canstar database shows some people could be paying much more interest when compared to a customer at another bank. For example:
Reduce Home Loans – at 2.69% (comparison rate 2.71%) – has the lowest variable rate on the Canstar database for owner-occupiers paying principal and interest, at the time of writing.
National Australia Bank lists 3.20% (comparison rate 3.24%) as its lowest variable rate for owner-occupiers paying principal and interest ("Special Offer" discount rate). This is currently the lowest variable home loan rate on our database from one of the four major banks, although ANZ, Commonwealth Bank and Westpac are all also offering similar discounted variable rates.
The highest variable rate available for someone looking to buy a home, as recorded on the Canstar database, is 5.48% (comparison rate 5.64%).
UBank, a subsidiary of NAB, currently has the lowest fixed rate on our database, with its three-year fixed rate of 2.69% (comparison rate 3.37%).
At the other end of the scale, the highest three-year fixed rate on Canstar's database at the time of writing is 5.05% (comparison rate 4.72%).
2. Consider how banks decide what interest rates to charge
The ACCC will also be required to look into how banks make pricing decisions, including the extent to which they pass on rate relief to customers in line with the adjustments the Reserve Bank of Australia (RBA) makes to the official cash rate.
The big four banks have been criticised for "ignoring the RBA" and "profiteering" by only passing on 0.57 percentage points to borrowers of the 0.75 percentage points worth of cash rate cuts so far this year, according to Treasury figures. But the banks – and some commentators – say that they have acted to ensure the financial institutions' financial viability while also protecting savers by not passing on the full cuts to deposit account interest rates.
Nonetheless, the movements of the cash rate generally influence the prices banks charge for variable rate home loans, so criticism has swelled for those banks that have not always followed this trend. In fact, Canstar data shows that the gap between the movements of the cash rate and the standard variable package rates of the big four has widened since mid-2016. This is because the banks lifted rates "out-of-cycle", meaning they raised home loan interest rates on several occasions, even though there was not a corresponding change to the cash rate.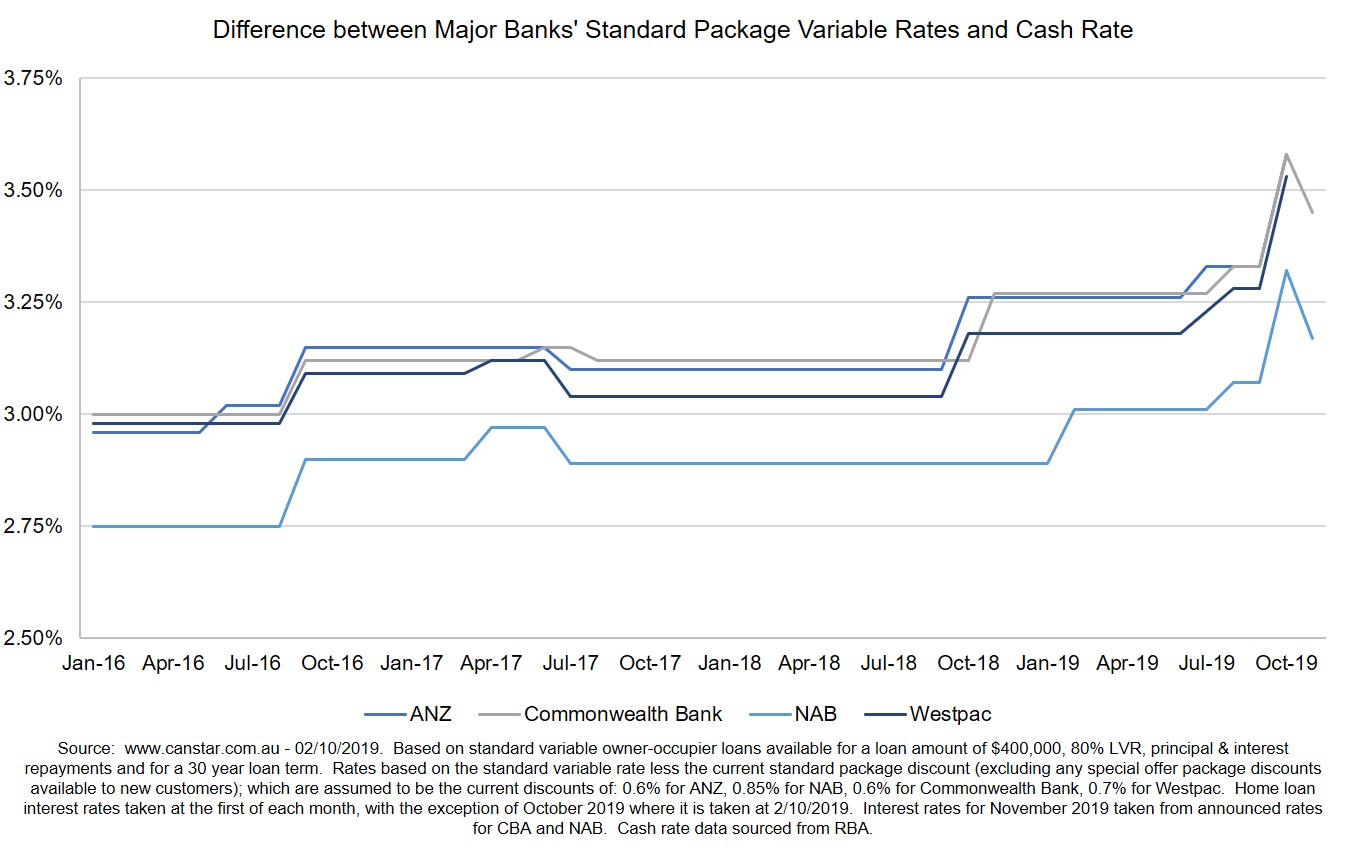 Canstar money expert Steve Mickenbecker and other commentators have pointed out that the major banks may not be passing on the full cash rate cuts because of a squeeze on their net interest margins (NIM) – otherwise known as the differences in their costs of borrowing and lending. The banks themselves have described the situation of managing the interests of their savings customers, home loan customers and shareholders as a "balancing act".
Mr Mickenbecker said the source of a bank's funds influences their home loan prices. He said around 40% of the bigger banks' funding comes from wholesale sources – such as bond purchased on the domestic or international money market – which are generally only partially impacted by cuts in the official cash rate. However, there are some lenders that raise all their funds via wholesale markets. Currently, wholesale rates are favourable so those financial institutions are in a position to offer products with attractive interest rates, he said. To remain competitive, the banks have been offering low interest rate basic loans, fixed rates and specials, but only for new customers or new borrowings, in order to preserve the profit contribution from existing home loan customers.
"Lenders are chasing market share for quality loans and are having to discount significantly to attract new business," Mr Mickenbecker said.
That leads to what the Treasurer has called, the "loyalty tax" (see below for more details on this) – existing customers paying higher interest rates than new customers.
In response to the ACCC inquiry, Westpac boss Brian Hartzer made specific mention of the pressure on his bank's NIM, adding that banks need to make a reasonable level of return.
"This not only supports shareholder investment, it also underpins prudential stability, and our debt rating," Mr Hartzer said.
He said the bank's profitability in terms of return on investment had more than halved over the past 15 years.
The Aust people are sick of the merry dance where the RBA reduces the cash rate, political leaders & the RBA call on the banks to pass them on in full & that advice is ignored. This ACCC inquiry will give us a better explanation as to why the banks aren't passing on these cuts. pic.twitter.com/SEZL42RAnW

— Josh Frydenberg (@JoshFrydenberg) October 13, 2019
3. Examine the "loyalty tax" – the gap between the prices paid by new and existing customers
The ACCC will examine the difference in the interest rates paid by new and existing home loan customers. This is about the trend where existing customers, who stay loyal to their bank and don't shop around, are missing out on lower interest rates offered to new customers, thereby paying what some have dubbed a "loyalty tax".
Mr Mickenbecker said it had become widespread industry practice to price new loans lower than existing loans, meaning existing borrowers were not always being given the full advantage of their banks' rate cuts.
"To me, loyalty should be rewarded, not penalised," he said.
"It's now difficult for any lender to remain competitive for new business and at the same time reward loyal customers with better rates."
For instance, Canstar data shows a customer who signed up to a package loan at Westpac three years ago is now forking out about $111 more in monthly repayments than a new customer on the same home loan. This is because the bank has increased its package discount rate for new customers in a bid to attract new business, similar to what some challenger banks appear to be doing.
4. Look into the difference between reference rates and what customers actually pay
The bargaining power (or lack thereof) of customers will also be highlighted when the ACCC examines the gap between what a bank says customers will pay and what they actually end up paying.
Banks have come under heavy fire previously from the ACCC for their "opaque pricing" of home loans, which "adversely impacts (consumers') willingness to shop around" because of the complexity involved in the pricing structure of these products.
Banks often advertise reference rates but then discount those rates for particular customers, according to UNSW Associate Professor Mark Humphery-Jenner.
For example, a customer may see a rate advertised and then visit the bank to enquire about the loan. However, after the bank has assessed the customer's risk as a borrower, they may be offered a lower rate to try and secure them as a customer. Alternatively, they could be offered a package home loan, which comes with a discounted rate in exchange for an annual fee. Either way, the customer does not have to pay the reference rate, which the general public believe is the going rate for that type of loan at that bank.
"Often it is not clear how, or why, banks offer these discounts," Associate Prof Humphery-Jenner said in The Conversation.
"Anecdotally, it appears to relate to whether the customer is low risk and how big the loan is."
5. Investigate barriers that may prevent consumers from switching
The Federal Treasurer has been encouraging people to "vote with their feet" and switch banks if they couldn't negotiate a better deal on their home loan. However, the Productivity Commission's 2018 report Competition in the Australian Financial System found that half of all customers don't compare their loans – they "still bank with their first-ever bank," adding that "only one in three have considered switching banks in the past two years, with switching least likely among those who have a home loan with a major bank".
The reluctance of consumers to seek out a better deal is because they feel it's too hard to swap, or because they don't know enough about the interest rate they are paying and what else is on offer from their bank, according to the report. It also found that this was how banks managed to get away with charging different rates for different customers, such as offering lower rates to new customers than existing ones (the so-called "loyalty tax").
"Poor advice and complex information supports persistent attachment to high margin products that boost institutional profits, with product features that may well be of no benefit," the report states.
The good news, Mr Mickenbecker said, is that "barriers aren't as high as people think" when it comes to swapping home loans. He said these were some of the common concerns:
Fees and charges to leave your existing bank: While there could be fees involved, such as a fee for breaking a fixed-rate home loan early, other fees – such as termination fees – are restricted by law.
Fear of rejection by a new bank: He said a person's concern about their credit rating may stop them from switching banks, for fear that they'd be rejected for a loan even if they have had no trouble paying repayments. However, he said the new comprehensive credit reporting framework meant it was now mandatory for all credit providers to record positive information about people, too. (It's a good idea to keep in mind that all lenders have been affected by stricter lending conditions after the banking royal commission.)
Lack of financial knowledge or lack of motivation: People may think they don't have enough financial literacy to work out the best deal. It does take some time to figure it all out, and to talk to lenders and brokers, but it's nowhere near as tough as people think. There is plenty of information out there to help.
However, Google Trends data does suggest that Australians are hearing the "switch to a better rate" message. Google has recorded spikes in searches for terms such as "lowest interest rate", "compare banks", "compare home loans" and "compare interest rates" over the past month, surging around the time Mr Frydenberg started publicly encouraging people to find a lender who had passed on the cash rate cuts. There is also data to support Google searches lifting around those terms after each of the cash rate cuts this year.
And in news that could make Australia's big banks sit up and take note, it seems the data also suggests consumers are questioning their loyalty. The biggest change in the Google data has been the swap in search popularity between "compare home loans" and "compare banks" – there has been a marked upswing in people searching for a new bank rather than just for a new home loan.