The big four banks are lowering some of their
home loan rates
since the cash rate cut, so how much better off are you now?
Canstar
data shows which customers received the biggest monthly saving. However, there's a sting in the tail – the majors have not passed on the full rate cut, despite pressure from the federal Treasurer.
The Reserve Bank of Australia (RBA) lowered the official cash rate by 0.25 percentage points on Tuesday to a record low of 0.75%.
Since then, Australia's four largest banks – Commonwealth Bank, Westpac, ANZ and National Australia Bank – each announced they would pass on some, not all, of the 0.25 percentage point reduction to borrowers.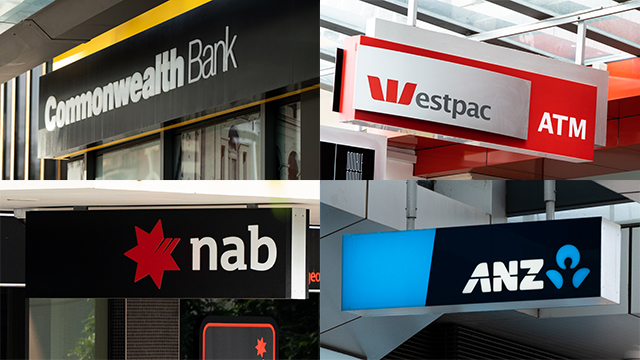 What are the big four banks' interest rates and how much will you save?
Since October's cash rate cut, the big four's standard variable rates for owner occupiers paying principal and interest will be reduced as follows:
ANZ: -0.14 percentage points to 4.79% (comparison rate 4.89%)
Commonwealth Bank: -0.13 percentage points to 4.80% (comparison rate to be advised)
NAB: -0.15 percentage points to 4.77% (comparison rate to be advised)
Westpac: -0.15 percentage points to 4.83% (comparison rate to be advised)
Those reductions to standard variable rates will also flow through to their package rates, which bundle different financial products together and are used by the bulk of people who have home loans with the big four.
To show what difference the rate changes could make to monthly repayments, we compared what new borrowers would pay at each bank if they took out a $400,000, 30-year home loan package now, compared to before the RBA's first rate cut of the year in June. The figures show that a Westpac customer would benefit the most – by more than $240 a month.
Big 4 Banks Mortgage Rate Comparison
Lender
Minimum Monthly Repayments
Savings on Monthly Repayment
Before June Cash Rate Cut
After October Cash Rate Cut

ANZ

$2,041.03

$1,939.76

$101.27

Commonwealth Bank

$2,091.41

$1,986.54

$104.88

NAB

$2,029.12

$1,925.84

$103.28

Westpac

$2,045.80

$1,805.12

$240.68

Source: Canstar.com.au – 03/10/2019. Based on the lowest-rate variable home loan packages available for new lending at each specified time period from each of the major banks to owner- occupier borrowers for the loan amount of $400,000 at 80% LVR with principal and interest repayments made over a total loan term of 30 years. Post-October rate cut repayments calculated based on announced rate cuts from the major banks. October rate cut for Westpac applied, rate effective 16/10/2019. Major banks comprise ANZ, Commonwealth Bank, NAB and Westpac.
Why not passing on the full rate cut could sting a bit
While the rate reductions might sound like pretty good news if you have borrowed from the big four, these banks have not passed on October's full cash rate reduction of 0.25 percentage points to all their home loan customers.
In fact, Canstar analysis shows the big four banks withheld 0.17 percentage points – on average for standard variable owner-occupier principal and interest loans – of this year's 0.75 percentage points of cash rate cuts.
The decision not to pass on the full October cut has been heavily criticised in the past few days, with Treasurer Josh Frydenburg urging lenders to do so and saying customers should "shop around".
There were a number of other lenders who did pass on the full benefit, though. Some were even offering variable interest rates below 3%, setting new record-low rates. These include smaller players Athena, Homestar and Freedom Lend. (To their credit, though, ANZ, CBA and NAB now have fixed rates starting with a '2'.)
The move not to pass on the full cash rate cut stings, particularly given the big four make up a whopping 75% of the residential mortgage market, according to UBS market share data. This means their rate reductions could have boosted the budgets of a huge portion of borrowers, perhaps helping to provide that desperately hoped-for upward nudge to the economy.
In fact, Canstar data shows the gap between the movements of the cash rate and the standard variable package rates of the big four has widened – and the banks' potential profits have gone up – since mid-2016. This is because the banks lifted rates 'out-of-cycle', meaning banks raised home loan interest rates even though there was not a corresponding change to the cash rate. (Typically, interest rates follow the trend of the cash rate.)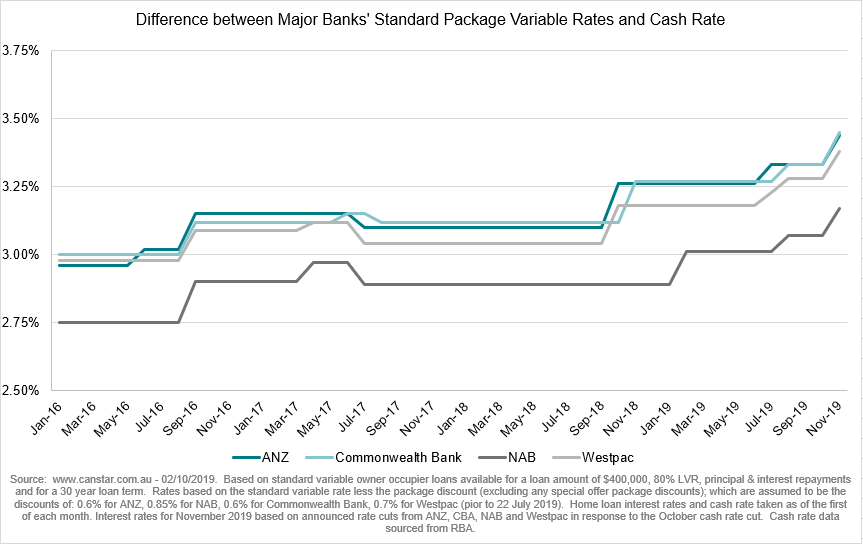 Who is benefiting most from the big four home loan interest rate reductions?
There is more rate relief available to some big four customers, though.
Canstar finance expert Steve Mickenbecker said it had become industry practice to price new loans lower than existing loans, which means that existing borrowers are actually not being given the full advantage of rate cuts.
"Lenders are chasing market share for quality loans and are having to discount significantly to attract new business," Mr Mickenbecker said.
"The interest rates they're offering are at a significant discount to the rates that existing home loan borrowers are paying, even at the same lender."
He said it was a wise idea to shop around for the best deal on home loans. Canstar has seen more than 1,700 mortgage rate cuts since the first cash rate cut on 4 June.