Australia is no stranger to floods. Is your home flood ready?
How do you prepare for a flood? If you remember the 2011 Queensland floods, you're well aware of just how devastating an unexpected flood can be. While you can't do much to change the weather, and there's not a great deal ordinary citizens can do about flood prevention, there are a few things you can do to prepare for a flood and help protect your home and property…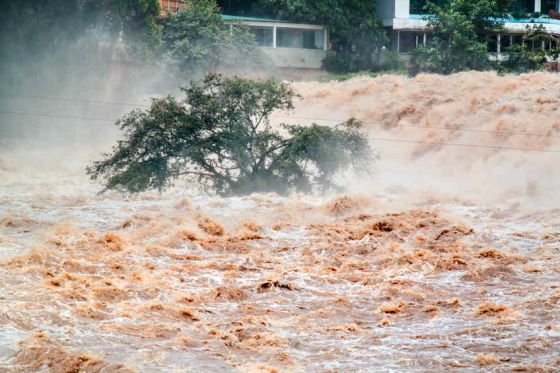 Before a flood – flood planning:
Find out if you're in a flood area
You probably already know if you're in a flood-prone area or not, but sometimes we are caught unawares. Before the 2011 floods in Queensland, very few young people in Brisbane would have remembered the 1974 floods and thought to ask whether or not they were in a flood zone. These days asking the question is second nature before buying a house or making a rental application. If you have chosen to live in a flood zone, consider your alternatives to carpet when it comes to flooring!
Check your insurance coverage
If you don't already have home insurance, contents insurance, or Comprehensive car insurance, now is the time to apply for it – before anything happens. And if you do have insurance, check that it covers flood damage. If it doesn't, you can compare stacks of other insurance providers that do, on the Canstar website:
Shopping around for a home insurance policy?
Whether you're looking for home, contents or combined cover, you can easily compare from 100+ policies with Canstar.
Clean up outside and inside
Secure all loose items like outdoor furniture, garden tools, and children's toys. If you can, lock them away inside or move them to a higher position.
As for inside, get everything up high, especially chemicals, oils, and anything that could float and cause damage.
Roll up rugs.
Secure anything that could become knocked over or hazardous in a storm surge, such as heavy bookshelves.
Put electrical appliances up on tables and benchtops. Larger appliances like washing machines and fridges can be lifted up off the floor with bricks.
Charge your mobile phone
Charge your phone, tablet or iPad, laptop, and any other electronic equipment well before the flood. That way, even if the power goes down you can still make calls via towers or the internet (Skype, WhatsApp, Messenger).
Disconnect the utilities
Once your phone is charged, unplug all your electrical appliances and turn off your home's power at the switchboard. Also turn off the gas and water.
Prepare an emergency kit
Important things to include in an emergency and/or evacuation kit are:
Torches
Battery-powered radio
Extra batteries
Clean water
Rubber gloves
First aid kit
Medications you take (in a waterproof bag)
Identification documents (passports, etc.), insurance documents, and photo albums or other mementos in a waterproof bag
Warm clothing and bedding/pillows – plan to stay overnight if you evacuate
Plenty of drinking water
Food that won't perish quickly (and a can opener if it is tinned food)
A camp stove (gas bottle with cooking attachment) for boiling water and cooking food
Did we mention waterproof bags? You can never have too many during a flood.
Listen for announcements
Keep your radio on and tuned to your local station so that you can hear all important information. On the BOM website, you can find current flood warnings here, and you can find rainfall and river conditions here.
Be a good neighbour
Now that you are prepared, check that your neighbours are, too, especially if they are elderly, are disabled, do not speak English well, or have young children.
During a flood – how to survive a flood:
Be ready to evacuate
It might be too dangerous for you to stay in your home. Make sure all family members know what to do if a flood warning is issued, and what the family's evacuation plan is. Follow all instruction local authorities give and be ready to leave if the order is given. And don't leave your evacuation until the last minute – you might find yourself trapped by heavy traffic, rising floodwaters, or even a storm surge. Keep your pets with you in case you need to evacuate. If it is not possible to take them with you, move them to a safer place with plenty of food and water.
Stay inside and get as high you can
Ride out the worst of the storm and flooding in the highest part of your home.
Do not drive
As the Queensland Government's 2015-2016 flood campaign put it, "If it's flooded, forget it" Forget what kind of car you drive, or whether you know the road or not, or whether you think it looks pretty shallow. Even 4WD vehicles are not designed to withstand flooding or moving waters, and a car can quickly become swept away and buried in floodwaters, stormwaters, or debris.
Empty the fridge
Empty out your fridge and freezer, and leave the doors open so that they fill with water. It sounds weird but if your refrigerator is left closed, it could float on the water and cause damage to itself and others.
Sandbag the plumbing
Whether you decide to leave or to stay, put sandbags in the toilet bowl and over all drain holes in the laundry, bathroom, etc. This prevents sewage backflow.
After a flood: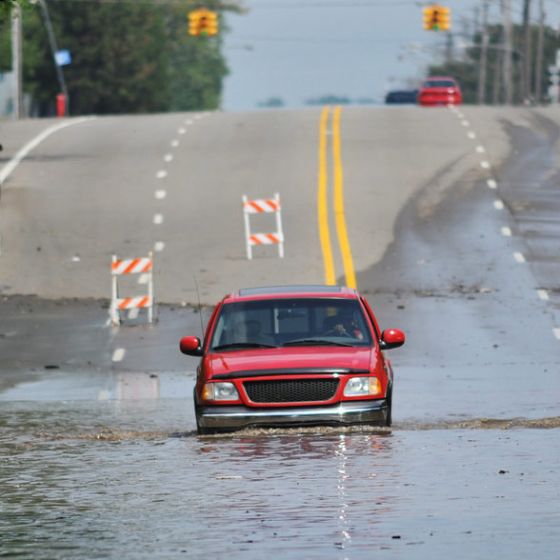 Do not touch floodwater
Any floodwater can also be full of bacteria, so wear shoes at all times. Do not allow children to play in or near floodwaters. If you must enter floodwaters at any time, wear long pants in a tough material, gumboots or other solid shoes, and check the depth and current strength with a stick. Avoid going near drains or other places where the water is moving much faster. Do not drive into floodwaters of any depth.
Avoid electrical currents
Electrical systems may have been damaged by the floodwater and can be dangerous to operate. A qualified electrician is best placed to ensure you and your family's safety. Avoid fallen powerlines.
Phone your insurer
Contact your insurance company as soon as possible after the flood, to ensure that they can pay for temporary accommodation if you need it, approve your home insurance or car insurance claim sooner, and even send you an advance on the claim amount so you can get started on emergency repairs. Take as many photos of all damage to provide proof when you officially have to file your claim.
Lock up
If evacuating, lock your home to prevent looters gaining access after the flood. Insurers see it as being the occupier's responsibility to secure their home during and after a flood, so a contents insurance claim for theft may be denied if the door wasn't locked or broken windows boarded up.
Not safe to eat
Do not eat or drink any food, drink, or medications that have been touched by floodwaters. Boil all drinking water until authorities have declared the mains system water safe to drink.
Keep the lines of communication open
Check on how your neighbours fared. Let your family know you're okay, but don't block the tower with endless phone calls – the telecommunication network is going to be busy handling triple zero hotline calls before, during, and after a flood.
Rebuild with flood planning in mind
Replace carpets with hard-wearing and easily removable or cleanable materials, such as tiles or floorboards.
For more information on flood preparedness, visit the government advice for your state or territory: