Canstar has released its inaugural Working Visa Health Cover Star Ratings report, researching 19
working visa health insurance
policies from 9 providers across four categories.
There are currently around 1.2 million people from overseas working in Australia and for those from a country without a reciprocal health agreement in place Working Visa Health Insurance is a condition of entry. Insurance policies can differ greatly between providers though – both in terms of features and cost – so for the first time Canstar has researched and rated the Working Visa Health Cover policies from the main players in Australia.
At a minimum, working visa health insurance will help cover the costs involved in being admitted to a hospital within Australia. This includes the cost of the hospital bed, operating theatre fees, medicines, the cost of any medical procedures, and any emergency ambulance transport.
Beyond that level of cover though it's important for workers to carefully research their options as many policies can provide a great deal more than the basics. Looking carefully at both the price and features of Working Visa Health Cover could make a big difference to the breadth and quality of your protection while you're here.
Types of Working Visa Health Cover (WVHC)
Hospital-only Policy
Covers all in-hospital services where a Medicare (public health insurance) benefit is payable, for example:
Heart-related services (cardiac)
Pregnancy (waiting periods generally apply)
Joint reconstructions
This will include the payments towards:
Hospital accommodation
Theatre fees
Doctor's fees where procedures are covered by your policy
Interestingly, unlike hospital cover for residents, providers of health insurance for working visa holders are not restricted from providing cover that pays for more than the Medicare Benefits Schedule (MBS) fee.
In Canstar's ratings we observed some quite different levels of medical benefit cover, from a portion of the MBS fee to cover for the entire cost of the procedure.
Out-of-hospital policy
Covers other reasonably common medical costs that are typically offered outside of hospitals, including prescription medicines, pathology, GP costs and radiology. In Australia, these are more commonly known as 'extras', which cannot be accessed through public health insurance.
Workers need to carefully determine what health cost coverage is important to them and work backwards from there to find a policy that offers the right mix of price and features.
What does Working Visa Health Cover cost?
Canstar's research found the following average annual premiums across the providers researched:
Policies researched by Canstar for working visa holders ranged greatly in cost.
Premium Costs For Working Visa Health Cover (One Month)
Policy Type
Min.
Average
Max.
Single
$75
$135
$213
Couple
$149
$277
$426
Family
$150
$303
$469
Based on policies researched by Canstar 2016
Which Working Visa Health Cover provider offers Outstanding Value?
Canstar has researched health policies across the following 4 categories:
Single Males
Single Females
Couples
Families
Canstar is pleased to announce that IMAN has won Canstar inaugural award for Outstanding Value Working Health Visa Cover. With a strong performance in both pricing and features, IMAN achieved 5-star ratings in all 4 categories.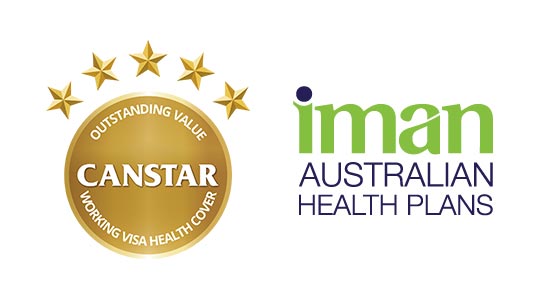 About IMAN's Working Health Visa Cover
IMAN is owned and operated by Australian private health insurer, nib health funds.
IMAN's stand-out product was its Value Plus Visitors Cover, which received 5-stars for Outstanding Value for singles, couples, and families. It was the lowest cost policy in the Star Ratings to include both hospital cover, as well as cover for out-of-hospital medical (general practitioners, specialists, radiology, pathology).
A unique feature of IMAN's hospital and medical policies is that they cover up to $500 worth of pharmacy medicines per year, enabling policy holders to claim back 100% of the cost (after serving a 2 month waiting period). All other providers require a co-payment to be paid, meaning that a pharmacy item would not be covered the price was less than $20-$38 (depending on provider).
IMAN's Budget Visitors Cover also received 5-stars for Outstanding Value for singles and couples. Budget Visitors Cover is IMAN's entry-level product for working visa holders – allowing people to pay a lower premium than for Value Plus Cover if they forgo the coverage for general practitioner visits and other out-of-hospital medical services. Budget Visitors Cover also has a unique feature in that it will cover 100% of all hospital and medical costs for the procedures which are covered. This means that policy holders will not have any 'gap' payments when admitted to hospital.
nib's Chief Executive Officer, Mark Fitzgibbon, highlighted the significance of this award for the IMAN business.
"Our underlying philosophy that health cover should be easy to use, easy to understand and most of all good value," said Mr Fitzgibbon said.
"This award recognises IMAN's great value international workers' health insurance products that provide benefits our customers want. In addition, our customers have access have a large hospital network, quick and easy claim options through our smartphone app, and can search and compare health care professionals via whitecoat."