Massage is believed to be one of the oldest types of therapies, with some academics saying there is evidence it has been around for thousands of years.
Using a range of stroking, rubbing and kneading techniques, it can provide many physical and mental benefits. But with so many massage techniques available, how do you decide which therapy is right for you?
Here is a breakdown of some popular forms of massage and their benefits, along with information on what cover is available for massage through private health. Keep in mind, if you are considering getting a massage, but have a pre-existing medical condition, allergies, are pregnant or are on medication, it is a good idea to consult your doctor before making an appointment.
1. Swedish
Swedish massage involves long, kneading strokes together with tapping as well as movement of the joints. This popular choice is said to relax your whole body, improve blood circulation, and relieve mild pain, stress and muscle tension. Keep in mind some potential side effects include headaches, nausea, bruising and soreness, all of which are considered normal and temporary.
Swedish massage may be suited to people who are looking for relaxation, have built up tension or are new to the world of massage. This type of massage is not recommended for pregnant women, cancer patients, people who take muscle relaxants or blood-thinning medication, or those with skin infections or open wounds (until these are healed).
2. Deep tissue
Deep tissue massage targets the deeper layers of your muscle, tendons and connective tissues to relieve tightness and tension. It combines slow strokes and sustained pressure to the problematic areas, which can sometimes be painful. This massage can help relieve some chronic muscle pain and is said to potentially improve mood, provide faster rehabilitation, prevent injury and lower blood pressure. Some of the side-effects you may experience are soreness, headaches and bruising.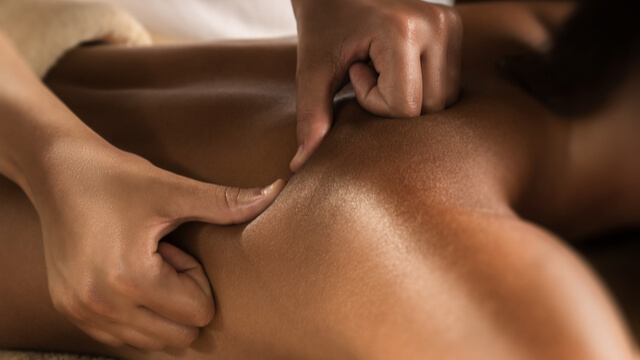 Deep tissue massage may be worth considering if you are suffering from certain ailments or pain such as fibromyalgia, tennis elbow, improper posture, sciatica, piriformis syndrome, plantar fasciitis, lower back pain or limited mobility. It's important to consult with your doctor first before deciding to get a deep tissue massage, particularly if you have a history of blood clots or clotting disorders, you use blood thinners, are pregnant, or are undergoing cancer treatment such as chemotherapy or radiation.
3. Remedial
Remedial massage is performed by a remedial therapist or physiotherapist and used to improve general health and well-being. There are many techniques used, depending on the needs of the patient, including trigger point therapy, deep tissue massage, myofascial release therapy, cross-fibre friction, reflexology, stretching, lymphatic drainage and craniosacral. This therapy is said to help relieve muscle pain, increase flexibility and mobility, improve bone position, stimulate better blood circulation, and help with the healing and treatment of injuries.
Remedial massage may be best suited to those with sports injuries, arthritis, fibrositis, soft tissue injuries from accidents, dance injuries, muscle cramps, sciatic pain, whiplash, spondylitis or muscular atrophy. Experts recommend those with vascular disorders, stroke, epilepsy or who suffer migraines to check with their doctor first before considering this type of massage therapy.
4. Shiatsu
During a shiatsu massage, the therapist will use pressure points with the aim to balance out the energies in your body (known as 'chi' or 'qi') and facilitate healing. These pressure points are also known as meridian pathways, located all over the body, which the therapist follows with the thumbs, fingers, elbows and knees. Some of the potential benefits are said to include a boost to your overall wellness, relief from chronic pain, improvement in digestion and increased energy.

Shiatsu massage may be best suited for people with arthritis, headaches, sciatica, insomnia, fatigue, premenstrual syndrome, digestive problems and fibromyalgia. Consult with your doctor before getting this type of massage, especially if you are pregnant, have issues with blood pressure or have a heart condition.
5. Aromatherapy
Aromatherapy, also called essential oil therapy, uses a range of plant extracts in the form of oils that you both inhale and absorb through the skin while the therapist uses relaxing massaging strokes. Each oil is said to provide different healing qualities with some of the more popular oils being lavender, eucalyptus, chamomile, peppermint, ginger and tea tree.
Aromatherapy can be the massage of choice for people wanting to relax, get relief from stress and anxiety, manage pain and sometimes to treat depression. However, it is important to note that massage is not a standalone treatment for people experiencing depression and it is a good idea to talk to your GP about your symptoms.
Some of the conditions that aromatherapy has shown to help alleviate for some people include menstrual pain, anxiety, and insomnia. Pregnant women, women who are breastfeeding, and people with allergic reactions to essential oils should talk with their doctor before booking this type of massage therapy.
6. Hot Stone
This is a type of massage combining traditional massaging strokes with hot, flat stones with the aim to treat pain and help with relaxation. The stones are heated to about 50°C and generally placed on the stomach, spine, legs, feet, hands or face and can warm and relax muscles, allowing the massage therapist to apply pressure to trouble areas with less discomfort. Basalt volcanic stones are commonly used as they are smooth against the skin and retain heat.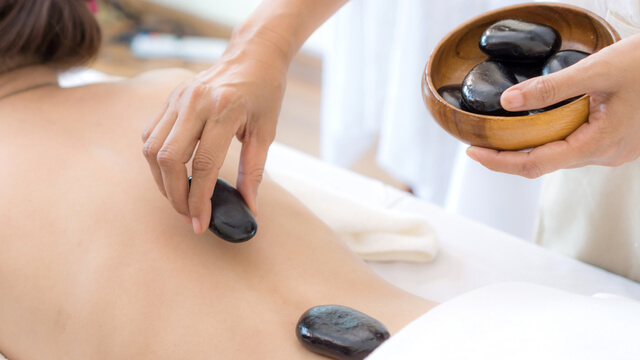 Hot stone therapy can be beneficial for people experiencing persistent muscle pain and tension and is said to potentially help to improve the immune system, increase joint flexibility, relieve stress and anxiety, and increase blood flow.
A hot stone massage may be worth considering if you are struggling with insomnia, anxiety or back pain. It's a good idea to consult with your doctor regarding this treatment before booking an appointment, particularly if you suffer from a skin condition, allergies, osteoporosis, an autoimmune disease, diabetes, blood clots or you are pregnant.
7. Trigger Point
A trigger point massage focuses on parts of the body that are tight or experiencing mild to intense pain. Tightness, or commonly referred to as 'muscle knots', can be uncomfortable or painful and could cause headaches or pain in other areas of your body. During a session, the therapist locates and places pressure on these tight 'trigger points'. This massage can cause discomfort and pain, but can help to treat those problem areas and potentially improve mobility and flexibility. Regular trigger point sessions with a professional may help to relieve chronic pain and improve posture.
This massage technique may be best suited for people with neck pain, low back pain, muscle spasms, headaches or fibromyalgia. It is not recommended for patients with osteoporosis, cancer or heart conditions, as well as those who take blood-thinning medication.
8. Thai
Thai massage is considered a very energising form of therapy where the therapist uses yoga poses, stretching, pulling and massage motions during the session. Because of this, it is a good idea to wear stretchy and comfortable clothes if you plan to receive this type of massage. Some of the benefits Thai massage may provide include improved flexibility, energy and blood circulation, as well as pain relief.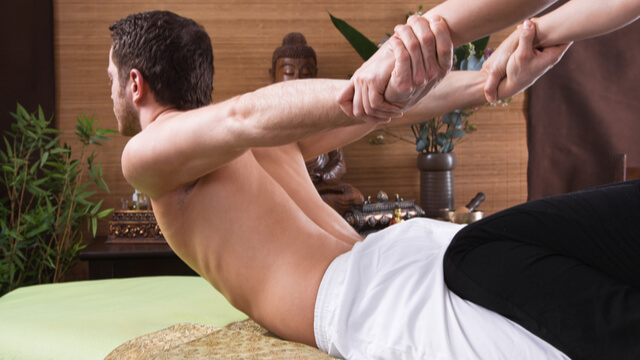 Thai massage is best suited to people who want a more active massage and don't mind being stretched and twisted by the therapist. It can help with fatigue, muscle pain, joint pain, peripheral neuropathy and anxiety. It is not safe for people with heart conditions, dermatitis, high blood pressure, cancer or diabetes, as well as children, pregnant women or people recovering from recent injuries.
9. Sports
A sports massage may be ideal for athletes or those who are generally physically active. It caters to people who have an injury caused by repetitive muscle use or who want a wider range of movements, better flexibility, improved blood flow, and better physical and athletic performance. The massage therapist will use a variety of techniques to release tight tissue, stretch tight muscles and stimulate inactive muscles.
People who suffer with cancer, heart conditions, diabetes, skin conditions, or who take blood-thinning medication may not be suited to this massage.
10. Traditional Chinese
Traditional Chinese massage has been used for thousands of years and targets both the physical and mental wellbeing of a patient through a range of techniques. One of the oldest and best-known Chinese massage techniques is Tui Na. This massage aims to stimulate the flow of the body's energy life force (called qi) using many of the same principles of acupuncture, except therapists will use fingers instead of needles to apply pressure to these points. Therapists may also knead, roll, glide, pull, shake and rub areas between the joints. After the session, patients are said to feel more energised, with a healthy balance between the body and the mind, improved blood flow and experience less pain.
Chinese massage may be best suited to treat those suffering with lower back pain, sciatica, insomnia, and anxiety. Some people also choose to use Chinese massage for the treatment of scar tissue. Individuals with cancer, skin conditions, heart conditions and diabetes may be recommended to avoid this massage. Speak to your doctor for more information.
11. Pregnancy massage
Pregnancy massage involves varying massage techniques such as Swedish or deep-tissue, depending on the individual case. It can be a way to reduce stress and anxiety as well as ease pain in the joints, back and neck. It is also said to potentially help with swelling and hormone imbalances.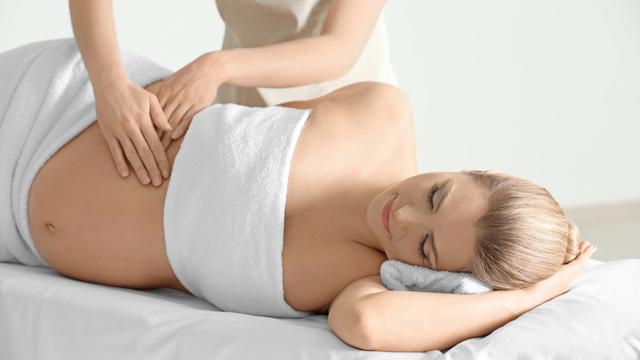 A pregnancy massage can be used by women who are prenatal or postnatal, however it is a good idea to consult with your doctor before deciding whether a massage suits your circumstances and find an experienced therapist who specialises in this therapy. Patients with open wounds, high blood pressure and diabetes are generally advised to avoid pregnancy massages.
Does Medicare cover massage treatments?
Medicare generally does not offer cover for massage therapy. However, some people who are eligible for a Chronic Disease Management Plan through their GP may receive a Medicare rebate for a maximum of five allied health service visits each year, as deemed necessary by the doctor. These allied health services may include physiotherapy, which could involve remedial massage treatment.
Massage and private health insurance: are you covered?
If you have private health insurance with extras cover, you may be able to make a claim for remedial massage. This is currently the only type of massage that is covered under private health in Australia following the Federal Government's decision to remove eligibility of 16 natural therapies for cover on 1 April 2019, including aromatherapy, reflexology, yoga, Tai Chi and shiatsu. Check your policy's product disclosure statement (PDS) to see if remedial massage is included in your cover.
If you do have extras cover with remedial massage included, your private health insurer will pay a percentage of the costs of your therapy, up to a certain limit each year. This rebate is usually applied as a discount when you go to pay at the end of a session (often called an on-the-spot claim). For these immediate claims, the therapist or receptionist may swipe your private health care card in their HICAPS machine to calculate your rebate, and then you may be asked to pay a gap. If an on-the-spot claim is unavailable, you can usually keep the receipt and apply for a refund for a certain amount of the bill with your insurer directly.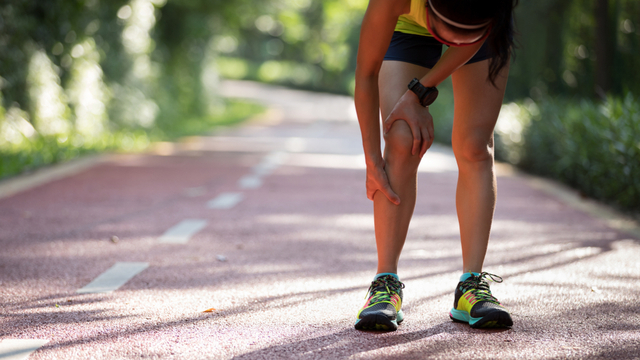 What about limits and waiting periods?
Most extras policies will have an annual limit for remedial massage, which may be combined with other natural therapies, such as acupuncture and Chinese herbalism, or have its own set dollar amount or number of visits per year. Once you have gone over this amount, a rebate will no longer be available. There may also be sublimits for a specific service. For example if there is a yearly limit of $500 for natural therapies, there may also be a sub limit for massages of $100 per person per year. Limits and sub limits will ultimately differ depending on the level of cover and the policy you have chosen.
Waiting periods may also apply for remedial massage and other natural therapies, which often start at about two months, but may be longer depending on your medical history and policy. This means you have to wait for a set amount of time after you've taken out your policy before you can claim for these types of benefits. Check your policy's PDS for more information.
Do you need to go to a registered massage therapist?
Insurers will generally only pay a benefit for a remedial massage if a policyholder uses the services of a registered massage practitioner.
You can check to see whether your chosen therapist has the correct accreditation by contacting them directly, searching the Australian Natural Therapies Association directory online, or getting in touch with your insurance provider. Your provider may also have a list of preferred practitioners for a remedial massage to choose from, who may offer discounts to policyholders.
Before booking your massage
While massage is generally considered safe when performed by a trained and licensed massage therapist, it's not right for everyone. It is a good idea to consult your doctor before you book an appointment, particularly if you have a medical condition, are pregnant or are on medication that thins the blood. When budgeting for massage, keep in mind that you may be recommended to visit the therapist a number of times if you are treating particular ailments.
---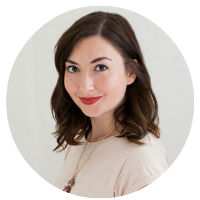 About Sarah
Sarah Pelham is the Beauty & Wellness Expert for Bookwell.com.au, an online platform for instant bookings for hair, nails, beauty and massage appointments. Sarah has worked closely with hundreds of salon owners within the beauty and wellness industries for nearly four years.
Main image source: LightField Studios (Shutterstock)