With the coronavirus public health emergency flaring up in Victoria and New South Wales, some Australians have been mandated to cover their face before leaving the house or risk facing a $200 fine. But what type of face masks are available in Australia, and where can you get one?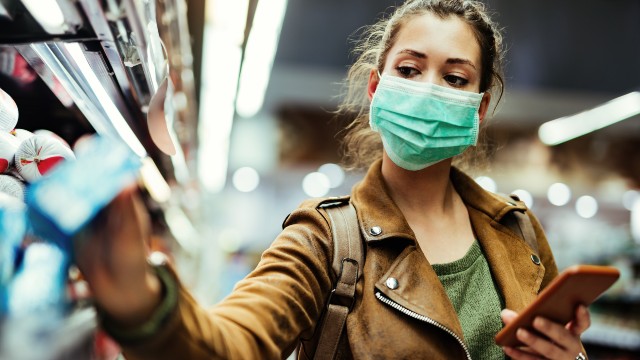 Many people bought face masks – such as the 'P2 mask' – to limit their exposure to smoke haze during the horrific bushfire season earlier this year.
A second emergency has also lifted demand for the masks, not only here in Australia, but across the globe – the COVID-19 outbreak.
While NSW is on "extremely high alert" due to a new cluster of infections in Sydney, Victoria is in a State of Emergency and has returned to 'Stay at Home' restrictions in Melbourne and other areas due to a significant increase in community transmission of COVID-19.
It is now also a requirement to wear a face covering, such as a mask or scarf, before leaving home in parts of Victoria, including Melbourne.
While face masks were previously not recommended for use by the general population, the World Health Organisation (WHO) now recommends wearing masks to minimise the risk of infecting others with COVID-19 or other viruses.
Australia's Department of Health and the WHO also recommend other hygiene measures to help protect against the infection, including washing your hands, using hand sanitiser, covering your mouth while coughing or sneezing and maintaining a distance of at least 1.5 metres from others.
If you're comparing health insurance policies, the table below displays a snapshot of a hospital and extras policies currently available on Canstar's database for a single female born in 1985 seeking cover in NSW without pregnancy cover. Please note the table is sorted by Star Rating (highest to lowest), followed by monthly premium (lowest to highest) and features links direct to the providers' websites. Use Canstar's health insurance comparison selector to view a wide range of policies.
Where is it mandatory to wear a mask in Australia?
It is mandatory to wear a face covering – such as a store-bought cloth or surgical mask, homemade fabric face mask or a scarf in metropolitan Melbourne and Mitchell Shire if you are over 12 years old and leaving the house, which you can only do for the following reasons, according to the Victorian Government:
Shopping for food and supplies
Receiving care and care-giving
Exercise and outdoor recreation
Study and work if you can't do it from home
Residents in those areas don't need to wear a face covering if medical reasons prohibit them from doing so, if they are under 12 years of age, for professional reasons or if it's not practical to do so (such as while running, although in this case you would still need to wear a mask before and after your exercise).
People leaving metropolitan Melbourne and Mitchell Shire to travel outside those areas also need to keep a face covering on.
People living in regional Victoria have been recommended to wear a face mask in their local area if they can't keep 1.5 metres from others, and also if they visit metropolitan Melbourne or Mitchell Shire. There are only three reasons they are allowed to enter: to shop for food and supplies, for medical care and care-giving, or for study and work if it can't be done from home.
As for NSW, it is not mandatory to wear a mask at the time of writing. But Deputy Chief Health Officer Nick Coatsworth has advised that people in the state should wear a mask if they need to catch public transport. NSW Premier Gladys Berejiklian also said residents should wear a mask if they could not guarantee people around them would respect social distancing rules.
Where can you be fined if you're not wearing a mask?
If you live in metropolitan Melbourne or Mitchell Shire, the Victorian Government has advised you could be fined $200 for not wearing a face covering when leaving your home, starting from 11.59pm on Wednesday, 22 July 2020.
What type of mask should I wear?
Victorian Premier Daniel Andrews told his state the face coverings do not need to be a "hospital-grade mask", but could even be a scarf or handmade mask. There are a number of people making homemade masks and selling them online.
According to Mr Andrews, there are 2.5 million to 3 million reusable masks on order for Victoria, with the first batch set to arrive this week, likely to be distributed to older people first.
Australia's Department of Health has recommended people don't use P2 or N95 masks outside of healthcare settings, such as in hospitals. This is likely to save personal protective equipment resources for frontline workers who are most in need of them.
What is a P2 mask?
There are many different forms of protective masks, offering different levels of protection due to their filtering capability. A P2 mask, also known as a P2/N95 mask or P2/N95 respirator, is a face mask that is specially designed to filter the air and block particles above a certain size, including smoke and fine dust.
The only difference between P2 and N95 is the region of classification and its testing requirements – P2 is European and N95 is the US equivalent. The standard of protection, however, remains the same, according to international supplier Majac.
What is a surgical mask?
Another popular type of protective masks is the surgical mask – a disposable mask typically worn by medical staff to prevent transmission of diseases by exposure to large droplets of fluid or from a patient's breath, for example. They are loose-fitting. A P2 mask is different to a surgical mask, as it is fitted to the wearer's face and creates a vacuum seal between the mask and face.
Where can I buy a P2 mask?
As P2 masks are a workplace safety item, they are usually available at hardware stores and other safety equipment suppliers. They are currently being sold at chemists and dollar stores in Melbourne, and are also available for purchase online.
The extra protection of a P2 mask means they are generally more expensive than the commonly-used surgical mask. For example, prices on a popular hardware retailer's website for the P2 masks range from $7.95 per mask, while surgical masks retail online for about $2 each, depending on supplier. However, prices are fluctuating due to demand so it could be a good idea to shop around.
What are the benefits of a P2 mask?
P2 masks are generally used to reduce exposure to particles, gases or vapours in the air, such as paint or dust, according to suppliers of the masks. A P2/N95 mask removes around 95% of all particles that are at least 0.3 microns in diameter. They can also reduce the wearer's exposure to contagious airborne viruses, similar to the current coronavirus. The mask is only effective, however, if it is worn correctly so that it is properly fitted and airtight.
The New South Wales Department of Health recommends doing a fit check when wearing your mask to ensure that it is sealed tightly over the bridge of your nose and around your mouth. You can check the seal by inhaling; if the mask is not sucked in toward your face or if air leaks around the seal, you may need to readjust the mask or try a different size or style. The masks may be difficult to fit on children or people with facial hair.
Are there any alternatives to P2 masks?
If you want to wear a face mask but are unable to get your hands on a P2 mask or aren't interested in buying one, a surgical mask may provide some protection, but it is generally not as effective at filtering out small particles. The classic style of surgical mask that loops over the ears does not provide total filtration, as there is no vacuum seal. This means that airborne viruses, which are smaller than smoke particles, may not necessarily be blocked by the mask. In saying this, a surgical mask may still provide some level of protection against the bodily fluids of those around you, such as droplets from a cough or a sneeze.
A surgical mask or homemade mask may also help to stop the spread of your own germs if you are showing cold and flu symptoms.
Please note: Canstar is not making any recommendation about the efficacy of face masks or of any particular face mask. For more information, consult expert bodies such as the World Health Organisation, the Australian Government's Department of Health, the health authorities in your state or territory or a trusted medical professional.
As with all our content, Canstar's Coronavirus coverage will always be free for our readers.