Some Australians have been mandated to cover their face with a mask before leaving the house or risk facing a $200 fine. Here we break down what type of face masks have been officially recommended in Australia, where you are required to wear one and where can you get one.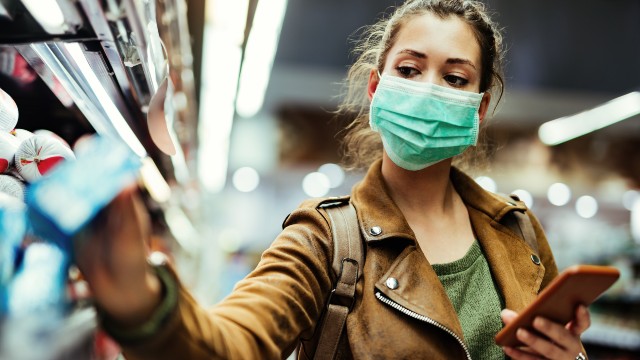 Many Victorians have been wearing face coverings for a few months now, due to significant levels of COVID-19 community transmission that have devastated the local economy. But new rules introduced on Sunday, 11 October mean all Victorians must now wear a fitted face mask when leaving the house, no matter where they live in the state.
Elsewhere in Australia, New South Wales (NSW) and Queensland also currently have some official government recommendations and requirements in place on the use of face masks.
While face masks were previously not recommended for use by the general population, the World Health Organisation (WHO) now recommends wearing masks to minimise the risk of infecting others with COVID-19 or other viruses.
Australia's Department of Health also recommends other hygiene measures to help protect against the infection, including staying at home if you're feeling unwell, maintaining a distance of at least 1.5 metres from others, avoiding large gatherings and crowded indoor spaces, washing your hands, using hand sanitiser, and covering your mouth while coughing or sneezing.
---
If you're comparing health insurance policies, the table below displays some of the hospital and extras policies currently available on Canstar's database for a 30-year-old single female seeking cover in NSW without pregnancy cover. Please note the table is sorted by Star Rating (highest to lowest), followed by provider name (alphabetical). Use Canstar's health insurance comparison selector to view a wide range of policies.
---
Where is it mandatory to wear a face mask in Australia?
It is mandatory to wear a fitted face mask in Victoria if you are at least 12 years old and leaving the house, according to the latest guidelines from the Victorian Department of Health and Human Services (DHHS). There are, however, a few exceptions.
Residents don't need to wear a face mask if medical reasons prohibit them from doing so, if they are babies or children under 12 years of age, for professional reasons or if it's not practical to do so (such as while running, although in this case you would still need to wear a mask before and after your exercise). You also don't have to wear a face mask in your own home or while driving with someone from your household, but you must do so if you are with someone from outside your household or if you wind down the window to talk to someone else (such as at a drive-through).
It is no longer sufficient for Victorians to wear face coverings such as a scarf instead of a face mask. Health officials say the mask must cover your nose and mouth and be "well fitted", meaning it "should fit snugly over your nose and mouth".
While regional Victorians (those who live anywhere in the state outside of Melbourne) do not currently have any restrictions on reasons for leaving their homes, except that they can't travel to areas with higher restrictions (including metropolitan Melbourne), Melbourne residents are still only permitted to leave the house for one of four main reasons, according to the Victorian Government:
Shopping for food, supplies or other necessary goods and services (although dine-in meals are still off the table for now)
Receiving care and care-giving
Exercise and outdoor recreation
Study and work if you can't do it from home
What about elsewhere in Australia?
NSW and Queensland also have current health advice on the use of masks.
In NSW, where there have been varying degrees of community transmission of COVID-19, it is not mandatory to wear a mask but the state government "strongly recommends" people should wear one if they are unable to physically distance, particularly in indoor settings such as when catching public transport.
The Queensland government says residents don't need to wear a mask unless they've been told to do so by their doctor or if they're caring for someone who might have COVID-19. Those in the Greater Brisbane community who struggle to social distance have been told to consider wearing a mask.
Where can you be fined if you're not wearing a face mask?
If you live anywhere in Victoria, the Victorian Government has advised you could be fined $200 for not wearing a fitted face mask when leaving your home – unless one or more of the stated exemptions apply to you – starting from 11 October, 2020.
What type of mask should I wear? Reusable cloth, single-use surgical, face shields or scarves?
In Victoria, the DHHS states that residents should wear fitted face masks, covering their nose and mouth. They can be reusable cloth masks or single-use surgical masks, but not face shields, bandanas or scarves on their own (though these coverings can be worn in combination with a fitted face mask).
"This means that face shields, bandanas, or scarves or loose snoods, loose buffs or loose neck gaiters on their own will no longer be considered a sufficient face covering," the department's website stated.
The NSW Government also says face shields, scarves and bandanas are not a suitable substitute for masks.
A face mask with three layers is the option recommended by Victoria's Chief Health Officer, though it is not compulsory.
Any Victorian resident who has made or purchased a cloth mask can continue to wear it, as long as it is "fitted closely" and covers their nose and mouth.
The DHHS has also recommended people don't use P2 or N95 masks outside of healthcare settings, such as in hospitals. This is likely in order to save personal protective equipment resources for frontline workers who are most in need of them.
Where can I get a face mask?
Cloth or surgical face masks can be purchased from chemists, hardware stores and are being stocked at numerous online retailers. You can also follow our directions to make your own three-layer face mask:
The Victorian Government says it has also ordered 23 million single-use masks, with many set to be distributed to schools for immediate use while an order for reusable fabric masks is processed.
What is a surgical mask?
A type of protective mask recommended by government officials, other than three-layer cloth masks, is the surgical mask. It is a single-use disposable mask typically worn by medical staff to prevent transmission of diseases by exposure to large droplets of fluid or from a patient's breath, for example. They can be somewhat loose-fitting. A P2 mask (described below) is different to a surgical mask, as it is fitted to the wearer's face and creates a vacuum seal between the mask and face.
What is a P2 or N95 mask?
A P2 mask, also known as a P2/N95 mask or P2/N95 respirator, is a face mask that is specially designed to filter the air and block particles above a certain size, including smoke and fine dust. But when it comes to COVID-19, government officials and health professionals in Australia have largely cautioned the general public against using them.
The only difference between P2 and N95 is the region of classification and its testing requirements – P2 is European and N95 is the US equivalent. The standard of protection, however, remains the same, according to international supplier Majac.
Australian government officials have so far typically recommended the general public do not use P2 or N95 masks for protection against COVID-19 outside of healthcare settings, such as in hospitals, because they can be difficult to put on and take off safely.
Associate Professor at Curtin University's School of Public Health, Ben Mullins, told the ABC that N95 masks with exhalation valves should be avoided if possible because they are less effective than those without in reducing the spread of potentially infected particles. He said this was because masks with exhalation valves protect the wearer "quite well", but would not stop an infected wearer transmitting the virus.
A surgical mask or homemade cloth mask may help to stop the spread of your own germs if you are showing cold and flu symptoms. These types of masks are what is typically recommended by health authorities in Australia to reduce community transmission, but they are not a substitute for good hand hygiene and physical distancing.
Please note: Canstar is not making any recommendation about the efficacy of face masks or of any particular face mask. For more information, consult expert bodies such as the World Health Organisation, the Australian Government's Department of Health, the health authorities in your state or territory or a trusted medical professional.
As with all our content, Canstar's Coronavirus coverage will always be free for our readers.