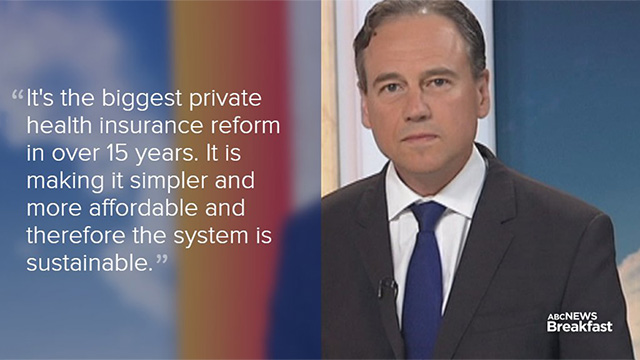 Source: ABC News (Twitter)
Federal Government
Health Minister Greg Hunt: Reforms make private healthcare "simpler and more affordable"
One of the biggest discussion points to come out of the proposed changes is the 2% discount to premiums for every year a policy is held under age 30, up to a maximum discount of 10% until age 40.
Health Minister Greg Hunt said the new discount will encourage more young people to take out health insurance while helping other policyholders.
"The more young people you have in the system, the lower the average cost of premiums for everybody," he told ABC TV.
"This is a package which will deliver reduced pressure on premiums over a series of years."
Regarding the new system of categorising policies into gold, silver, bronze and basic classes, Mr Hunt told ABC Radio Sydney it's about making health insurance "much simpler to understand" with "no surprises" as to what's covered.
"That, I think, is what everybody needs so as they know when they select a policy, I'm making a tradeoff on cost versus coverage, or I want the coverage and I'm willing to pay the costs but I absolutely want certainty as to what's in and what's out," he said.
Prime Minister Malcolm Turnbull: Future premium increases "will be less"
Speaking on Channel Seven's Morning Show, Prime Minister Malcolm Turnbull said the cuts to the cost of implants will put downward pressure on private health insurance costs.
"What we are also doing is cutting the cost of the implants – knees and hips – which are a big chunk of the cost of private health insurance, about 14% of the total cost," he said.
"We are saving $4 billion over four years and what that is going to do, is mean that private health insurance increases in the future, will be less."
In response to the plan to cut subsidies to remedies such as yoga, tai chi and homoeopathy, Turnbull said the 10% discount for young people is more compelling than including cover for "various alternative therapies".
"Focusing private health insurance on covering therapies and treatments with proven therapeutic benefits that are clearly falling within that area of what we would understand as medical services and then giving young people a discount – that's what we are encouraging the funds to do and enabling them to do," he said.
Political Opponents
Shadow Health Minister Catherine King: "Turnbull's private health fail"
Shadow Minister Catherine King described Turnbull's health insurance announcement as a "package of recycled election commitments that won't fix the hip pocket pain families are feeling from soaring premiums".
"Families are paying an average of $900 more every year for their private health insurance under this Government," Ms King said.
"Today's announcement will do nothing to address this hit on household budgets, and premiums are set to go up again in April."
Ms King said a young person paying the average $1,800 a year for private cover would only save 70 cents a week with the discount.
While Ms King welcomed the savings from the Prostheses List, she said Mr Turnbull was breaking an election promise to protect Australians from "junk" health policies.
Greens Leader Richard Di Natale: Reforms are a 'failure of public policy'
Leader of the Australian Greens Richard Di Natale told Sky News health insurance is a "waste of money" for young people.
"If you're a young and healthy person, why on earth would you be contributing heard earned money to a policy that provides little to no benefit and really all it does is serve other people who are more frequent users of the system?" he said.
"You're better off saving to buy a house."
Health Industry Groups
Australian Medical Association (AMA): "Long overdue opportunity" to bring transparency and affordability to health sector
AMA President Dr Michael Gannon said the AMA will work with the Government to ensure the reforms deliver the desired outcome of "greater transparency, clarity, affordability, simplicity, and fairness of private health insurance".
"The challenge now is to clearly define and describe the insurance products on offer so that families and individuals – many of whom are facing considerable cost of living and housing affordability pressures – have the confidence that their investment in private health delivers the cover they are promised and expect when they are sick or injured," Dr Gannon said.
Private Healthcare Australia (PHA): "Reform delivers value to Australians young and old"
In a statement, PHA said health funds had worked with the Federal Government and private health stakeholders for almost two years to deliver the reforms.
PHA Chief Executive Dr Rachel David said the changes to Prostheses List pricing "guaranteed consumers would benefit".
"Addressing market failures in the medical device supply chain has been a major priority for health funds on behalf of their members," Dr David said.
"The Federal Government should be commended for tackling the corruption, rorts and kickbacks that over time became a feature of this system, leading to poor outcomes for consumers in terms of both cost and safety."
On the discount for young people, Dr David said it would put private cover "in the reach for young people".
"People aged under 30 are particularly conscious of the need for preventative dental care, treatment of sports injuries and cover for mental health problems treated in hospital. These are all things which are difficult to access without private health insurance," said Dr David.
Consumers Health Forum (CHF): 'Good news on health insurance at last'
CEO of CHF Leanne Wells said the reforms appear likely to deliver lower premium increases and clearer consumer-friendly policies.
"This should be a breath of fresh air for families and individuals under pressure and contemplating dropping their cover after years of above inflation premium rises each year," Ms Wells said.
But Ms Wells was critical of the plan to provide discounts for younger members.
"[The discount] threatens to undermine the community rating principle fundamental to Australian health insurance which is meant to treat everybody equally regardless of age or health status," she said.
"Health funds presumably are hoping that more young members will help subsidise the more costly demands of older members.
"Given the cost burdens and modest wages many young people have, it would seem likely that this measure is only likely to be taken up by a minority of young adults who have the means, with the result that the two-tiered health system emerging in Australia is entrenched at an even earlier time of life."
Discounts for younger people and a focus on mental health are among the selling points in a big shake-up for private health insurance. pic.twitter.com/tMRnB5Xmy4

— 7 News Melbourne (@7NewsMelbourne) October 13, 2017
Australian Healthcare & Hospitals Association (AHHA): "Shake up welcome, but should only be the beginning of reforms"
The AHHA stopped short of full praise of the Government's new health measures, pushing for a further review of how Australia's health system can be funded "to make sure all Australians benefit".
AHHA Chief Executive Alison Verhoeven said the Government should establish a Productivity Commission inquiry looking at the costs and benefits of health insurance within the health sector.
"The Productivity Commission inquiry should also consider appropriate levels of profitability within the private health insurance sector, which has become increasingly for-profit driven, but is heavily subsidised and has government policy pushing the public into taking out health insurance policies."
"Given the cost burdens and modest wages many young people have, it would seem likely that this measure is only likely to be taken up by a minority of young adults who have the means, with the result that the twotiered health system emerging in Australia is entrenched at an even earlier time of life.
Australian Traditional-Medicine Society (ATMS): Natural therapy cuts "not in the best interest of the public's health"
Australia's largest association representing natural medicine practitioners, ATMS, said the policy does not take into consideration the positive economic impact of the natural medicine industry.
ATMS Chief Executive Officer Charles Wurf said: "Natural medicine treatments should be considered as part of a holistic national health policy, rather than a budget cut."
"Figures demonstrate that interest in natural medicine is growing both here in Australia and around the world, with 2 out of 3 Australians having used complementary and natural medicines," he said.
"The proposal disregards the voice of these consumers in how they choose to manage their health and wellbeing.
"Furthermore, natural medicine practitioners are a valuable contributor to the economy, making up more than 25,000 small businesses across Australia and providing an annual contribution to the economy of $4.2bn – that's a figure that can't be ignored."