Article was originally written by TJ Ryan on February 26, 2016. Data based on 2016 statistics.
Australia's private health system is looking a little sick – and the government has declared it is time for a check-up.
Private health fund premiums have finally outstripped what consumers get back in benefits, declared the Federal Government on 24 February 2016.
But you don't have to wait until the government really starts cracking the whip on health insurance providers. Canstar has compared private health insurance and can show you where to find outstanding value.
How health fund premiums have raced ahead of benefits
The latest rises in premium costs and gap payments for private patients has highlighted the need for serious reform, says the Consumers Health Forum of Australia (CHF). In 2015, patients paid an average increase of 4.4% per trip to hospital compared to 2014, says CEO Leanne Wells.
APRA statistics show the gap between the premium paid and the benefits received has reached an all-time high of $3.1 billion as at December 2015.
Based on figures from APRA, the CHF chart below shows how the premium cost-to-benefit gap has grown. The red line shows the difference between what health fund members have paid in premiums and what they get back in benefit payments.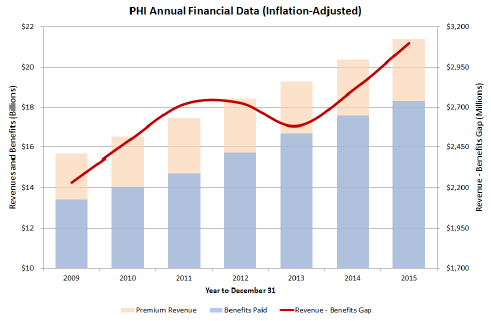 Source: Consumers Health Forum of Australia, February 2016.
Wells says this is unacceptable, "particularly given that taxpayers already finance health insurance to the tune of $6 billion a year through the health insurance rebates".
The table below displays a snapshot of hospital & extras policies on Canstar's database that include psychology cover, sorted by Star Rating (highest to lowest), then provider name (alphabetically). Please note the results are based on a couple aged under 35 in NSW, with no pregnancy cover.
Are private patients paying more than public patients?
In some instances, yes. The Productivity Commission has found that private prices are on average 48% more expensive than the public sector.
One especially frustrating area where prices are higher for private patients is prosthetics, reveals a recent report by Private Healthcare Australia. The PHA report found a single chamber pacemaker costs $17,000 for a public patient (which the public hospital system pays) but $42,920 (more than double) for a private patient and their health fund.
Prices for prosthetics could be reduced by 45% in the private system, says Ian Yates, CEO of the COTA association for older Australians. This would save private patients 4.5% on their premiums, or more than $150 on average per year. It would also save the Australian health system $800 million per year.

Is health insurance worth it?
Paying for private health insurance might not be a desirable expense for all Australians, but it does have the benefit of giving you peace of mind that you will be covered for possible future illness or injuries. There are other incentives that make health insurance worth it, including financial benefits, shorter wait times and better hospital beds.
In terms of the financial incentives, if you earn over $90,000 p.a. and don't have private hospital cover, you may have to pay the Medicare Levy Surcharge (between 1-1.5% of your income). Other financial penalties and benefits of having private health insurance can be found in our roundup of what you need to know about health insurance.
Finding good value health insurance that's right for you
To find which policies could provide the best value for your needs, it could be a good idea to try Canstar's health insurance comparison tables. You can sort the policies by price, by features for hospital or extras, or by searching for specific inclusions.
Don't wait for the government to act – get your own great balance of price and features today, so you can afford to stay covered.