If you enjoy dining out but want to do it on the cheap, here are some tips to help you keep the costs down.
Many Aussies will have found that they are spending less on eating out thanks to COVID-19 restrictions. As these have begun to ease and many restaurants and cafes have started opening their doors to diners again, eating out is likely to begin making a reappearance in most people's weekly spending. And the costs can quickly add up. The Suncorp Cost of Food Report found that Aussies are spending $52 a week on average on eating out, which adds up to $2,702 over the year.
The good news is that there are a number of ways to keep the costs down, including a range of apps and websites that can help you save.
A new initiative by dining payment and rewards app Liven gives consumers the ability to pledge money to their favourite restaurants to support the reopening and survival of the Australian hospitality industry.
Liven has partnered with over 650 Australian restaurants to offer Liven "Care Packages". The idea is that you pay upfront – essentially like purchasing a gift voucher – and you can use this when the restaurant is open again.
Many venues are also "Pledge Partners", which means they match customer spend up to dollar-for-dollar and this is where the savings for you can kick in. So let's say you have pledged $100 and that is matched by the restaurant you'll have $200 to spend. What this means is restaurants get the money straight away and you get more for your money. Liven has waived all platform fees and is absorbing credit card transaction fees so that 100% of the money raised belongs to restaurants.

According to the Liven website there is no expiry on care packages. And if your selected venue ends up closing down permanently when you try to redeem your credit, Liven will let you select another restaurant from its list.
So that is one way to eat out without blowing the budget and here are six more ways to keep the costs down.
1. Pay ahead of time
You can often get good deals by paying ahead. Group buying sites like Groupon, Scoopon and Cudo offer daily deals with discounts of up to 60% not unusual. You simply pick a deal that you like, pay for it and the site then gives you a voucher that you can redeem. Terms and conditions vary depending on the offer and the site that you're on so it pays to read the fine print. Pay particular attention to the days and times you can use the deal as well as the expiry date. It's also a good idea to research the actual merchant to make sure they're reputable and look out for a sound refund policy and buyer protection to help ensure peace of mind. You can also use sites such as allthedeals.com.au or spreets.com.au which feature some of the deals on the various sites, acting like a comparison tool.
To give you an idea of the types of offers at the time of writing on Groupon you could get a three-course Italian meal with wine for two people at Renzo's Bar in the Docklands Melbourne for $72 – the total value is normally up to $171, representing a potential saving of 57%. The catch? It can't be used on Saturdays or public holidays.
2. Eat at certain times
They say "the early bird catches the dinner deal" at firsttable.com.au. Here restaurants list the time their "first table" of breakfast, lunch or dinner is available. You pay $10 to book that table and you'll get 50% off the food bill for two, three or four diners. Drinks aren't included in the 50% so you'll have to pay full price for those. And a word of warning – be sure to come on time because if you are more than 15 minutes late the deal is off. It's also worth noting that some restaurants may have certain items that are unavailable for the First Table offer. Look out for these under "special condition" when you're making your booking. If you're keen to try this out it's worth googling for a promo discount code to only pay $5 for your first booking rather than $10.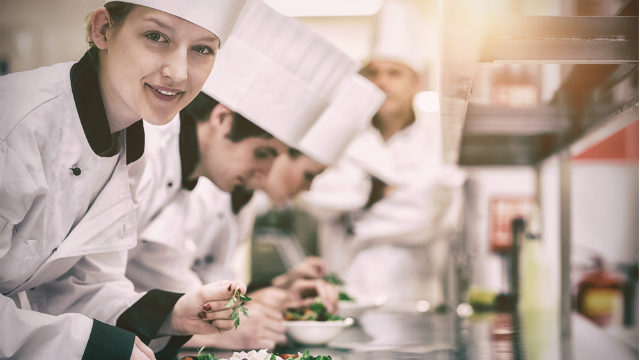 3. Get up-and-coming chefs to cook for you
There are a number of training restaurants, many of which are associated with TAFEs, that can be found all around Australia. They give trainee chefs the opportunity to gain real-life experience and the advantage for you is that the prices are very affordable. Prices differ but you can expect to pay around $30-$40 for a three course meal – some even throw in a glass of wine. Simply google training restaurants in your area to see what you can find.
4. Look for last-minute deals
Apps like EatClub allow restaurants with empty tables to immediately upload last minute deals that you can redeem. The app is ideal if you're about to walk out the door but still unsure about where you want to eat. Through the app restaurants are able to fill their spare tables and you can eat out and potentially save as much as 50%. Once you book your restaurant, you'll be sent a digital voucher. You simply need to show this on arrival to redeem the deal.
5. Say it's your birthday
Many restaurants and fast food chains will give you a free or discounted meal for your birthday. Generally you have to sign up to the store's loyalty program to secure this offer. The voucher is usually sent to you via email in the lead up to your birthday but it varies between providers. As a taste of what's on offer you may get a complimentary regular meal from Nando's or $10 from Noodle Box.
6. Keep an eye open for specials
There are a couple of websites that can help you locate great deals. One is thefork.com.au which is an online booking website (also available as an app) and you may be able to get discounts of up to 50% off the food bill at participating restaurants when you book through them. Enter the date, time, location and number of people and then use the "sort" function and select "offer" and the restaurants that have special deals will be listed first.
Another option is The Happiest Hour website/app which helps you find food and drink specials near you. You can search by location, time or type of special – for example burgers or tacos.
---
About Effie Zahos
Canstar's Editor-at-Large, Effie Zahos, has more than two decades of experience helping Aussies make the most of their money. Prior to joining Canstar, Effie was the editor of Money Magazine, having helped establish it in 1999. She is an author and one of Australia's leading personal finance commentators, appearing regularly on TV and radio.
Main image source: Rawpixel.com (Shutterstock)