If you rent your home, it's a fair bet you've got a decent chunk of cash tied up in bond. Here's how to avoid losing all or part of the money when it's time to move on.
Rental bonds are big money. More than $4 billion is tucked away with government bodies nationwide. In NSW alone, the Rental Bond Board (RBB) is sitting on $1.6 billion worth of bonds, and in Victoria, $1.2 billion is held by the Residential Tenancies Bond Authority (RTBA).
Bond money may belong to tenants, but most states don't give tenants the right to earn interest on their bond. An exception is NSW, where residential tenancy laws say interest is paid at the rate payable on a CommBank Everyday Access Account. But guess what? That account pays zero interest.
A report by John Curtin Research Centre advocates that tenants should receive a return on their bond. That's yet to happen, and for plenty of renters a more pressing concern is whether they get their bond back at all.
In 2018-19 only 58% of NSW renters received their bond back in full. One in four (27%) had to split the bond with their landlord, and one in seven (15%) tenants walked away empty-handed after the landlord pocketed the lot. And while it may not seem fair, it's all perfectly legal.
5 reasons you might not get your bond back
Tenancy laws vary slightly between states but several key issues can see a landlord make a claim on your bond:
The cost of cleaning if the place isn't left in 'reasonably' clean condition
The cost of repairs if the property is damaged
Unpaid rent or other charges owed under the lease such as a 'break fee' if you end the lease early
The cost of fixing any alterations you made to the property without the landlord's consent
The cost of having the locks changed, or other security devices replaced, if you don't return all keys and security devices you were given.
The two biggest causes of dispute are whether the property is left 'reasonably' clean, and whether the place has copped 'reasonable wear and tear' as opposed to damage that needs to be repaired.
There's no hard and fast definition of what's 'reasonable' in either instance; however, the table below sheds a light on what can be regarded as wear and tear versus outright damage.
Wear and tear versus damage
| Fair wear and tear | Damage |
| --- | --- |
| Faded curtains or frayed cords | Missing or torn curtains |
| Furniture indentations and traffic marks on the carpet | Stains or burn marks on the carpet |
| Scuffed up wooden floors | Badly scratched or gouged wooden floors |
| Faded, chipped or cracked paint | Unapproved, poor quality paint job |
| Worn kitchen benchtop | Burns or cuts in bench top |
| Loose hinges or handles on doors or windows and worn sliding tracks | Broken glass |
| Water stains on carpet from rain through leaking roof or bad plumbing | Water stains on carpet caused by overflowing bath or indoor pot plants |
| Paint worn off wall near light switch | Damage to paint caused by removing posters stuck with blu-tack or sticky tape |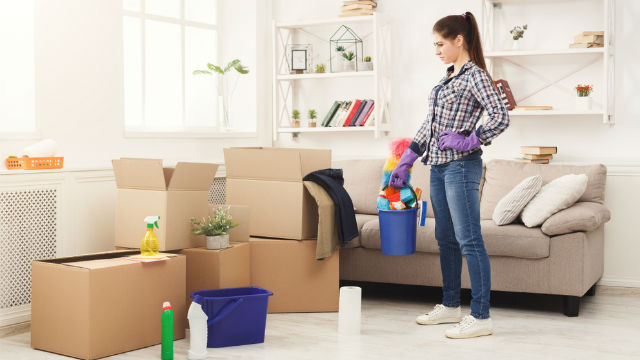 Steps to protect your bond
Your bond money matters, and five steps can help you maximise the likelihood of getting every dollar back.
Complete a detailed condition report
It's up to the landlord to prove why your bond shouldn't be handed back in full to you. So strengthen your position with evidence showing you're not to blame for any damage.
Tenants Victoria recommends taking a detailed approach when you complete the property condition report both at the start and end of the tenancy. List every area that is not in perfect order, be it a cracked ceiling, torn fly screen, stained carpet or dirty or chipped walls. Tenants are not responsible for wear and tear but a landlord is well-placed to claim the cost of something like a few broken bathroom tiles if the issue is not noted when you first move in.
Store your copy of the initial property report, and refer back to it before you leave to compare the condition of the place.
Take photos
Take plenty of photos of the property as soon as you move in – and then again when you're ready to hand over the keys. Photos provide concrete evidence of the condition of the place, and whether it's altered significantly during your tenancy.
Photos are especially valuable because if the landlord lodges a claim on your bond, you may not have the opportunity to return to the property to assess the problem once you've moved out.
Clean the place before you leave
As far as possible, tenants are responsible for leaving the property in near to the same condition as when they started living in it. That said, make sure you give the place a thorough clean even if it wasn't spotless when you moved in – a weekend of elbow grease could save your bond.
An end of lease clean should ideally cover everything from stove exhaust fans to skirting boards and windows – and a tidy up of any outdoor spaces. A grey area can be whether carpets need to be steam cleaned.
In NSW it's illegal for landlords to make it a condition of the lease that carpets are professionally cleaned unless you've been given permission to keep a pet. That's not the case in other states – so check your lease. If you're required to have the carpets cleaned, you have the right to choose your own operator. When the job's done, hold onto the receipt as evidence.
Cleaning also means cleaning out completely. If you leave anything behind, the landlord can claim the cost of disposing of your leftovers.
Don't make alterations without written permission
Okay, you're unlikely to add a second storey to your rented home. But even minor 'alterations' can take a big bite out of your bond.
Something as simple as putting up picture hooks can mean losing part of your bond to cover the cost of patching and painting holes in the walls. And in one 2012 decision, a NSW tenant who built a backyard veggie patch using railway sleepers, lost $1,500 worth of bond after the landlord claimed the cost of returning the garden to its former condition.
Bottom line, don't change anything unless you have written permission from the landlord.
Know the difference between weekly and monthly rent
Rent moratoriums have been extended in most states to the end of 2020 or March 2021. But this is only available to tenants experiencing financial hardship as a result of COVID-19. For other tenants, it's easy to fall into the trap of believing you have paid the rent on time each month, only to discover that rent is still owing when you hand in the keys.
The confusion can arise because rent is usually quoted as a weekly figure, and it can seem logical that your monthly rent works out to four times that amount. But it doesn't.
There are 52 weeks in a year, meaning the average month runs for 4.33 weeks. At a weekly rent of $500, that would mean the monthly rent is $2,165 – not $2,000. Talk to your landlord or agent before you sign the lease, to know for sure what you should be paying each month so that you don't fall behind.
Help is available
Each state/territory has a tenants' support service that can provide fact sheets and free advice if you feel the landlord has unfairly dipped into your bond.
Cover image source: Solis Images (Shutterstock)
---
About Nicola Field
Nicola Field is a personal finance writer with nearly two decades of industry experience. A former chartered accountant with a Master of Education degree, Nicola has contributed to several popular magazines including the Australian Women's Weekly, Money and Real Living. She has authored several best-selling family-focused finance books including Baby or Bust (Wiley) and Investing in Your Child's Future (Wiley).