Budgeting tools are increasingly popular among Australian consumers, helping them to get a better understanding of their financial position and manage their money better. A new platform is on the block in the form of PictureWealth and Canstar spoke to Co-Founder and CEO David Pettit to find out more about what the personal wealth platform has to offer.
What is PictureWealth?
PictureWealth is a personal wealth management platform that allows users to aggregate information such as bank accounts, expenses, cryptocurrencies and assets to build a snapshot of overall financial position. The snapshot has been dubbed a 'Welfie', or Wealth Selfie, which reflects you and your finances.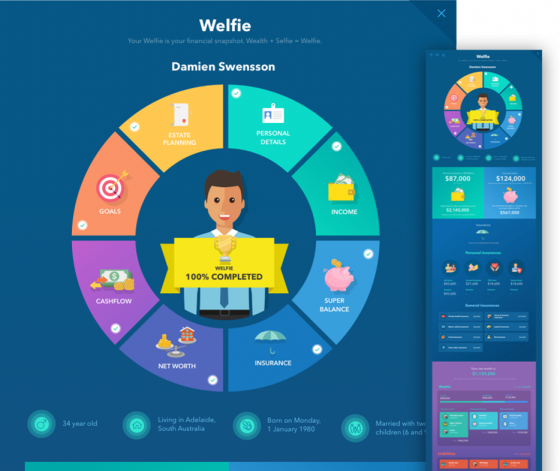 The platform also offers personalised robo-advice, its proprietary Facebook chatbot FLIQ (Financial Literacy IQ), educational tools and incentives to improve your financial wellbeing. You can even connect your bank accounts to track and compare your spending and saving habits.
PictureWealth is aimed at helping financially stressed Australians better manage their money with the help of a fully digitised financial advice option, challenging traditional services which it says prove to be confusing, time consuming and expensive.
Co-Founded by world renowned financial and innovation expert Neal Cross and private wealth entrepreneur David Pettit, PictureWealth has recently been bolstered by $1.2 million in seed capital from big name investors including Super Advice Australia's leading Employee Benefits Advisory Group and RISE Standards.
The free platform is currently available online with plans to launch the mobile app version in early November 2017. For users who are keen to use some of the enhanced features that focus on personal financial advice, the subscription cost is $15 per month.
PictureWealth is aiming to:
Improve financial literacy
Offer tailored financial education
Improve people's financial health (which in turn improves their physical and mental health).
Canstar Q&A with David Pettit – Co-Founder, Managing Director and CEO of PictureWealth
Canstar caught up with David Pettit to find out more about what PictureWealth does, how it can help the everyday consumer and what on earth a 'Welfie' is.
Q: What's the benefit of taking a 'Welfie' and who does this feature appeal to?
Your Welfie is your Wealth Selfie – a single screen snapshot about you and your money. It's the high-level picture of your money like you've never seen it before.
The goal is to move our users from a partially completed Welfie through to a fully completed Welfie by following the simple steps that PictureWealth outlines for you.
You can add the things that you own, the money that you owe, the big goals you want to achieve, your insurances and your investments. You can even connect all of your bank accounts in one place to help you understand how you are spending and saving. Imagine knowing exactly how much you spent on coffee and movies, and how much you are actually saving.
Q: What makes PictureWealth stand out in the budgeting tool space?
Unlike some of the other budgeting and money-management apps out there, PictureWealth is continuing down the path of fully digitised financial advice across all aspects of personal finance. In other words, it helps people build their financial picture and then improve it with digitised guidance and advice.
As the platform begins to learn about the individual user, it can offer customised guidance and information for the user to learn more about how they can organise and optimise their money. The activity feed offers updates with alerts and tips, while the fully customised reports teach the user specifically about their finances. This is driven with algorithms, machine learning and our AI chat-bot FLIQ.
The system assists users who have very simple to very complex financial matters and it is not important how much money people have. The most important thing for us is that people make the most of the money they have and that the user wants to improve their overall financial picture.
Q: How can PictureWealth have an effect on people's financial stress/wellbeing?
It is a sad fact that most people are not as organised in relation to their finances as they could be and this holds them back from living the life that they want. It impacts their physical health, mental health and actions on a daily basis.
Our goal has always been to deliver a space where people can get organised in relation to their money and stay that way to therefore live a happier, healthier life.
Being financially disorganised causes concern which has a funny habit of keeping us awake at night. Simple actions and financial habits can have an enormous benefit on our financial, physical and mental health.
Q: Do you see PictureWealth being used by financial advisors?
Although PictureWealth is designed for the end user, we are excited to be partnering with financial advisers who can see the value in using the technology for their clients and therefore enhancing their advisory relationships.
We have partnerships already in place with financial advisors, accountants, employers for their employees and are in discussions with global partners.
Version 1.0 of PictureWealth is designed for Australian residents and households who are not yet retired and are:
Making money
Wanting to save more money
Wanting to grow their money
Seeking to protect their money
Wanting overall financial happiness
We are happy to hear from financial advisers looking for tools to enhance their service offering with their clients. We would also see prospective partners as anyone who also believes financial education is important and who wants to offer a system to their employees, members, clients or business relationships.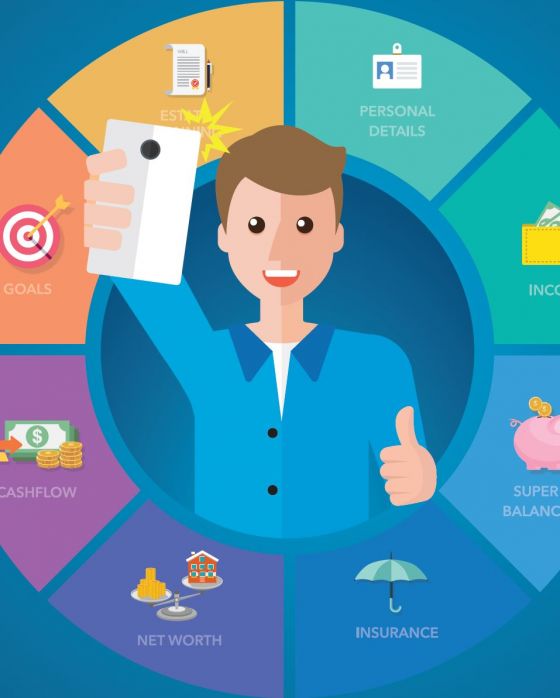 Q: What exciting developments are ahead for PictureWealth?
The digitisation of advice is inevitable and we are excited to be at the forefront of that journey. The future of advice empowers people to have full visibility of their money and our technology can advise people on what to do, therefore removing the financial uncertainty that exists in day-to-day life.
As new financial technology emerges, we want to make sure our robo-advice experience is about 'guided decision making' that educates people along the way and improves their lives. It needs to be about far more than just selling financial products.
PictureWealth is launching in the Australian market and is in the process of finalising partnerships for wide market distribution. We are also focused on global expansion across Asia and New Zealand.
Any views or opinions expressed do not necessarily state or reflect those of Canstar.