Looking for a cheap family holiday? Consider camping in some of Australia's amazing natural playground.
Forget about that beach bod – Woolworths says Easter chocolate spending is up 5% from last year.
A survey conducted by ME Bank for Easter last year found that nearly 1 in 2 Aussies (48%) planned to spend up to $50 on Easter eggs, and almost 20% planned to spend up to $100 on eggs.
And that's not the only thing we spend money on at Easter, which can make it harder to take a well-earned break and get away for a few days. If you need to cut back on your Easter holiday expenses, why not go camping?
Perhaps the cheapest method of holidaying (apart from staying at home), camping is not just cost-effective – it offers beautiful scenery and some screen-free relaxation time for the whole family. If you are considering a camping trip these Easter holidays, here are some destinations to check out.
If you get domestic travel insurance for your trip away, you're covered in case of unexpected disasters such as flight delays, cancellation fees, and more.
Queensland
Carnarvon Gorge, QLD
Tucked away 45km west of the Carnarvon Developmental Rd in QLD's Central Highlands, Carnarvon Gorge boasts high sandstone cliffs, magnificent sandstone outcrops and grassy woodlands.
This area is unspoiled and isolated, and includes 35 numbered campsites with plenty of room for larger groups. A wealth of cultural and natural heritage lies within the gorge, and it is home to a range of significant plant and animal species.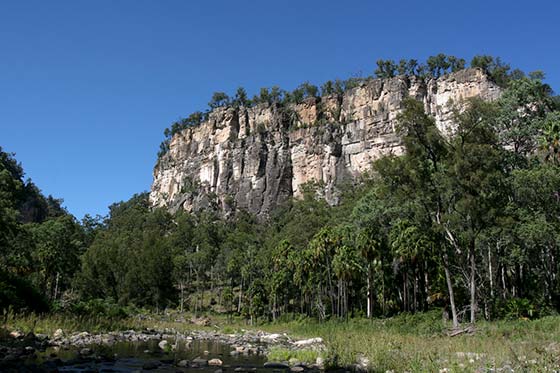 Camping here requires a camping permit and a booking, which can be acquired from www.npsr.qld.gov.au. Camping is only permitted during the QLD school holidays of Easter, winter and spring.
Eurimbula National Park, QLD
Close to Agnes Water and 1770, two of Australia's closest points to the Great Barrier Reef, Erimbula consists of multiple clean and well organised camping grounds. These camping grounds are filled with excellent parks, great fishing spots and good surfing conditions, as well as fantastic walking tracks.
This is a very popular camping destination in the holidays, so it would be best for you to get there as early as possible to secure a good spot. The roads into Eurimbula are narrow, so it is advised that you don't take caravans as they can get stuck easily.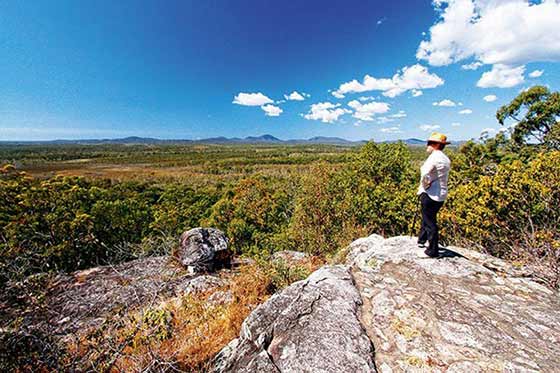 Notch Point, QLD
If you're looking for a shorter camping trip, then Notch Point, just 12km South of Sarina, could be what you're looking for. Notch Point is a beach-front camping area that is perfect for 4WDs, fishing and overnight camping.
It has a 24-hour maximum stay, and no facilities are provided, but it is much less regulated than other camping grounds. There are no required bookings or permits as there are no defined sites. This area can be exposed, so you should check the weather conditions before you go.
More campgrounds in Queensland
If you're looking for more camping spots more suitable to your location, then head to Explore Australia for a more complete list.
New South Wales
The Blue Mountains, NSW
The World Heritage Listed Blue Mountains National Park covers a total of 247,000 hectares, which includes several camping destinations. Those 247,000 hectares contain some stunning scenery, breathtaking views, and a striking natural environment.
The area includes several national parks that can be reached via foot, bike, car or even horseback. The range of activities to do here includes bushwalking, rock climbing, horse-riding, 4WDing and more. There are multiple different locations to choose from in the Blue Mountains, and more information can be found here. The Blue Mountains are the go-to camping destination for many aspiring campers.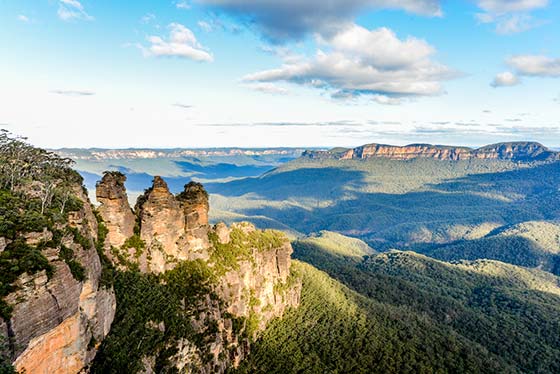 Kosciuszko National Park, NSW
Open all year round, the Kosciuszko National Park offers camping in the vicinity of Mt. Kosciuszko and you can enjoy and explore the rugged landscape and an endless choice of activities. These activities include bushwalking, fishing, boating, mountain and quad biking, and in the winter months, snowboarding and skiing. There are also guided tours provided. This national park is perfect for either day trips or longer stays.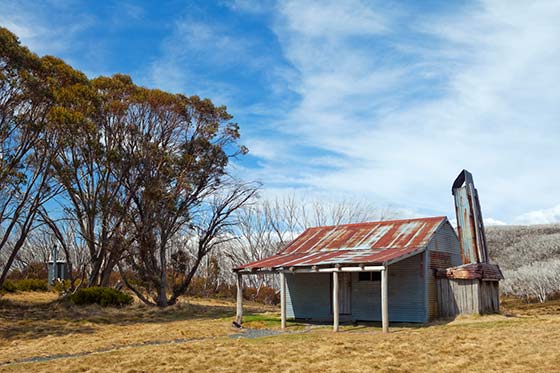 Booderee National Park, Jervis Bay, NSW
Booderee is ideal for families and smaller groups, as it is a popular spot for lightweight campers. It is located in Jervis Bay, a three hour drive from Sydney or Canberra, and is open all year round. This is a very popular destination, particularly in the summer holidays, and bookings must sometimes be made up to four months in advance.
More campgrounds in New South Wales
There are plenty more camping grounds to choose from in NSW. For a more complete list, head to visitnsw.com.
Victoria
Wilson Promontory, VIC
Affectionately known as 'The Prom', the 50,000 hectare Wilson Promontory sits at the southernmost tip of the Australian mainland. The prom contains a multitude of walking tracks that span across rivers, coves, mountaintops and forested valleys.
Includes options for both camping and cabins, and is located at Tidal River settlement on the Victorian peninsula, from the entrance at Yanakie.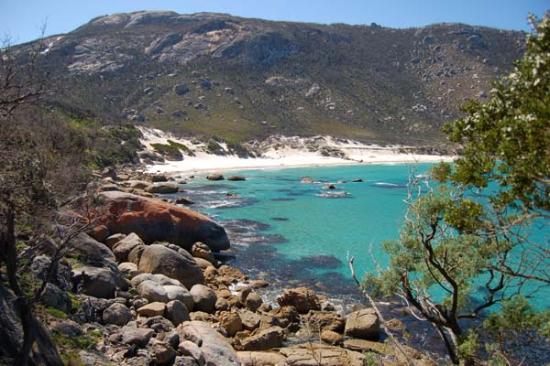 Snowy River National Park, VIC
The Snowy River National Park is 450km east of Melbourne in East Gippsland. It is an ideal place for those who appreciate forests, gorges and epic landscapes. Activities at this park include off-road driving, mountain biking, bushwalking, fishing and canoeing, as well as camping.
This park is more suited to experienced campers, as it is quite isolated and has a fairly rugged terrain in places.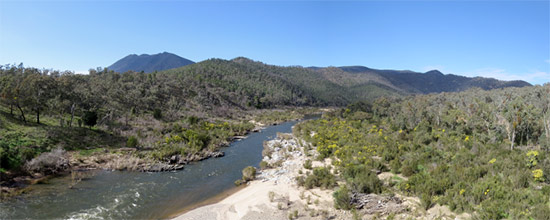 Grampians National Park, VIC
The Grampians are a series of 5 sandstone ridges, each of which has lookouts that provide stunning 360-degree views of the surrounding area. One of the main attractions for this destination is the ancient Aboriginal art, painted in shelters throughout the park. Other activities include bushwalking and rock-climbing, as well as fishing and canoeing.
More campgrounds in Victoria
There are many other places to choose from in Victoria. To see the complete selection, visit www.visitmelbourne.com.
South Australia
Kangaroo Island is Australia's third largest Island after Tasmania and Melville Island, located 112 km southwest of Adelaide. In total, there are 6 camping grounds spread throughout the island.
More information on these different camping grounds can be found by visiting the Kangaroo Island website. Availability for all of these sites is on a first come, first served basis.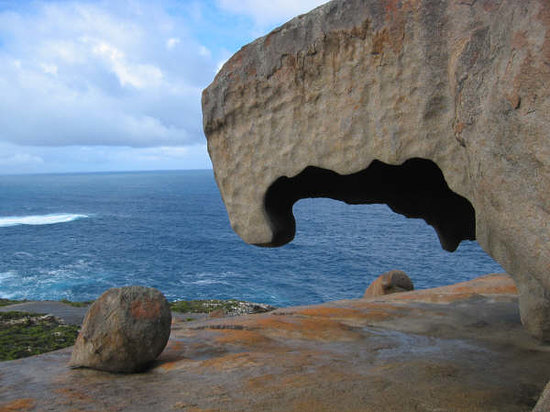 Coorong National Park, SA
Coorong National Park is located about 156 km southeast of Adelaide. In total, the park stretches for 130km, and it contains a total of 18 different campsites (more detail on them here.) An overnight stay at one of these camp grounds can cost as little as $15/night at the time of writing.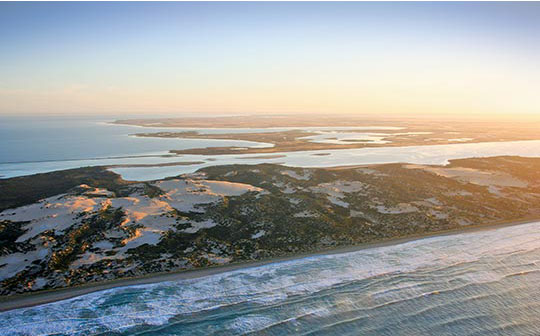 Mount Remarkable National Park, SA
Mount Remarkable is a national park 45km north of Port Pirie, and can be accessed via national highway one. It is open 24/7 but the Park's website highly recommends booking in advance to ensure a spot is reserved for you.
Mount Remarkable is a popular destination for both bushwalking and camping. The most popular walking track is the Mt. Remarkable summit hike, which reaches the top of the 960m high Mount Remarkable. These walking trails provide you with an opportunity to observe the park's diverse wildlife, grassy woodlands and high ridges.
More campgrounds in South Australia
Western Australia
D'Entrecasteaux National Park, WA
This park is a 4-hour drive south of Perth, near Pemberton. It consists of 5 camping facilities at Yeagarup Lake, Yeagarup Beach, Carey Brook, Crystal Springs and Walpole's Western Beaches.
The park combines pristine beaches and tall forests to create a spectacular landscape, and includes bushwalking through dense forests and costal tracks, four-wheel driving over huge sand dunes, and first rate fishing in either the ocean or one of several river inlet systems.
And the best part is, if you don't feel like setting up the camping equipment yourself, the camp's set-up services can do it for you. It is accessible all year and is perfect for more inexperienced campers.

Cape Range National Park, WA
Cape Range is just a half hour drive from Exmouth, and can be reached by car or by the two shuttle services offered. Cape Range is best known for its striking rock faces, beautiful waters and sandy beaches.
The outback adventures offered here include 4WDing, bush walking, gorge hiking, swimming and snorkelling. It is open all year round and has facilities available for disabled visitors.

Cape Le Grand National Park, WA
Cape Le Grand can be reached via conventional vehicle in just half an hour from Esperance. This Pristine park is well-known for its beautiful scenery and beaches, where campers can go swimming, bushwalking, fishing, rock-climbing and camping.
One of the main selling points of Cape Le Grand is the multitude of friendly kangaroos in the area, which are well known to approach campers and sunbake on the beaches. Cape Le Grand is accessible all year.
More campgrounds in Western Australia
Northern Territory
Litchfield National Park, NT
1.5 hours away from Darwin, Litchfield National Park is a great spot for short family campouts. Most of the sites have natural swimming holes, and all sites come with a toilet, firewood, fire pits and water.
The site is also a popular destination for 4WD tracks in the drier months. Another cool feature of this park are the 2-metre high termite mounds.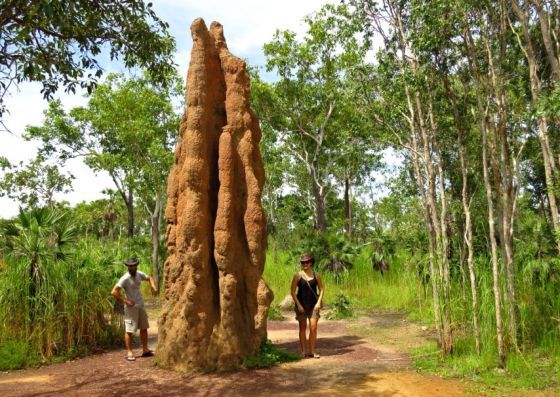 More campgrounds in the Northern Territory
Tasmania
Fortescue Bay, TAS
The sheltered Fortescue Bay is 18 kilometers from Port Arthur and is accessed via 12 kms of gravel road. It is an ideal destination for bushwalking, camping, boating, kayaking and swimming. Fortescue Bay is better for less experienced campers, as each site has basic facilities provided, such as toilets, token-operated showers, barbecues, fireplaces and a shop for basic camping needs.
Since this is a quite popular destination, bookings are essential if you want to have a spot reserved for the Easter Holidays.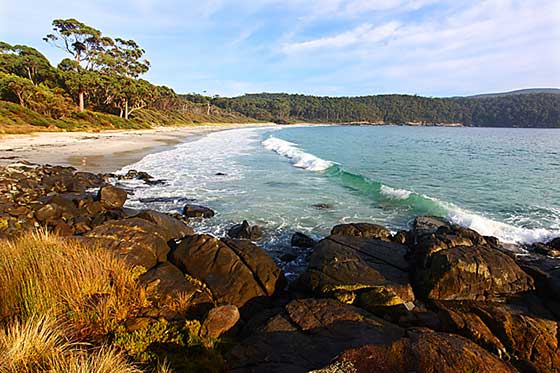 Maria Island, TAS
Maria Island is 6 km offshore of the east-coast, and is accessed via a 90-minute drive from Hobart, plus a 30-minute ferry ride from Triabunna. The Island has a fully facilitated campsite complete with a shower, toilets and barbecues. There is no shop on the island, however.
Activities here include animal watching, cycling, bushwalking, and fishing. Booking are not required for this campsite.
More campgrounds in Tasmania
Click the following link to discover more options in Tasmania.