Are you planning to move into a new home or rental but need to get furniture? From your bed frame to the couch or the dining room table, the costs to deck out your new digs can be expensive, but there are ways you may be able to save your hard-earned dollars and furnish your home for free if you know where to look.
While this is a bit embarrassing to admit, nearly every piece of furniture in my current rental apartment, including the couch, dining table and appliances, are owned by my two housemates. My only contribution is three basic kitchen stools, a rickety old bookcase I 'borrowed' from my parents and a $15 rice cooker (it's seriously hard to boil rice, okay!). While this current arrangement has saved me a lot of time and money from getting my own furnishings, it won't last forever, and my housemates have hinted they may be moving out early next year.

So, it got me thinking – unless I decide to live a minimalist life like Joey and Chandler from Friends (after they were robbed), how will I go about furnishing my rental home on the cheap when my housemates move, and is there a way I can do it without splashing any cash?
Pull up a chair, or whatever you have been using as a chair, and sit back while we dive into nine ways you may be able to score free furniture for your new home or rental in Australia:
1. Facebook Marketplace
While Facebook Marketplace is primarily used by those on Facebook to buy and sell items, there is also a wide range of free stuff you can find through the platform, including furniture.
All you need to do is login in to your Facebook account on your device, toggle over to the Facebook Marketplace icon at the top of your Facebook homepage, then scroll down on the left-hand side of the Marketplace page to find the 'Free Stuff' icon. The location filter should be set to where you live, but you can change this by clicking the filter box at the top left-hand side of the page. You can also look up 'furniture' using the search feature to refine your results.
2. Gumtree
While Gumtree, like Facebook Marketplace, is mainly used by people selling and buying items, it can also be a great place to score freebies. When you go onto the website, use the search bar to look for furniture in your area and then toggle to the 'sort by' section and select 'cheapest'. When you look at the results, you should hopefully find several listings with free furniture and details of where it is located and what condition it is in. You may need to scroll past a few 'Top' listings with an asking price attached before you get to the free furniture.
You can also press on the 'price type' section to the left of the Gumtree page and select 'free' to filter these listings.
3. Freecycle
Freecycle is a non-profit online movement made up of over 5,000 groups across the world that people can access to give (and receive) free stuff in their own cities and help keep good-quality items out of landfill.
To find free furniture you can head to the Freecycle website, search for a group near you (enter in your city name, state/territory and country), and then click on the applicable link to send you to the free listings in your area. From there you will need to sign up for the Freecycle network using an email address, and agree to the terms and conditions. Membership is free and once you have joined, you will be able to refine your search of the current listings to bring up any free furniture offers available in your area.
4. Facebook groups
If you don't have any luck finding free furniture on Facebook Marketplace, you may want to try joining a freebie group in your area on Facebook. You can find these groups by searching for keywords such as 'free stuff' or 'free furniture', along with your suburb or city name, through the Facebook platform.
Once on the group page, you will then need to press a button to join the group and may then need to answer some basic questions to get your request approved by a group administrator. Once you have joined, you can then peruse the posts or 'Discussion' section of the group page to find free items you may be looking for.
Before joining a group, it may be a good idea to carefully read any group rules set out by the group admin and to check the authenticity of the group by searching for more information through the 'About' section.
Below are some examples of freebie search terms and existing groups you may like to try entering into Facebook to help you find free furniture in your area:
'Buy, Sell, Swap'
'Free Stuff'
'Trash and Treasure'
'Waste Not Want Not'
5. Carousell
Carousell is a consumer marketplace for buying and selling new and secondhand items, but like Gumtree and Facebook Marketplace, it can also be used to score free stuff in your area. Once you are on the website, search for furniture in your city and sort by 'Price – Low to High' or enter a maximum price of $0 into the left-hand toolbar to see if there are any free items available.
6. Ziilch (used in Victoria and NSW)
Another popular website for finding free items is Ziilch. It is a free, community-driven Australian website that allows people to give away items they don't want to people who may need them.
You can refine your search for furniture in your area by entering the name of your suburb, but Ziilch is currently only available for people in Victoria and New South Wales. To request an item from a listing, you will need to become a member of Ziilch by clicking on the 'Join now' button. Membership is free.
7. Kerbside collection
Most major city councils in Australia operate a free kerbside collection service (also known as council pickup or verge collection, depending on where you live) to help residents dispose of unwanted home items that are not suitable for general waste or recycle bins. These items might include furniture, appliances, carpet, sports gear and electronics.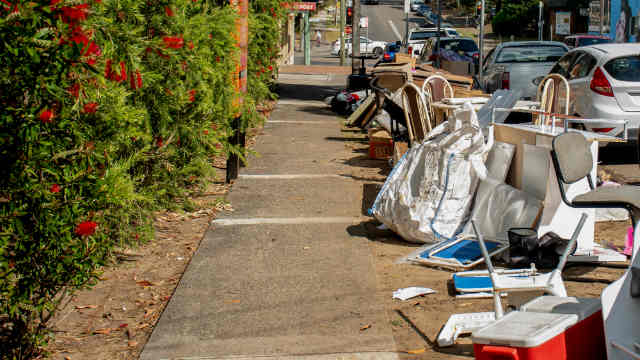 In some council areas, including Sydney and Melbourne, residents need to book in a time on a particular day for council to come and collect their waste from the kerb, while in other cities, such as Brisbane and Adelaide, kerbside collection is an annual or bi-annual service and is held on a specific week for each suburb.
If you are keen to snag some free used furniture placed on the kerb for council collection, the legalities of doing so will differ depending on your location, so it may be a good idea to seek the advice of your local council before starting your scavenger hunt. However, a general rule in most cities is that once an item hits the kerb you are free to take what you want, so long as you do so without leaving obstructions to the footpath or roadway.
It's also important to note that the Brisbane City Council's kerbside collection service has been put on hold until 2022, to help save the council money as it deals with the financial fallout of the COVID-19 pandemic.
8. Garage sales
While garage sales are not completely free, you may be able to score a bargain on furniture, particularly if you stop by the sale towards the end of the day. By this stage, the seller may be willing to get rid of some items for a reduced price or give them away for free so they can get them off their hands.
To find a garage sale in your area, keep your eyes peeled for signs near the roadway, posts on social media, or you can check through the Garage Sale Finder Australia website.

9. Charity op shop
Although you may not be able to grab free furniture at a charity op shop, these stores are excellent places to get used furniture at affordable prices and often in relatively good condition (donated furniture to the Salvos or Vinnies must not be broken, stained or torn). The money you spend at an op shop will typically also go towards helping charities such as the Salvation Army and St Vincent de Paul to support locals in need.
---
How I furnished my home for next to nothing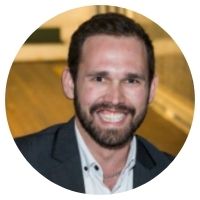 We sat down with Brisbane site inspector Codey Stonier to discuss how he was able to furnish his three-bedroom home with items he found for free and what tips he would give other homeowners or renters who want to do the same.
1. What furniture in your home were you able to get for free?
It's a long list so here we go – a dining table, some dining chairs, two couches, two small coffee tables, a bookshelf, a cube shelf, a dog bed, an outdoor table, an outdoor setting, a washing machine and a fridge.
2. How did you find this furniture?
I found most of my free furniture through Gumtree or Facebook Marketplace using the 'cheapest' or 'free stuff' filters. Some of my friends have also given me furniture they no longer needed when I've helped them move house. I own a ute so I often get called on to move stuff around.
Generally, I find good-quality free furniture comes from people who are either moving or wanting to upgrade, who want someone who can simply take it away because it saves them time and effort, especially as it can be bulky and heavy.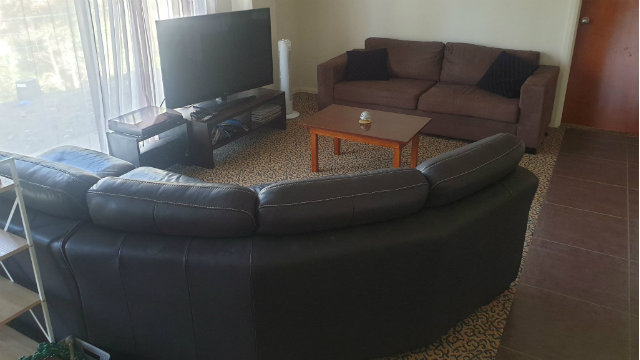 3. Did you have any troubles getting the free furniture?
Generally no, as most people I've interacted with are pretty happy to get rid of something and when you talk to them, usually the first question out of their mouths is "when can you pick up the furniture and get it off my hands?". I usually get slower responses from people on Facebook Marketplace compared to Gumtree, and people can sometimes be less helpful on that platform.
4. How much money do you think you've saved by getting these items for free?
It would really depend on where you normally shop, but I would say hundreds if not thousands of dollars, considering the amount of furniture I have secured as well as appliances. Each piece is also in pretty good condition, so I know it will last a few years, at least.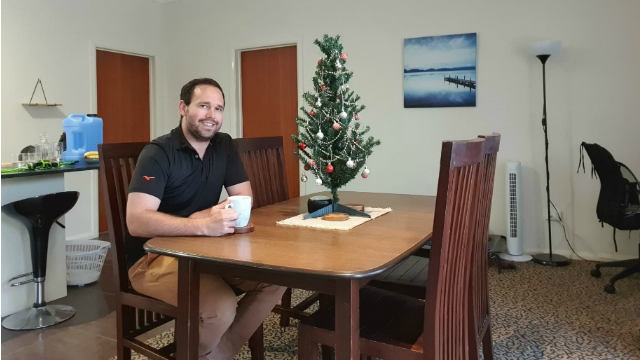 5. What tips would you give other homeowners or renters who might want to furnish their homes for free or on a budget?
Here's a few tips that may help you through the process:
Regularly check listings and be patient: Check platforms such as Gumtree and Marketplace regularly for new listings and don't be discouraged if you don't find the pieces you want all within the one search. Gumtree usually puts the most recent posts at the top, which can help you sort through the new listings faster.
Work quickly: Get in quickly if you like something, as free listings do go fast. I suggest contacting the seller straight away to arrange a time to inspect or pick up the furniture within a day or two, if you can.
Search close to home: When using a platform like Gumtree, make sure the search parameters are close to where you live as arranging pick-up (if you don't have a ute like I do) may take time and cost money, so the closer to home the better.
Restore small imperfections: Some of the used furniture you get may be damaged, but if these items only have small imperfections such as chips or scratches in the paint, you can still make them work for your home with some simple restoration. For example, you can sand back items and add a coat of paint or reupholster chairs. This will cost money, but it will still be much cheaper than buying from a store, and the item you end up with could look as good as new.
Check for quality: Make sure to check the photos on listings carefully and to ask the seller questions about the age of the furniture and where it has been used, to help you gauge the quality of the item. You could also ask sellers to send additional photos from different angles if you need to look a bit closer at an item for any faults. If you are at a shop or garage sale, I usually steer clear of furniture with massive stains, pulled seams or frayed upholstery.
Ask friends and family for help: If you don't have a ute, picking up free furniture can become a fair bit more complicated. Consider asking your friends or family that own a bigger car or ute for help, or see if you can negotiate with the seller to drop the items to your home for a small fee.
Search the clearance items: Consider going to the clearance area of stores like Kmart where some furniture will often be marked down by 50-90% just because there is a scratch or a couple of bolts missing. These things can be fixed.
Head to the markets: There are also 'trash and treasure' markets in Brisbane (and in other cities too) where you can score free or reduced furniture. But you have to go early before the good stuff disappears.
Cover image source: fizkes (Shutterstock)
The comparison table below shows some of the Savings Accounts on Canstar's database for a regular saver in NSW with links to the providers' websites. The results shown are based on an investment of $100,000 in a personal savings account and are sorted by Star Rating (highest to lowest), then provider name (alphabetically). For more information and to confirm whether a particular product will be suitable for you, check upfront with your provider and read the Product Disclosure Statement before making a decision.
---
Thanks for visiting Canstar, Australia's biggest financial comparison site*