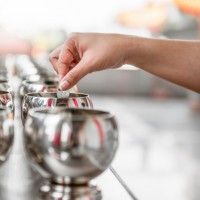 Whether it?s time, or money most of us agree that giving to a worthwhile cause is a good thing. But how do we help those in need without breaking the bank?
Last year Australia slipped down from its number one ranking on the World Giving Index to seventh spot behind Myanmar and New Zealand. According to the Charities Aid Foundation survey for 2013 the proportion of Australians who made charitable donations dropped from 76% to 67%.
Despite this fall in donations, a recent survey conducted by Roy Morgan found a slight increase in the number of people making donations of $200 or more (figures rising from 19% to 21%).
So how much should you be giving?
Australian moral professor, Peter Singer, proposes giving at least 1% of your income and those who earn more than $154,000 should give more. His progressive giving scale provides a guide.
With Christmas around the corner (December is the biggest month for giving), here are some of my tips on how to work out how much to give:
1. Work out why you want to give
Knowing why you want to give will help you to choose who and how to give in a meaningful way. Often it?s reflecting on our own lifestyle and health that makes us want to share this fortune with others. Or it maybe because you feel all lives are worth saving and we are global citizens and want to make the world a better place.
If you are wanting to give for a tax deduction remember that a donation is only tax deductible when it is given to a charity that has been endorsed by the ATO as a deductible gift recipient organisation (DGR). Your donation must be $2 or more to be claimable as a deduction in the year it was made. To check if the charity is a DGR contact the ATO.
2. Calculate how much to give
The best way is to work out how much you can afford to give is by creating a budget. To make this easy download a personal budgeting template (try this one from MoneySmart).
Use the past 3 month?s income and expenses to see exactly how much you earn and what you are spending it on. From here you can calculate how much money you have available to give and can make a donations budget for the year.
3. Choose a cause
Find a cause that aligns to your values and reason for wanting to give and plan out which campaigns and causes you are going to support for the year.
4. Find the best way to give
Whether its money or volunteering find out what is the best way for you to support your chosen cause. Think about what you have to offer in addition to money. You might like to join a local charities board or help run events.
5. Do some research
Once you have found an organisation that supports your cause make sure you do some research and contact them to find out how they use their funds or manage their volunteers. You want to make sure you are giving to an organisation that you are comfortable with.
Regardless of how much money and/or time you decide to give to charity it will feel much more meaningful to you once you have taken the time to create your own giving strategy.