Are you looking for a payment solution to make bill splitt
ing at the point of purchase in-
store and online easier? Canstar spoke to
DiviPay
Founder and CEO Daniel Kniaz to find out more about what the Aussie fintech start-up has to offer
.
First and foremost, DiviPay is a digital wallet that allows groups of people to make shared accounts and pay together at the point of purchase online or (coming soon) in-store anywhere in the world using a 'virtual Mastercard'.
For groups of friends or family wanting to split the bill, DiviPay issues a unique digital Mastercard, or virtual card, to the group. This can be used to make payments online by entering the virtual card details, or in-store by simply tapping your phone to a contactless payments terminal.
DiviPay is currently available to over 2,000 users on the web beta version, with plans to launch the app later this year. The mobile app will allow group purchases to be made in-store, like splitting the dinner bill at a restaurant, thanks to the support of both Apple Pay and Android Pay.
DiviPay users can also create individual virtual cards on demand to protect their privacy and shop more securely online, and even set spending limits on each card. They also have the option of setting up automatic payments so that reoccurring expenses such as rent, utilities and a Netflix account can be split between the group (could be ideal for share houses).
DiviPay has received a fair bit of exposure in the fintech community, having been mentioned in the KPMG Australian Fintech Landscape, recently completing the H2 Fintech Accelerator program and working out of fintech hub Stone and Chalk.
Canstar Q&A with Daniel Kniaz – Founder and CEO of

DiviPay
Canstar caught up with Daniel Kniaz, Founder and CEO of DiviPay and expert in bill splitting payment solutions, to find out more about what DiviPay does and where it fits in the digital wallets space.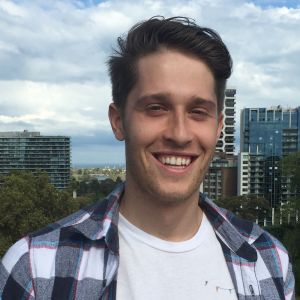 Q: How did

DiviPay

come about?
DiviPay was actually born out of customer feedback we received whilst pursuing a different payments idea.
After working in financial services, we had an idea of what the future state of payments could look like. We started prototyping an invisible payments system, similar to the Uber payments experience, but after speaking with potential customers and probing into their current pain points it became apparent a great frustration remained around group payments and bill splitting. Customers would point to the inability to split expenses as varied as restaurant bills, accommodation for upcoming trips and even utility bills between housemates.
The social lifestyle of our Millennial target market today meant group payments were becoming a weekly if not daily occurrence. There was no easy way to split a payment, rather groups were resorting to creating these long and complicated spreadsheets to reconcile what everyone owed and then sending their friends requests for money with their bank details attached. The most burdensome part of this process is that someone is always left out of pocket. Following up your friends and hassling them for money is often an awkward and cumbersome process that most people would rather avoid.?
Through our customer research we found that as time elapses, so does the likelihood of recovering the funds. The owing party becomes more averse to repaying their debt as the utility of the transaction declines, simply they can no longer associate the cost of a purchase to the tangible benefit they received weeks or months earlier. Coupled with the fact that we can now hide awkward conversations about recovering money behind technology, it is to no surprise that the average Australian is owed $707, with only a 50% chance of ever recovering the funds. DiviPay alleviates this pain point allowing groups to pay together at the point of purchase.
Q: What makes

DiviPay

stand out in the payments and bill splitting market?
Unlike our competitors DiviPay lets users make a group payment directly to the merchant. Existing bill splitting apps only focus on making the repayment of friends easier, however even with these tools the problem still exists that a single person is forced to cover the entire cost of the bill and then forced to ask their friends for repayment. With the DiviPay virtual card a single group payment can be made directly to the merchant, meaning no one person is left to cover the cost and hassle their friends for repayment.
Additionally, DiviPay can be used anywhere, at any merchant, around the world. Most other bill splitting apps only service the restaurant vertical and are limited to a small number of merchants where their technology is integrated. Not having to integrate with merchants is one of our biggest competitive advantages. Utilising existing payment networks and infrastructure means that we can be used absolutely anywhere across any vertical where shared expenses arise.
Q: How does the

DiviPay

'virtual card' work?
The virtual card works just like a regular debit card; however, it sits on your phone rather than in your wallet. To make an online payment enter the card details at checkout or for in-store purchases simply tap your phone at the terminal.
Each DiviPay group is issued a unique digital MasterCard on their smartphone that pulls funds from each person's chosen funding source (debit/credit card) at the point of purchase. Essentially, it's as simple as a WhatsApp group with a unique digital MasterCard attached.
The virtual card is a real enabler for the idea of split payments. Firstly, it allows groups to split the cost of a transaction and pay the merchant all in real time. Secondly, by using the existing Mastercard rails our solution can be used absolutely anywhere that Mastercard is accepted around the world. The fluid nature of the virtual card is also important to the DiviPay solution. Being able to issue cards to groups on demand means users can create as many groups as they like, they have the option to leave a group, delete a group or add new members to existing groups. DiviPay shared accounts can be set up for a once-off occasion, such as dining at a restaurant, or maintained for reoccurring groups, such as the housemate or travel scenario.?
As a result of customer feedback, we are also offering individual cards for users to create on demand. Users are creating individual cards to protect their privacy and also shop more securely online. Customers can create different cards for different merchants and set spending limits for each card.
Q: What's ahead for

DiviPay

?
We are looking forward to launching our mobile payments capability later this year. This will unlock a lot of functionality in the digital wallet and allow us to build a number of value adding services on top. In 12 months, we want to be at the forefront of digital wallets within Australia. We are going to provide more ways for customers to finance purchases and manage their spending.
We will also focus on driving the concept of creating 'shared accounts'. DiviPay is a very easy way to enter into a shared account scenario – one that hasn't been accessible in the past via traditional banks. There are lots of different groups that could benefit from a shared account but are hesitant to formally set one up via a bank due to the many barriers to entry and also the issues that arise if a member of that account wants to leave or they wish to bring a new member in. DiviPay shared accounts can be created instantly. Attaching a virtual card to this solution means payment can be made to any merchant.