We're fast approaching that time of year where you strap on your comfy shoes, evaluate the budget and prepare to dive into the chaos during the Black Friday sales – but how do you beat the crowds and ensure you're getting a bargain?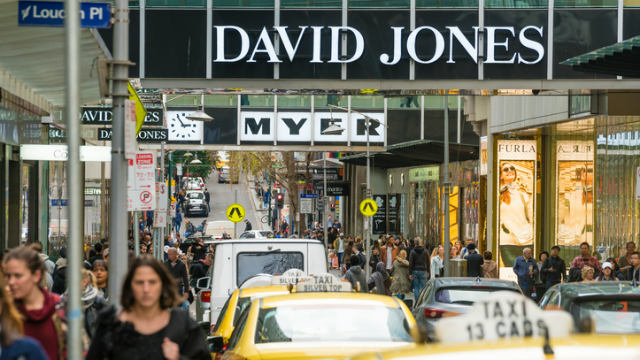 Firstly, what is Black Friday?
The sales bonanza – always held on the first Friday after Thanksgiving – originated in the US as a way for retailers to boost sales. Today Black Friday signifies the kickoff of the heightened retail silly season, continuing through to post Christmas. The name was first penned by police officers in Philadelphia to describe the chaotic traffic conditions created by the sales, but has since been embraced by retailers who aim to put their profits in black (as opposed to red).
This year the sales event will be held around the world on 24 November.
While the day in the US continues to trigger mayhem (and we will await the next instalment of phone-recorded fights over toys, rushing crowds and general madness), Australians have to date taken a more subtle approach, with many retailers offering their deals online to consumers preferring the safety of their couch (or work desks.. shhhh).
Australia Post General Manager of eCommerce and International, Ben Franzi said November had become a busy period for Australia Post.
"In November last year online sales such as Click Frenzy, Black Friday and Cyber Monday drove online volumes for merchants by as much as 30% compared with November 2015. We expect that trend will continue this year," Mr Franzi told Canstar.
"We're expecting our biggest Christmas on record. This year we're making the most of our network so we can collect, process, transport and deliver parcels safely, securely, and efficiently, and well as boosting it so we can handle the extra volumes."
A Myer spokesperson said their customers were increasingly opting for an online shopping experience, clicking and then collecting their new purchase instore.
"Cyber sales are growing in popularity with the Australian consumer and Myer actively participates with sales events such as our own Cyber Weekend and more recently with Click Frenzy," they told Canstar.
"In July 2017 the Click and Collect option represented 15% of all online orders."
Grabbing yourself a bargain
More and more retailers are jumping on board the Black Friday bandwagon, including JB Hi-Fi, Kogan, eBay and Harvey Norman. Even more exciting – there have been whispers in the retail community the long-awaited launch of Amazon's Australian marketplace could align with the sales – so keep your eyes peeled!
Some retailers offer the sales over a longer period of time, whereas others won't release their discounts on offer until much closer to the day. The types of products most likely to be included in the sales are those that were recently replaced by a newer model, items in a higher-price range that generally require a little more convincing to move into shoppers' hands and items that have been under-performing sales targets.
If you know what items you specifically want, make sure you do your research prior to the sales to understand the average cost, not just the RRP (which could have been inflated in the lead up to the sale). This way you will be able to identify a good price faster and keep ahead of the other sales hunters.
Also, try not to be too precious about specific models. For example, if you're looking for a television and the model you had your eye on isn't included in the sale, consider other models with similar specs to get the most bang for your buck.
Not to brag or anything… but I have to say I'm a pro when it comes to shopping. We're less than two weeks away from the big event and I want to help you guys win big! https://t.co/UsIszmAuEm #blackfriday pic.twitter.com/rOzLl3DqPm

— Molly Sims (@MollyBSims) November 15, 2017
Buying internationally
As overseas retailers gear up for the internationally renowned sales, Australians are looking at their options for taking advantage of the lower prices and shipping back to our shores.
Mr Franzi said global sales such as Black Friday put the spotlight on international bargains with a boost in interest to their US-based freight forwarding service ShopMate.
"In the lead up to 2016 Black Friday sales, our ShopMate registrations tripled," Mr Franzi told Canstar.
"In November we saw a 23% increase on ShopMate parcels coming from the States and then a big jump of 66% in December.
"We're expecting to see similar activity in 2017, because of the strength of the Australian dollar against US and UK currencies.
Beware of the hype
But before you rush out buzzing with that shoppers' high in search of your next injection of sweet sweet consumerism, Canstar Blue Editor Simon Downes said it was important to remember you're only going to get a great bargain if you truly need or want the product you're purchasing.
"There is a lot of hype around certain sales periods and Black Friday looks set to become one of the biggest," Mr Downes said.
"It's easy to get caught up in the hype and end up spending money you don't really need to.
"If there is something specific you really need, this could be an opportunity to get a great deal – if not, you're simply spending money for the sake of it."