Do you feel as though your finances are getting away from you? You're not alone, with one in three Australians reportedly living beyond their means.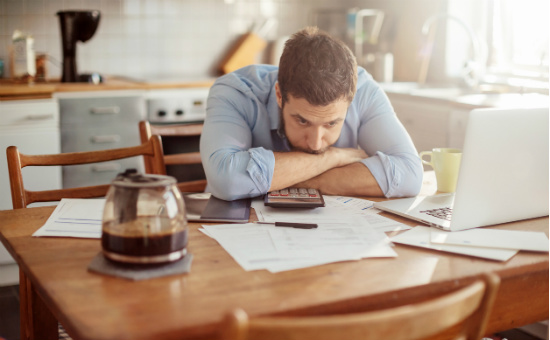 Data from Commonwealth Bank has revealed that one third of us are spending more than we earn on a monthly basis, and that this is a serious contributing factor when it comes to our financial wellbeing.
The survey commissioned by Commbank found that roughly 46% of Australians don't feel that they're making progress towards their financial goals, and almost the same amount (45%) aren't happy with their current level of spending.
Additionally, in the case of a temporary loss of income, more than half of us (56%) wouldn't have sufficient savings to cover our expenses.
In the case of an emergency, 1 in 3 Australian households wouldn't be able to put their hands on a spare $500.
It's worrying news when one considers our national credit card debt is already quite high: Australians owe a total of $32 billion in credit card debt, which amounts to over $4,200 of debt per credit card holder.
New CommBank app features
In response to these findings, the Commonwealth Bank announced plans to introduce several new features to the Commbank app.
The first 2 features – 'transaction notifications' and 'spend tracker' – are designed to improve saving and spending habits.
The bank is also trialling 2 other functionality tools called 'savings challenge' and 'savings jar'.
The aim of these new features, according to CommBank, is to help improve their customers' ability to meet their financial obligations and goals, and to ensure they have "rainy day" savings.
Commonwealth Bank Executive General Manager Digital Pete Steel said the bank has a role to play in helping customers achieve financial wellbeing.
"In a recent survey, we found 73% of Australians want banks to do more to understand their needs and concerns, and 72% want their bank to help them manage their finances in a rapidly changing world," Mr Steel said.
"Testing new features with customers will allow us to provide more personalised experiences, at pace, that our customers love.
"We're really interested to know if these new features can help to make a real difference to our customer's financial wellbeing.
"Additionally, we've been working with our behavioural economists and other industry experts to pave a path toward financial wellbeing solutions.
"While we will always want to deliver convenience for customers, we also want to be able to provide them with the tools they need to better manage their money."