BankSA is a provider of home loans, personal loans, credit cards, bank accounts, investment products, and super funds.
"Let's do this." (BankSA)
Loan Options: What BankSA home loans offer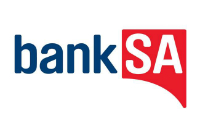 The inclusions below represent a selection of the features available with a Standard Variable Rate home
loan of $350,000 for an owner-occupier. CANSTAR is not making any suggestion or recommendation to you about this product. Please see our comparison tables for more details and information about products on offer from this provider and other providers on our database.
Compare Home Loans with CANSTAR
Additional conditions may apply to different features. Please ensure that you read the product disclosure statement to determine all the current loan terms and conditions for the product you are considering.
BankSA Standard Variable Home Loan Features
Advantage Package available – includes discounted rates and fees on home loan, credit card, and transaction account.
Offset account available.
Redraw facility available.
Split loan facility available; maximum 4 splits allowed; split loan application fee may apply.
Mortgage is portable.
Repayments may be made weekly, fortnightly, or monthly.
Additional repayments allowed.
Lump sum repayments allowed.
Interest only option available for 5 years for owner occupiers and up to 15 years for residential investment.
Repayment holiday allowed for 3 to 12 months (if borrowers has previously made additional repayments in advance that can be redrawn).
Family guarantee option is available.
Minimum loan amount $10,000 – up to unlimited maximum loan amount.
About BankSA
BankSA opened its first branch in 1848, as The Savings Bank of South Australia. The bank began as a one-man band – John Hector opened the bank in a single room that was provided free of rent by a mining company. An Afghan shepherd named Croppo Singh was the first person to make a deposit, by entrusting his life savings of 29 pounds to the bank. One month later, the new bank made its first loan – 500 pounds to John Colton for the purchase of two acres of land with a house, cottage, and stables.
Today BankSA is the largest financial institution in South Australia, with more than 120 branches in SA and the Northern Territory. In 2008, BankSA, and St.George became part of the Westpac Group (bank of Melbourne is also part of the Westpac Group).
BankSA plays a key role in the community as a sponsor of major State events such as the Adelaide Fringe festival and Adelaide's Royal Show. Through the BankSA Foundation, the bank makes donations to approximately 100 South Australian and Northern Territory-based charities each year.
Source: BankSA
Some of BankSA's notable community support initiatives include:
As for protecting the environment, BankSA has reduced the paper they use and only uses paper from sustainably managed forests and industry-accredited mills. They have introduced energy saving fixtures in their lights, and installed timer delay switches to make sure all branches turn off non-essential lights every night. BankSA also participates in Earth Hour every year. As for computers, BankSA partners with Cartridges 4 PlanetArk to recycle ink cartridges and toners.
Compare Home Loans with CANSTAR 
CANSTAR provides an information service. It is not a credit provider, and in giving you information about credit products CANSTAR is not making any suggestion or recommendation to you about a particular credit product.
If you decide to apply for a credit card you will deal directly with the financial institution, and not with CANSTAR. Rates and product information should be confirmed with the relevant financial institution. For more information, read our detailed disclosure, important notes, and additional information.
Read the Comparison Rate Warning when comparing interest rates on home loans.
Written by: TJ Ryan