HSBC has launched the first transaction account in Australia to allow customers to bank in multiple currencies with no overseas charges or ATM withdrawal fees, and without having to make minimum monthly deposits or transactions.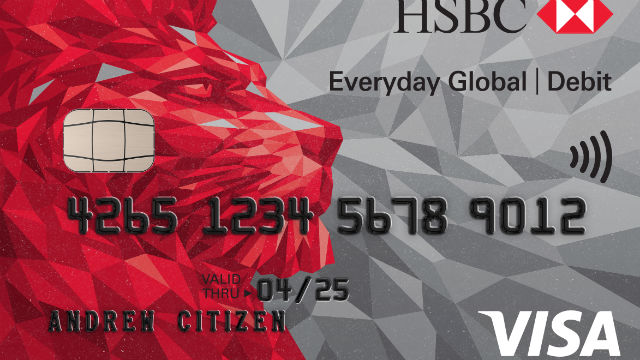 The Everyday Global Account comes with a Visa Debit card and operates as a normal everyday Australian bank account that can house 10 different currencies: the Australian dollar (AUD), US dollar (USD), British pound (GBP), euro (EUR), Japanese yen (JPY), Chinese yuan (CNY), Canadian dollar (CAD), Singapore dollar (SGD), Hong Kong dollar (HKD) and New Zealand dollar (NZD).
The account has no fees for international transactions, currency conversions, or local and overseas ATM withdrawals (HSBC and non-HSBC ATMs), however non-HSBC ATMs may still charge operator fees.
At the point of sale, the account self-selects the supported currency and doesn't charge fees even if the card is used to make a purchase in a currency that is not one of the ten supported ones – in which case it conducts an 'on the spot' currency conversion from the Australian dollar account.
The transaction account uses HSBC's real-time FX rates when converting currencies, which means customers aren't held to the one daily rate.
The Everyday Global Account Visa Debit Card is also compatible with Apple Pay, Google Pay and payWave where accepted overseas.
HSBC: "There was a gap in the market"
HSBC Australia's Head of Retail Banking and Wealth Management, Graham Heunis, told Canstar HSBC believed that there was a gap in the market for a product that made it easier for customers to spend in foreign currencies without worrying about overseas charges and changing foreign exchange rates.
"If you have an Everyday Global Account, you don't need to worry about travel cards or taking out large amounts of holiday cash before you go," Mr Heunis said.
"If you've pre-loaded the currency you need, you don't have to worry about the exchange rate on your trip. For example, if the item says it's US$50, it's going to be US$50, because you're spending from your US dollar holdings.
"All of this comes with an account you can use for your everyday banking, making it easy to keep track of your spending and taking away the hassle of separate cards and accounts."
Mr Heunis added that HSBC's exchange rates are very competitive against other providers in the market.
"Seventy-five percent of us are choosing to pay in Australian dollars overseas to avoid fees and the inevitable 'statement surprise'. This often means getting a poor exchange rate, which can be the biggest hidden cost of all," Mr Heunis said.
"We know that Aussies love to travel and shop like a local, so why not pay like a local? We don't want customers to have to pay more to shop on overseas sites, or to get cash out at the airport for a taxi or for a meal when they're on holiday."
HSBC's launch follows ING's announcement in late 2017 that it was allowing fee-free international transaction fees for its Orange Everyday transaction account customers, provided they:
deposited a minimum of $1,000 into their Orange Everyday account from an external source per month, and
made at least five card purchases monthly.
The HSBC Everyday Global Account has no such minimum deposit or transaction requirements.
Canstar's Group Manager for Research and Ratings, Mitch Watson, said HSBC's Everyday Global Account could help consumers looking for the flexibility of an everyday transaction account and the certainty of locked-in exchange rates when they travel or shop online.
"While this transaction account is not the first in the market to offer fee-free transacting while overseas, it is the only one that also gives you the ability to buy and store multiple currencies in the account, providing consumers the additional benefits afforded to travel money cards users," Mr Watson said.
However, Mr Watson warned customers to beware of the costs of the foreign exchange rates when transferring back and forth.
"If you transfer Australian dollars to US dollars, don't spend it all on your trip and then transfer back from US dollars to Australian dollars, you could end up losing the foreign exchange margin on both transactions," he said.
"Also, the trade-off with locking in the exchange rate is that you could end up missing out on a more favourable exchange rate down the track, should the Australian dollar appreciate, but this can go both ways."
49% of Australians have been charged an overseas transaction fee in last 12 months
HSBC Australia has also released new research which suggests almost half (49%) of Australians paid an overseas transaction fee in the last 12 months.
Based on a survey of over 1,000 Australians, the research also revealed 94% admit to changing their spending habits when overseas to avoid extra fees while 94% try to avoid taking cash out at ATMs overseas.
Of the 91% of respondents that said they change money into local currency before they go overseas, 46% said they do so to avoid overseas charges on their credit card.