Canstar has revealed the financial institution providing the strongest combination of products and services for small business customers in its 2019 Bank of the Year – Small Business Award.
Using a set of unique ratings methodologies, our research team considers each institution's range of business banking products in Canstar's Business Banking Star Ratings, including savings and transaction accounts, credit cards, loans and term deposits. Products that offer business customers outstanding value across pricing and features are recognised with a 5-Star Rating.
The winner of the Bank of the Year – Small Business Award is then determined based on these Star Ratings, as well as a range of additional services and the support that they provide to small business customers. The additional services considered include branch coverage, availability of dedicated relationship managers, functionality of online banking platforms, business insights, merchant facilities and education services.
Canstar's 2019 Bank of the Year – Small Business Award Winner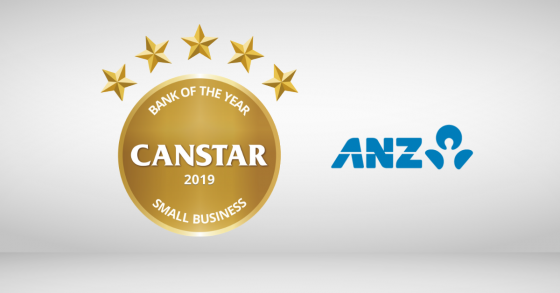 Out of the eight institutions assessed, ANZ has been named the winner of Canstar's Bank of the Year – Small Business Award, with 2019 marking the second year in a row it has won this Award.
According to Canstar Research, ANZ's product offerings in both the business lending and credit card space were key factors behind its win.
They said the bank has continued to be a standout performer when it comes to business term loans, retaining its 5-Star Rating for Outstanding Value in three term loan profiles; Residentially Secured, Commercially Secured and Unsecured, in this year's Business Loans Star Ratings.
Canstar Research also noted the value of ANZ's Business Black rewards credit card (in the $120,000 annual spend category), which received a 5-Star Rating in the most recent Business Credit Card Star Ratings. They said this product has continued to perform well, relative to the market, since ANZ reduced the annual fee on the card by $150 last year, and increased the points earn rate from 1 to 1.5 points per dollar spent on eligible purchases of up to $10,000 per billing period, and 1 point per dollar thereafter.
Canstar Research also highlighted the features of this card – including complimentary travel insurance, a global concierge service and unauthorised transaction insurance – as providing additional benefit to small business customers. Also offered is the option to easily import your Business Black card transaction history directly to compatible accounting software platforms, such as Xero or MYOB.
In addition to ANZ's high-performing product line-up, the research team noted the benefits found within the bank's large network of branches and Smart ATMs and the availability of dedicated relationship managers, allowing small business owners easy access to their banking facilities and ongoing support.
Canstar Research said ANZ also offered a comprehensive merchant terminal device for retail businesses called ANZ BladePay. This Android-based mobile payment device was designed to simplify the payment experience by allowing the point of sale to be taken directly to the customer (such as to process payment for a meal at a restaurant table), and included options to split bills, add tips and send e-mail receipts to a customer's account, Canstar Research said.
Cover image source: G-Stock Studio (Shutterstock)