It's not all about the interest rate – there are other questions to ask before you choose a savings account.
Saving money is a good habit to have, but it isn't easy. If you have managed to discipline yourself and put some funds aside, you'll want to ensure that you get the best value possible from all your hard work.
While there are a range of different asset classes where you could invest that money, those wanting ready access to their savings in the form of cash will probably be looking at savings accounts.
There are a variety of different savings accounts out there, so comparing savings accounts and choosing the right one for you and your goals can seem overwhelming. While there's no one-size-fits-all account to suit every need, if you consider the following important features, your choice may become a little easier.
To find a great value account, join more than 65,000 Australians who are comparing savings accounts on the CANSTAR website every year (March 2016 – March 2017):
How do you choose a savings account?
When CANSTAR researches and rates savings accounts, we ask the following 5 questions to decide which savings accounts offer outstanding value for savers:
What's the interest rate?
What are the fees?
How easily accessible is the money?
Do you get free transactions, or fee rebates?
Any other useful features?
1. What interest rate does the savings account pay?
With the official cash rate at historic lows, every extra basis point of interest makes a (small) difference. Unfortunately, the days of double-digit returns on savings accounts ended decades ago, but you should still seek out a good rate.
Remember that some advertised interest rates are just introductory rates or bonus rates. Introductory interest rates are high bonus rates that apply for a set time period before reverting back to the lower base rate.
Meanwhile, a bonus rate is a high rate that only applies if certain conditions are met, such as no withdrawals in the month. If you don't meet the conditions, you will just receive the base rate.
Regular Savings Accounts
Base Rates
Bonus Rates
Total Rate
Min
0.00%
0.00%
0.00%
Average
1.01%
0.79%
1.80%
Max
2.40%
3.00%
3.05%
Source: www.canstar.com.au

Rates current as at 27 March 2017 for a balance of $5,000. Only accounts considered in the "Regular Saver" profile of CANTAR's Savings and Transaction Account Star Ratings have been considered. – excludes notice savers. Promotional rates not considered in total rate.
The highest bonus rate currently on our database for online savings accounts is 3.05% p.a. – and the maximum base rates at present are 2.40% p.a. (CANSTAR, March 2017).
For more detail, check out the current average interest rates on savings accounts in this article.
Unless you want to lock your money away for a few years, term deposits don't fare much better than savings accounts when it comes to the annual interest rate. You can compare the current term deposit rates on the CANSTAR database.
Do you have a savings account?
Are you satisfied with the rate of interest you are earning? Are you paying fees to save? We want to hear from you!
Have your say in our 30 second survey below.
2. What are the fees?
When interest rates are low, fees pack a bigger punch. But as consumers, we don't tend to change our bank account as often as we change our spending and saving habits.
Some possible types of fees that consumers can incur on various savings accounts include:
Monthly account fees
Branch deposit fees
Over-the-counter transaction fees
ATM withdrawal fees
EFTPOS fees
Electronic transaction fees
For more detail, check out the current average fees charged on savings accounts in this article.
3. Get the right type of account
Click here to see the different types of savings accounts and which saver profile is best suited for each type of account.
If you're eligible for a Student Savings Account with no account-keeping fees, don't settle for any old Regular Saver Account that does charge fees.
4. How accessible is your bank account?
Accessibility of branches is not important to all consumers or for all types of savings accounts. But you'll want to check if the institution offers a mobile banking app and online banking (internet banking) – both must-have options these days.
And the number of ATMs and branches available throughout Australia may still be a factor that some savers deem important.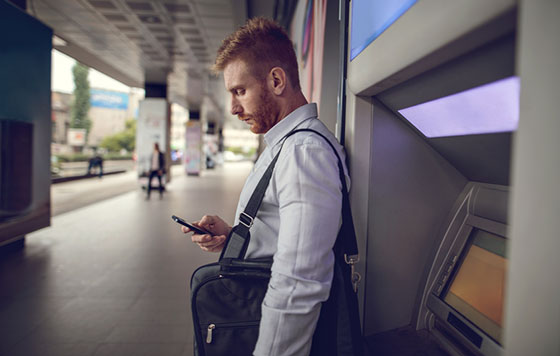 5. Does your account offer free transactions and fee rebates?
It is useful to know how many "free" transactions apply, or if fee rebates are provided by savings accounts that you may be considering.
With a number of fee-free account options available, recent CANSTAR analysis found that choosing the wrong account for your savings or transactions could be an unnecessary drain on Australian wallets.
Here are some ways to avoid ATM fees.
6. What savings account features can you use?
Features such as the online security offered by institutions, account conditions such as the minimum or maximum opening balance, and other account design features can make a significant difference to the overall usability of a savings account.
Personal financial management tools such as calculators are also an added bonus when you're drawing up your budget, setting your savings goals, and tracking your progress.
To help in your search for a savings account that represents outstanding value for your needs, compare savings accounts on our website or check out our latest research.
Savings & Transaction Accounts Star Ratings Report – Canstar
To the extent that any CANSTAR data, ratings or commentary constitutes general advice, this advice has been prepared by CANSTAR Research Pty Ltd ABN 29 114 422 909 AFSL and ACL 437917("CANSTAR") and does not take into account your individual investment objectives, financial circumstances or needs. Information provided on and available in this document does not constitute financial, taxation or other professional advice and should not be relied upon as such. CANSTAR recommends that, before you make any financial decision, you seek professional advice from a suitably qualified adviser. See CANSTAR's Financial Services Guide and Credit Guide at http://www.canstar.com.au/canstar-research-fsg/