Outstanding Value: WorldFirst
Canstar has researched and rated 19 overseas money transfer providers, with WorldFirst receiving a 5-Star rating for outstanding value. Find out more about WorldFirst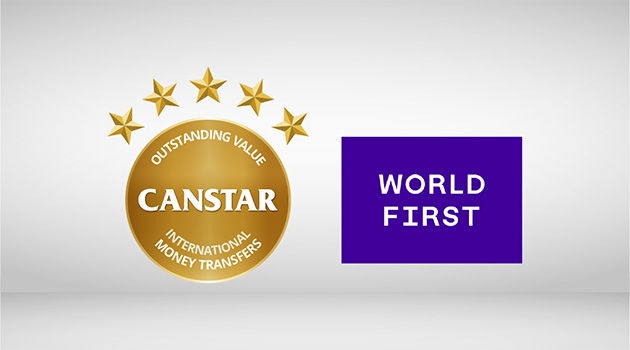 Transferring money overseas is a multi-billion dollar industry and for those who are transferring their hard-earned funds, finding an international money transfer provider that represents outstanding value is a must. In 2017 Canstar has researched and rated 19 overseas money transfer providers, with WorldFirst achieving a 5-Star rating.
Compare International Money Transfer Platforms
Who is WorldFirst
WorldFirst is a market-leading, award-winning, rapidly-growing international FinTech business. It employs more than 600 people, across 6 international offices, in Sydney, London, Amsterdam, Austin, Singapore and Hong Kong. WorldFirst launched in 2004 (in the UK) and opened their Australian office in 2009. This year alone, they have added 48,000 new customers.
Experts in international currencies and money transfer, WorldFirst combines specialist knowledge of foreign exchange markets and technological innovation to help individuals and businesses manage cross-border currency payments quickly, securely and transparently.
A specialist alternative to traditional banks' generalist approach, WorldFirst has successfully exchanged more than AU$80 billion for over 100,000 individuals and businesses since 2004.
Starting with only 4 people, the Australian office has grown into a team of 45. Based in the Sydney CBD, WorldFirst help Australian individuals, businesses and online retailers get a better deal on their international money transfers.
WorldFirst is regulated in Australia by the Australian Securities and Investments Commission. AFS Licence number 331945. Australian company number (ACN) 132 368 971. You can access the ASIC website here.
For the second year in a row, we are excited to announce that we have received the @CANSTAR award for Outstanding Value in International Money Transfers! pic.twitter.com/DjnzhKZWTl

— World First AU (@World_First_Au) November 8, 2017
What international money transfer features are offered?
Canstar's 2016 audit of the money transfer features offered by WorldFirst, conducted in August and September 2016, uncovered the following online money transfer features offered by WorldFirst:
Zero fees
Transfers available by the following means:
More than 100 Currencies available, including:

US Dollar
Hong Kong Dollar
Great Britain Pound
New Zealand Dollar
Japanese Yen
Singapore Dollar
Euro
Indian Rupee
Swiss Franc

Transfer limits:

Min – $2,000 ($1,000 for Phone transfer)
Max – Unlimited

Real-time exchange rates
Telephone helpline
CURRENCY INFORMATION
TOTAL CURRENCIES AVAILABLE
100, including…
United Arab Emirates Dirham (AED)
Yes
Bangladesh Taka (BDT) available
Yes
Bahrain Dinar (BHD) available
Yes
Canadian Dollar (CAD) available
Yes
Swiss Franc (CHF) available
Yes
Chinese Yuan Renminbi (CNY) avail
Yes
Czech Republic Koruna (CZK) avail
Yes
Danish Krone (DKK) available
Yes
Euro (EUR) available
Yes
Fijian Dollar (FJD) available
Yes
British Pound Sterling (GBP) avail
Yes
Hong Kong Dollar (HKD) available
Yes
Croatia Kruna (HRK) available
Yes
Hungary Forint (HUF) available
Yes
Indonesian Rupiah (IDR) available
Yes
Israel Shekel (ILS) available
Yes
India Rupee (INR) available
Yes
Jordan Dinar (JOD) available
Yes
Japanese Yen (JPY) available
Yes
Kenya Shilling (KES) available
Yes
Kuwait Dinar (KWD) available
Yes
Sri Lanka Rupee (LKR) available
Yes
Malta Lira (MTL) available
Yes
Mauritius Reupee (MUR) available
Yes
Mexico Peso (MXN) available
Yes
Malaysian Ringgit (MYR) available
Yes
Norwegian Krone (NOK) available
Yes
New Zealand Dollar (NZD) available
Yes
Oman Omani Rial (OMR) available
Yes
Papua New Guinea Kina (PGK) avail
Yes
Philippine Peso (PHP) available
Yes
Pakistan Rupee (PKR) available
Yes
Poland Zloty (PLN) available
Yes
Qatar Rial (QAR) available
Yes
Swedish Krona (SEK) available
Yes
Singapore Dollar (SGD) available
Yes
Thailand Baht (THB) available
Yes
Tonga Paanga (TOP) available
Yes
Turkey Lira (TRY) available
Yes
US Dollar (USD) available
Yes
South Korea (WON) available
Yes
Samoa Tala (WST) available
Yes
South African Rand (ZAR) available
Yes
Source: Canstar. Audit was conducted in August & September 2016 with information advised by WorldFirst as being correct at that time. Please check current costs, features and offering on the WorldFirst website.
WorldFirst Canstar 5-Star rating
In Canstar's 2016 ratings, WorldFirst has received very high scores for both price and features.
Their exchange rates across the currencies measured by Canstar were highly competitive, with their averages rates being better than the RBA official rate (from Reuters at 4pm) for 7 of 9 currencies. With no fees and the largest selection of currencies available for transfer (>100) of the 19 institutions researched by Canstar, they are worth adding to your shopping list!
Hot tip: A little bit of homework goes a long way when it comes to exchange rates and transfer fees, so you should compare your shortlist of institutions before picking one. Every institution costs something, but you can make sure that more of your money goes where it should – to your recipient, not your institution.
Compare International Money Transfer Platforms