Many people, without even giving it a second thought, would insure their car and their home. Some have even been known to insure their wedding… but
income protection insurance
is often overlooked.
For many subcontractors and self-employed tradies, the importance of income protection can't be overstated. Not only do many worksites and building companies require contracted workers to have income protection, but also being self-employed means you can't rely on your employer if you find yourself unable to work due to injury or illness. So, let us divulge some need-to-know tidbits and shed some light on income protection insurance.
What's the quickest way to get income protection as a contractor?
There are two main ways to get income protection insurance, advised or direct. Advised income protection is where you entrust a financial adviser to assess your current circumstances and find the right cover for you. If you're unsure of what policy may be right for you, going through a financial adviser might be your best option. However, it is often quicker to obtain your income protection insurance directly from an insurer, which may suit you if you decide you need to take out income protection insurance, and want to get working as soon as possible.
Direct income protection leaves it to you to decide on a provider. Luckily, with the internet literally at our fingertips it has never been easier to conduct your own research and compare income protection insurers. Going direct is seen by many as an efficient way to get covered and get covered fast.
Interested in income protection insurance? Start comparing providers below.
The table below displays a snapshot of policies with links to providers' websites, based on a non-smoking male aged between 20-29 years old, who works in Trades and Services. The results below are sorted by Star Ratings, from highest to lowest. Before committing to any particular policy, check upfront with your provider and read the PDS to confirm whether it meets your needs.
How does income protection insurance work?
If you've done your research, decided you want income protection insurance and landed on the right cover for you, your income protection insurance should act as a back-up if you're unable to work due to injury or illness. To get the process rolling, start by putting in a claim. If the insurer has approved your claim and once your waiting period has ended your monthly benefits should begin. Generally, this benefit will continue until you are able to return to work or until the agreed benefit period ends.
How much should you expect to receive?
Not all policies and insurers are created equal, so we always recommend you shop around to find a policy that works for you, and that you read the Product Disclosure Statement carefully for any policy you are considering, including any policy that may be provided as part of your superannuation. However, as a rule of thumb, for income protection most insurers will typically offer to cover up to 75% of your pre-tax income. Estimate how much cover you may receive using our income protection insurance calculator.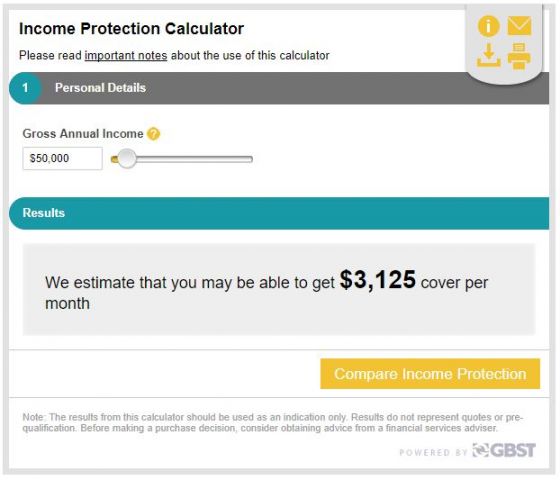 Why workers' compensation may not be enough for contractors
If you are lucky enough to receive workers' compensation, you will be covered for most injuries or illnesses sustained at work. However, if something were to happen to you off the jobsite that leaves you unable to work, workers' compensation would generally not be applicable. That's where income protection insurance would come into play. Unlike workers' compensation, income protection typically covers you 24 hours a day and seven days a week, subject to any waiting periods or other limitations of your particular policy.
Is income protection right for you?
Income protection insurance doesn't suit everyone. So, before you start researching and comparing your options, consider whether or not you'll benefit from income protection.
If you have decided that income protection is worth exploring, Canstar can help you compare insurers to try and find a policy that suits you. Always read the PDS and seek help from a professional financial adviser if ever in doubt.