Canstar has revealed three winners of the 2019 Direct Life Insurance Outstanding Value Award, after researching and rating 25 products from 25 providers.
Canstar's Direct Life Insurance Star Ratings use a sophisticated and unique ratings methodology that compares both cost and features across direct life insurance policies. It provides a shortlist of products to help consumers narrow their search to policies that have been assessed and ranked.
Direct Life Insurance Outstanding Value Winners
After crunching the numbers, Canstar is pleased to announce that the winners of our 2019 Direct Insurance Outstanding Value Award are (listed in alphabetical order):
Allianz Australia Life Insurance
Insure Me Now
NobleOak Life Insurance
All three providers also received the Award for providing Outstanding Value in 2018.
How does Canstar compare direct life insurance?
Canstar Research compared products' premium prices and features, with price given a 70% weighting and features the remaining 30%.
These weightings were assessed against 20 consumer profiles based on gender and smoking status across five age groups (20-29, 30-39, 40-49, 50-54 and 55-59 years), with a Star Rating assigned to each product for each profile. A non-smoker is defined as a person who has not smoked, used an e-cigarette or any other similar product for at least the past 12 months.
The three Award winners for 2019 were all found to offer Outstanding Value based on their Star Ratings across all 20 consumer profiles.
Price
Canstar calculated the monthly premiums paid for policies over three levels of cover – $250,000, $500,000 and $750,000 – across 20 profiles to arrive at a total price score.
Features
Canstar considered the following features:
Standard company terms: general exclusions, pre-existing conditions, other company terms and indexation
Application and claims process: claims process, applications process, support, interim cover
Policy benefits and options: terminal illness, funeral benefit, riders (trauma and TPD), guaranteed future insurability, other benefits and options and financial advice
Policy terms: premiums and sum insured
To be eligible for Canstar's Direct Life Insurance Star Ratings and Award, a policy must:
Provide cover for sickness and accidents
Not be restricted solely to members of a specific organisation
Be available directly to the consumer without an intermediary such as a financial planner
Have quotes available online, either based on rates in the product disclosure statement, or via information the provider supplies directly
Have been available for at least 12 months
Allianz Australia Life Insurance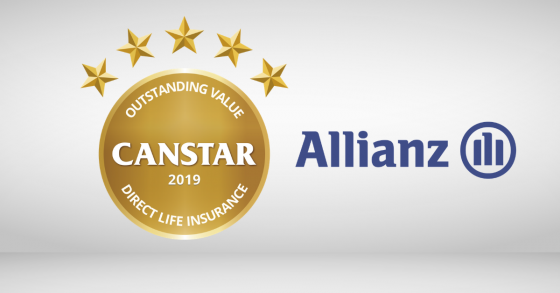 Canstar Research found Allianz's direct life insurance products had lower premiums than the market average in all profiles considered. It had the most affordable direct life insurance for 55-year old female smokers, with premiums 18% cheaper than the market average for a $250,000 sum insured amount and 27% cheaper than the market average for $500,000 worth of cover.
According to Canstar Research, standout features for Allianz included a customer-friendly application and claims process, including over the phone and online quoting. Allianz also allows customers to lodge claims over the phone.
Other outstanding features included a death and terminal illness benefit of up to $1.5 million depending on your age. This can assist with costs such as paying medical bills, pre-paying funeral costs, and paying off a mortgage or other debts.
Insure Me Now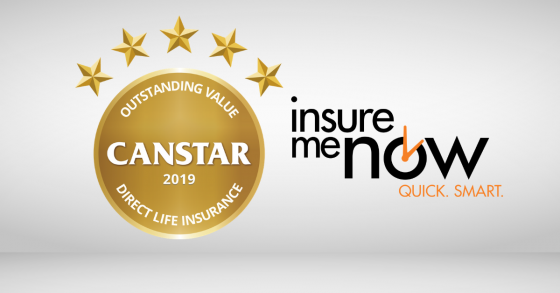 Insure Me Now had premiums that were lower than the market average in all profiles considered. It was particularly competitive for men in their late fifties, with premiums about 41% cheaper than average for smokers with a $250,000 sum insured amount and 37% cheaper for those looking for a $500,000 sum insured amount.
On the feature side, Insure Me Now provides a user-friendly application and customer service experience to its customers. This is delivered by providing online application, online quoting and phone-based support throughout the application journey. Additionally, Insure Me Now operates its call centre five days per week if customers are in need of additional information or customer support regarding their existing policies or claims process.
NobleOak Life Insurance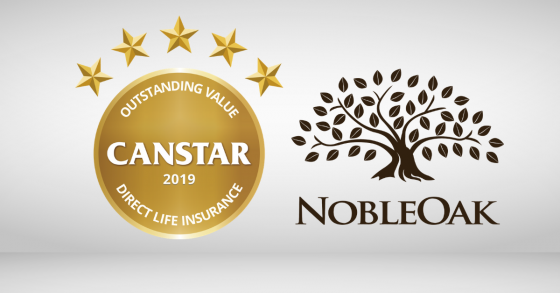 NobleOak has received this award for a fourth consecutive year. Canstar Research found NobleOak had the most affordable premiums in 17 out of the 20 profiles considered in the 2019 ratings.
It was also found to have standout policy benefits, such as allowances for customers seeking financial advice, extensive motorcycle riders coverage and generous guaranteed future insurability, where a person can increase the sum insured when their circumstances change, such as when they marry or start a family.
Image Source: Tom Wang (Shutterstock)
---
Thanks for visiting Canstar, Australia's biggest financial comparison site*