A well-known saying in investment circles is 'Sell in May and go away', but what does that mean and is there any truth to it? We've slapped on our deerstalker hat and whipped out our magnifying glass to uncover the mystery behind this popular mantra.
Background check
The old English adage, 'Sell in May and go away' warns investors to sell their shares in May to avoid a perceived seasonal decline in equity markets. Traditionally, some investors associated the saying with '…, don't come back until St Leger Day', which refers to final horse race of the British Triple Crown and typically takes place in mid-September. However, nowadays the 'Sell in May' period is generally defined as May to October, and returns are commonly compared to the other half of the year, November to April.
So, is there any truth to this saying? We take a look at the numbers to find out.
Gathering the clues
Wise-Owl.com, an ASX stock market research firm, examined the Dow Jones Industrial Average (DJIA) Index from 1900-2015 and found that historically stocks performed better in the November to April period. The frequency of positive returns over this period was 70% in comparison to 59% between May and October.
Performance comparison for the Dow Jones Industrial Average between 1900- 2015
Dates
May – October
November – April
Frequency of Positive Returns
59%
70%
Median Return
2.6%
4.2%
Average Return
1.4%
5.2%
Looking at our local market, the ASX 200 index's performance over the past two decades has echoed the same results as observed by Wise-Owl.com. Again, the November to April period delivered significantly higher returns than the other half of the year. However, investors were still historically better off holding shares throughout the year as both periods saw positive returns collectively.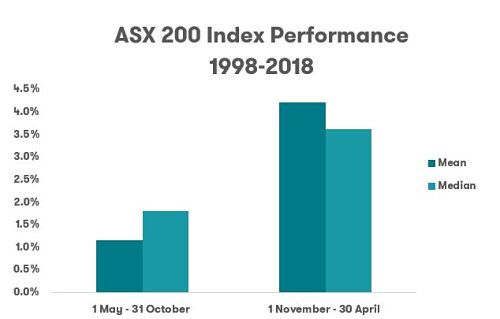 According to a Barclays report, historically it is a trend that seems to be worldwide. They found, across all countries, on average returns from 1970-2017 were stronger in the period between November to April relative to the period of May to October.
Mystery solved, although…
On the basis of historical performance, it certainly does appear that there is some merit to the proverb 'Sell in May and go away'. Although many financial analysts and academics have studied this global phenomenon, the causes of the seasonal under-performance across equity markets remains unknown. It may be that investors have simply come to expect a decline during the May to October period, and the expectation becomes self-fulling. Or perhaps, as this period falls over the northern hemisphere's summer months, it may be reflecting the effects of fewer trades while investors are on holiday.
But, before you rush off you adjust your portfolio, take into consideration that past performance is not an indication of future performance. And keep in mind that this strategy does not suit everyone. As mentioned, some investors may be better holding stocks throughout the year as both periods have shown positive returns.
Want more articles like this sent straight to your inbox? Sign up for our newsletter below. Or, you can follow us on Facebook and Twitter.