More than ever Australians are using their mobile phones for everyday tasks, including managing their investments. There are a variety of investment apps out there that cater specifically to managing your portfolio. Here are four popular investment apps that may be worth exploring.
InvestSMART
InvestSMART is a free to use portfolio management service that aims to help Australians grow and protect their wealth. The app, which has over 650,000 members, allows investors to track and manage their share portfolio through their Portfolio Manager service. Customers can use the app to create and store unlimited portfolios and watchlists, and to access broader performance reporting. InvestSMART also provides a portfolio HealthCheck service, which helps users align their asset allocation with their risk profile. Although the service does not allow for trades to be executed through the app, there is the ability to invest in the company's own managed equity funds.
For those who sign up to the app's paid membership service, the app provides the following:
share market research and content
investment filters, ideas and recommendations
With the premium version the app's filters are more sophisticated, designed to make it easier for investors to find shares that suit their needs. Investors should also receive instant notifications when a new investment recommendation is released. Those who purchase a subscription to InvestSMART may also get access to the affiliated Eureka Report and Intelligent Investor, depending on their choice and level of membership.
With the InvestSMART you can also invest in a number of ETFs portfolios suitable for investors looking for a mix of asset classes in one portfolio. If you do decide to invest through that app, bear in mind you will be charged a managed fee.
Stocklight
While Stocklight may not allow you to trade through it directly, the app aims to allow investors to sort through the endless stream of data, opinions, speculation and analysis that investors are exposed to. The free to download app provides investors with information including stock prices, company announcements and research updates.
Stocklight also provides:
an overview of Australian stocks
a news feed, which groups all the relevant news for the stocks on your watchlists
a summary of your portfolio's profit and loss to date (including dividends)
quantitative analysis via simple graphics
However, some of these features require the purchase of a monthly subscription (Stocklight premium).
Sharesight Reader
If you've already got a portfolio of stocks and other investments, Sharesight can help you keep track of them all. Sharesight is a portfolio management software system created to help enable individual investors to collate and streamline their investment reporting. The app also provides detailed performance and tax reporting information all the way down to the transactional level.
Sharesight markets itself as 'the glue' between online brokers, share registries and excel spreadsheets. The app promises to provide customers with a truer representation of how their portfolio is performing. Sharesight also offers tax reports that may come in handy when tax time rolls around.
Yahoo! Finance
The free to download Yahoo! Finance app strives to be the all-in-one destination to track your portfolio, markets and the economy. The app allows you to follow the stocks that interest you in custom watchlists as well as receiving personalised news and alerts. Customers can also track the performance of a manually entered personal portfolio in real time. The app goes beyond equities, with the ability to track currencies, bonds, commodities, world indices and futures.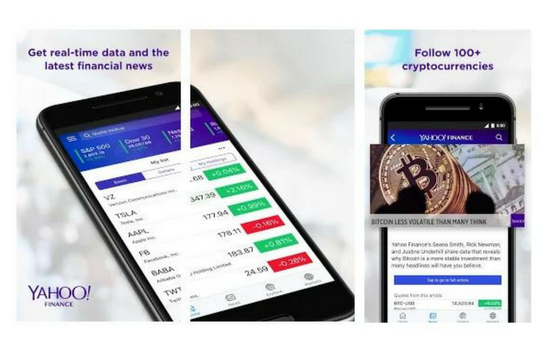 There's an app for that
Some smartphone investment apps are proving popular with customers due to the simplicity, accessibility and convenience they offer. This is a space that is constantly evolving as new fintech solutions are introduced into the market. Regardless of whether you are completely new to investing or whether you are an experienced investor, there are bound to be several investment apps out there that can cater to your needs.
---
Thanks for visiting Canstar, Australia's biggest financial comparison site*