When an asset's price rises or falls generally market sentiment has had a part to play. So, what is market sentiment and why is it important to investors?
What is Market Sentiment?
How Your Emotions Affect Asset Prices
Cycles in Market Sentiment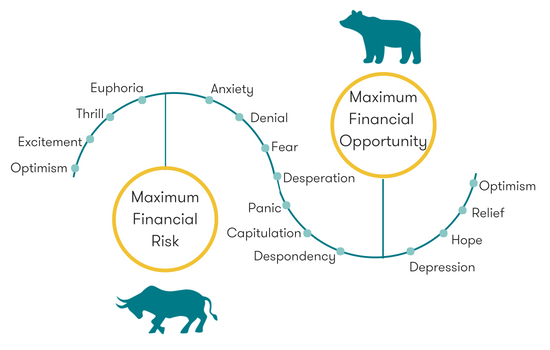 A typical cycle in market sentiment is shown above. The cycle encompasses an initial stage of optimism followed by peak euphoria, marking the top of an asset's price. This generally marks the point where every potential buyer has already entered the market. There may not be many investors left or willing to purchase the asset, if any existing investors do decide to sell. In this situation, the asset's price may give way to selling pressure, particularly if it trades above its intrinsic value.
Generally, a sell-off may be overdone if investor greed gives way to fear of further losses. Panic may take hold, leading some investors to sell an asset below its intrinsic value. Capitulation and despondency may mark an asset price's trough as investors have already exited en masse from their positions. Once a trough has been reached, over time the asset price may then trend towards its intrinsic value and the cycle may repeat itself.
Why is Understanding Market Sentiment Important?
Successfully recognising and evaluating market sentiment before making investment decisions may allow investors to objectively take a step back and evaluate an asset on its fundamental merits. As well as, identify how the crowd is positioned and what stage of the market sentiment cycle we are in.
Related Article: So, You Want to Pick Stocks? Here's What You Need to Know.
A Case Study: Bitcoin in 2017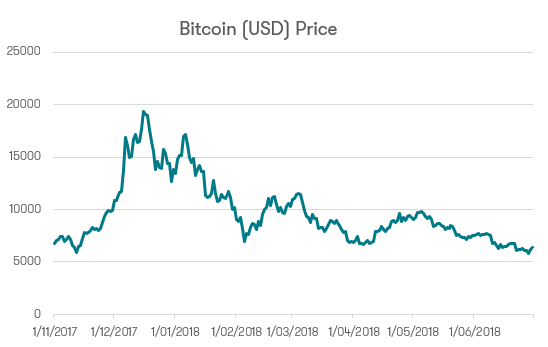 Measuring Market Sentiment
Given that market sentiment is a collective intangible feeling it is not simple to measure. However, market sentiment can be observed through the views of investors and their actions.
The Bottom Line
Being aware of the impact of market sentiment and actively identifying measures of market sentiment represent an important aspect within investing. After all, the end goal is to make money, and everyone wants to buy low and sell high.