Reviewing your portfolio can be a daunting task and is often neglected by investors. Chris Smith from VISIS Private Wealth discusses some simple tips for investors, and how advisers can drive your portfolio to the next level.
Have you ever wondered how to conduct a review of your own portfolio and what can an adviser do differently?
Setting yourself up to successfully review your portfolio starts before you even make the first investment, by establishing your goals and a clear investment strategy (this is important, so you know what to stick to when greed or fear turn up). Without having a clear understanding of the portfolio guidelines and what you are hoping to achieve from the outset, it is virtually impossible to effectively review the progress of your investments and make disciplined adjustments where necessary.
Reviewing your Portfolio
To successfully manage your portfolio, it is essential that you have an understanding of how to value a company, what impacts a company's share prices and what drives changes in the market. The relationship between the stock market, the economy and future economic conditions is one of the most important elements to effective decision making when managing and reviewing your portfolio. Fundamentally, what you pay for a share in a company represents the price you are willing to pay for the future earnings of that company and the risk or likelihood of those earnings exceeding or falling short of your expectations. In other words what price would you pay for the estimated future profits of a certain company at any one time.
You should also take some time to reflect on your goals and personal financial requirements from the portfolio to understand any potential risks and avoid being in a position where you must sell assets to meet your financial obligations down the track.
A good place to start your review is to look at your current asset allocation and how this compares to the benchmark for your investor risk profile. The asset allocation and risk profile you utilise can have a significant impact, positive or negative, on your portfolio's returns and is something that shouldn't be taken lightly. As a guideline, there are a variety of companies which publish their target asset allocations that investors can utilise when conducting a portfolio review.
From here, overlay your initial observations of the market and make tactical adjustments to your asset allocations where necessary. This could mean it may be appropriate to be overweight in your cash position in anticipation of potential future investment opportunities, such as a market correction, or taking an overweight position in growth assets during times of economic prosperity.
Once you have an idea of what you want your asset weightings to look like, each individual holding requires assessment to determine if it is necessary to make any adjustments. When assessing your holdings, it is also important to ensure they will retain their marketability into the future, allowing them to be readily redeemed for fair market prices quickly if necessary. Without the access to extensive research libraries and market data sources that advisers have, this may require reviewing ASX announcements for annual results and media releases for direct equities, or performance reports listed on fund manager websites for ETFs.
What Can an Adviser Do Differently?
There are so many benefits to having your portfolio managed by an experienced and skilled adviser, however one that really sets advisers apart is their ability to distil necessary information whilst removing any emotional factors in their decision making. A great example of this is the wide-spread market sell off which occurred during the recent COVID-19 pandemic. While the fundamental value in a lot of assets was still there, many investors still sold their holdings at a bad time due to the panic instilled in the market. This is where advisers can really make a difference, utilising their past experiences and research to provide reassurance to their clients and potentially deter them from making poor investment decisions.
Managing portfolios generally makes up a considerable amount of an adviser's day, so it goes without saying that they are going to have a certain level of technical expertise and knowledge that most individual investors will not. This allows advisers to really focus on company operations and long-term earnings capabilities rather than falling into value traps or adopting a dividend seeking strategy that may not actually account for how the company generates the profits to pay the dividends. A good adviser will not only share this decision-making process with clients, but tailor their delivery to ensure it is aligned with the client's level of knowledge and interest.
Another advantage of utilising an adviser is their access to extensive research resources to assist in their portfolio decision making process. Advisers generally spend a significant amount of time and money investing in quality research analytics and building tools to optimise their portfolio management process. With these resources available to them, advisers are not only able to conduct efficient and effective reviews on a scheduled regular basis but can constantly monitor the market for opportunities or threats. In other words, your portfolio is going to benefit from informed and proactive decisions rather than reactive adjustments when things have already started to go wrong.
So, What's My View?
Advisers can still be beneficial to investors carrying smaller portfolios, however where I think they can really bring value is managing larger scale direct equities portfolios that require a higher level of attention and expertise. Without the safety net of fund managers re-weighting and adjusting your underlying holdings, it is so easy for your portfolio to quickly become off track. As a general guideline, I would consider recommending a portfolio of direct equities for capital investments in excess of $500,000. This is not only a level where you build appropriate diversification in your holdings, but also where it really starts to become a cost-effective exercise to engage with an adviser. Most advisers typically have minimum annual fees, and you just aren't going to be getting value for money when paying for an adviser to manage a portfolio worth $20,000.
Ultimately, you are only going to get out of your adviser what you put in, so placing strict portfolio guidelines and unresponsiveness is going to impact what your adviser will be able to achieve for you. Regardless of your personal investment philosophy, the alpha of outperformance that an adviser can offer in both good and bad times is certainly worth it.
If you're comparing Online Share Trading companies, the comparison table below displays some of the companies available on Canstar's database with links to the company's website. The information displayed is based on an average of 6 trades per month. Please note the table is sorted by Star Rating (highest to lowest) followed by provider name (alphabetical). Use Canstar's Online Share Trading comparison selector to view a wider range of Online Share Trading companies.
---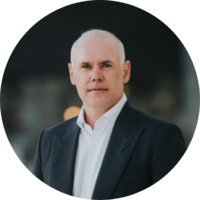 Chris is the founding partner of VISIS Private Wealth and has been recognised multiple times as an industry leader for his strategic advice expertise. Most recently, he was recognised at the Independent Financial Adviser (IFA) Awards as Investment Manager of the Year and Self-Managed Fund Adviser of the Year. Chris founded his firm with the vision of providing a holistic offering of services avoiding the influence of external product providers, enabling him to deliver advice with an entirely client first approach.