When it comes to investing it is well documented that human biases have a huge impact on our trading decisions. Confirmation bias, anchoring and the halo effect occur at every level of investing regardless of whether you're Jane Smith making her first investment in markets or Warren Buffett.
Investors have devised a multitude of strategies in an attempt to eliminate these biases. Some of which are highly effective, but ultimately no matter how hard we strive, it all comes down to a human decision which can be influenced by our cognitive biases.
But there are emerging tools that can help us come to these decisions, such as AI.
Unlike people, artificial intelligence, by collecting and processing historical data, patterns and multiple factors to optimise, has the brainpower to assess quite literally millions of data points to generate buy, hold or sell recommendations, without the shackles of our biology. Yet the technology is still developing and we cannot rely on this solely as a strategy. My recommendation: a mix of both.
Finding balance with technology
The beauty of this technology is that we don't need to make a mutually exclusive approach – nor should we.
Retail investors can use a blend of their own research combined with AI insights to test which methods result in the best outcomes before raising the stakes. AI insights could also reveal new areas for further research which then lead to an investment.
AI: A new institutional barrier to break down
Let's not forget that these are the professionals whose sole purpose is to generate returns for their clients, and it should not be an exclusive tool only for institutions. Admittedly, these large firms can afford to invest a little more in AI than your average retail investor but as the technology evolves, it's also becoming more accessible.
Can Artificial Intelligence be trusted?
A recent report by KPMG has shown that only one in three Australians trust AI, 45% are unwilling to share information or data with AI systems and 40% are unwilling to trust the output of an AI system. As we can see, there is still a way to go to build trust but this is not a black and white proposition.
AI is still in its early adoption phase across most sectors and handing over the decision-making process does take a level of faith in the technology, but I refer back to my earlier point on cognitive bias.
One of the most important factors in investing is trust. When investing our hard-earned money, if we make the decision then we are accountable to it and responsible if things go badly, which in fact can be quite comforting.
Using AI insights as a tool and blending in our own analysis to make decisions can yield better results and this will only improve as the technology develops along with our understanding of how to leverage it.
Investing is competitive by nature and those who can best harness the tools will give themselves every opportunity to generate market-beating returns.
Main image source: Shutterstock (Jirsak)
---
If you're comparing Online Share Trading companies, the comparison table below displays some of the companies available on Canstar's database with links to the company's website. The information displayed is based on an average of 6 trades per month. Please note the table is sorted by Star Rating (highest to lowest) followed by provider name (alphabetical). Use Canstar's Online Share Trading comparison selector to view a wider range of Online Share Trading companies.
---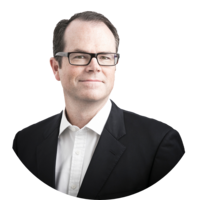 Adam Smith joined Saxo Bank in 2019 and as CEO assumes overall responsibility for growing the Australian business for active traders, investors and wholesale clients.
He has over two decades of experience working in the financial services and technology sectors and joined OFX, an ASX listed financial services/technology company, where he served as the Chief Operating Officer. Prior to this, Adam Smith held several senior commercial and operational roles within ANZ Global Markets and Macquarie Bank in both Australia and Hong Kong.
Within his position, Adam Smith is responsible for leading the efforts in the Australian market to deliver Saxo Bank's vision of democratising trading and investment and share the bank's capabilities to deliver financial services to other companies, not only as a provider of markets technology but as a true partner who can augment those companies' value propositions for their clients.
---
Thanks for visiting Canstar, Australia's biggest financial comparison site*