COVID-19-related restrictions are likely to limit international travel for some time to come, but that's not to say your money can't take an overseas trip. Canstar reveals which international money transfer providers offer outstanding value in 2020.
Data from the World Bank shows that Australians sent a record US$7.44 billion (around AU$10 billion) overseas in 2019. This year, the World Bank expects global overseas payments to fall by around 20% – the sharpest decline in recent history – due to the economic crisis caused by the pandemic.
Looking closer to home, the East Asian and Pacific region is tipped to be the area with the lowest drop in transfers in 2020 of around 13%, and with Australia Post warning of longer-than-usual delivery times this Christmas, some Aussies with family overseas may be considering wiring cash instead of sending the traditional care package complete with Vegemite and Tim Tams.
If you're weighing up your options for sending money overseas, you may be able to save on fees and exchange costs by using a provider found to offer outstanding value by Canstar's expert researchers.
As part of our International Money Transfers Star Ratings, Canstar assessed 22 providers based on fees and exchange costs on 500 sample transfers across five currencies: the US dollar, the Great British pound, the New Zealand dollar, the Euro and the Singapore dollar. The Rating methodology also examined features offered by providers, including the range of currencies and international payment facilities they made available to customers.
In 2020, peer-to-peer and other non-bank providers continued to outperform the banks on pricing, offering exchange rates significantly cheaper than the big banks, according to Canstar Research.
What difference can a 5-Star Rated international money transfer provider make?
Looking at a sample transaction transferring Aussie dollars to US dollars, Canstar Research found that consumers could save almost 3% of the transfer amount by using a 5-Star Rated provider compared to the average of all the providers assessed in 2020.
| | | | |
| --- | --- | --- | --- |
| | 5-Star Average | Database average | Difference |
| You send | AU$15,000 | AU$15,000 | – |
| Recipient gets | US$10,721.12 | US$10,421.48 | US$299.63(2.88%)* |
Source: www.canstar.com.au – 27/10/2020. Based on institutions rated in Canstar's International Money Transfers Star Ratings (November 2020). Exchange rates and fees used in calculations are based on historical averages with quoting undertaken from 4/08/2020 to 27/08/2020. Calculations are based on transfers to a different institution. *Difference represents the absolute and percentage difference of the 5-Star average net $US received above that of the database average.
5-Star Rated International Money Transfer providers in 2020
The following providers, shown in alphabetical order, were found to offer outstanding value as part of this year's International Money Transfer Star Ratings.
TorFX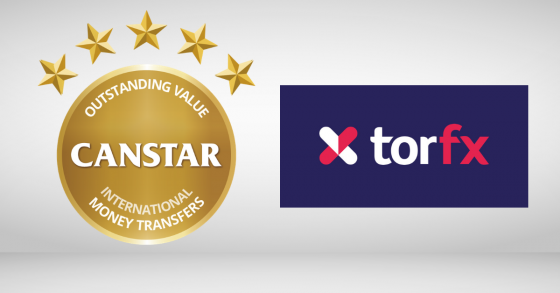 TorFX has yet again retained its 5-Star Rating, having also claimed one last year and in 2018. It continued to impress Canstar's researchers based on its competitive fees and exchange rates relative to the other providers assessed. The TorFX group says it transacts over $10 billion annually and offers customers a personal account manager to assist with transfers.
TransferWise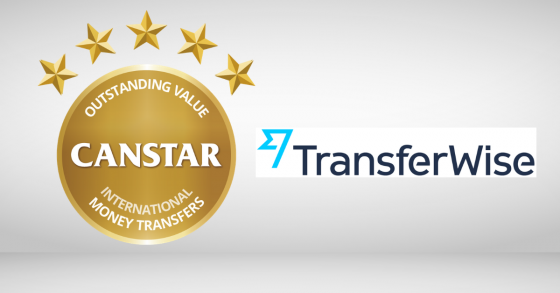 TransferWise has once again emerged as a standout provider of international money transfers, according to Canstar Research, making this the second year in a row it has won. It impressed particularly on price and was one of the market leaders, based on its fees and exchange rates across the range of sample transfers considered. TransferWise is a global provider with 15 offices and 8 million customers around the world at the time of writing. It says it helps customers send US$5 billion each month.
Note: TransferWise rebranded to Wise in February 2021.
WorldFirst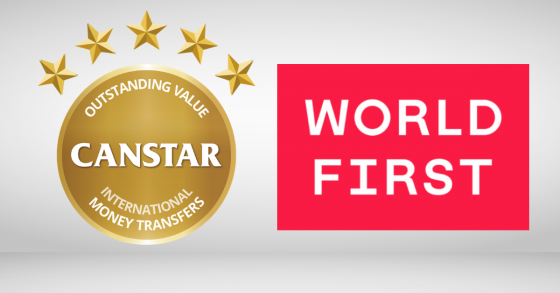 WorldFirst has been awarded a 5-Star Rating for the fifth consecutive year. Its pricing model, which involves a single flat fee of 0.5% or less on transfers on top of the exchange rate, helped it stand out once again among the providers assessed, Canstar Research said. Its feature score was enhanced by its online tools and support, as well as its expansive range of currency options.
Main image source: Natali_Mis (Shutterstock).