If you're deciding where to rent or buy, one important consideration can be how safe the area is. Canstar has identified the 10 suburbs in Melbourne with the lowest crime rates, based on official statistics.
According to the latest figures from the Crime Statistics Agency, the number of criminal incidents across Victoria was up 1.3% in the year ending June 2019. However, when weighed against population, the overall rate actually decreased by 0.8%. Put another way, the figures show that around one in every 33 Victorians were victims of crime over this 12-month period.
So where are the safest neighbourhoods in Melbourne specifically? Below we list the suburbs with the lowest crime rates in the year ending March 2019 and get an insurer's perspective on how crime rates impact the cost of home insurance.
What are the safest suburbs in Melbourne?
In 2019, the 10 Melbourne suburbs with the lowest crime rates were:
The Patch: 1.03 incidents per 100 residents
Park Orchards: 1.33 incidents per 100 residents
Ferny Creek: 1.38 incidents per 100 residents
Selby: 1.47 incidents per 100 residents
Kallista: 1.53 incidents per 100 residents
Warrandyte: 1.74 incidents per 100 residents
Montmorency: 1.74 incidents per 100 residents
Donvale: 1.86 incidents per 100 residents
Sassafras: 1.88 incidents per 100 residents
Black Rock, Beaumaris: 1.94 incidents per 100 residents
These suburbs had the lowest number of recorded criminal incidents from April 2018 to March 2019, according to Canstar's analysis of Crime Statistics Agency Data. Criminal incidents included crimes against the person (such as assault and robbery), property and deception offences (such as property damage and theft), drug offences, and public order and security offences (such as disorderly conduct and public nuisance). This was weighed against the number of residents in each suburb, according to the Australian Bureau of Statistics (ABS).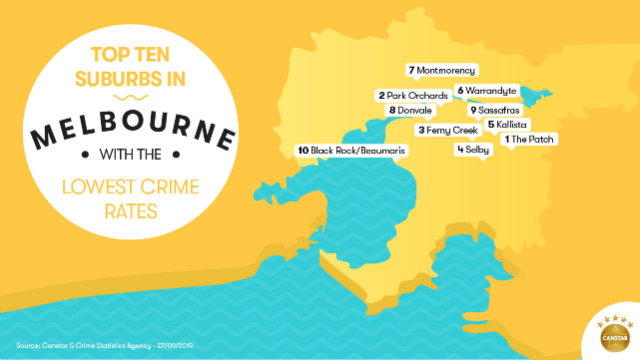 According to Canstar's analysis, The Patch had the lowest number of recorded criminal incidents by population in 2019. It's worth keeping in mind that The Patch is located 39 kilometres east of Melbourne's central business district and, according to the ABS, has a population of 1,065 residents.
Aside from Black Rock and Beaumaris, which are south of the CBD, all of the 'safe suburbs' identified by Canstar were in Melbourne's east. They are also relatively low-population suburbs when compared to more central areas.
What Melbourne suburbs have the highest crime rates?
Canstar has also identified the Melbourne suburbs that had the highest number of recorded criminal incidents for the year ending March 2019, based on the Crime Statistics Agency's data. The top 10 suburbs with the highest crime rates were:

Melbourne City: 35.76 incidents per 100 residents
Collingwood: 21.51 incidents per 100 residents
Fitzroy: 19.64 incidents per 100 residents
Campbellfield: 19.05 incidents per 100 residents
Docklands: 18.65 incidents per 100 residents
South Melbourne: 15.68 incidents per 100 residents
St Kilda West: 13.87 incidents per 100 residents
Abbotsford: 13.59 incidents per 100 residents
Parkville: 13.28 incidents per 100 residents
Southbank: 13.24 incidents per 100 residents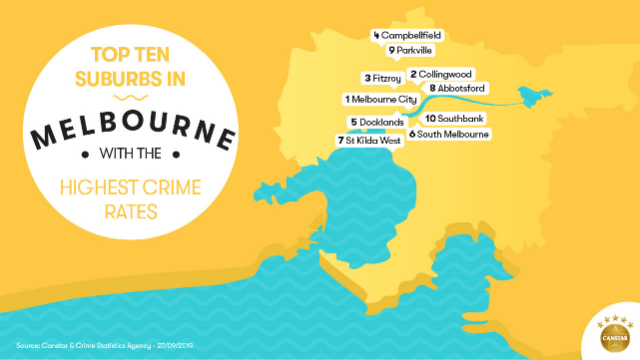 Melbourne City was found to have had the highest crime rate in 2019. This rate could perhaps be partly explained by the suburb's high population – 37,975 residents according to the ABS – and the amount of foot traffic it receives from locals as well as tourists. The majority of other identified high-crime suburbs were also centrally located and home to a high number of residents.
What Melbourne suburbs have the highest home insurance claims?
Looking to home burglary and theft rates, analysis from Guild Insurance, who is a niche insurer in the personal home insurance market, reveals the areas of Melbourne with the highest number of claims from July 2002 to September 2019. According to the data, the five suburbs with the highest burglary and theft claims over this time were Hampton Park, Broadmeadows, Burnley, Plenty and Kingsbury.
In 2018, RACV also identified Broadmeadows, Dallas, Jacana and Diggers Rest amongst its top 10 riskiest suburbs in Victoria in terms of burglary rate. According to RACV, homes in Broadmeadows, Dallas and Jacana had a one in 30 chance of being burgled, while homes in Diggers Rest had a one in 31 chance.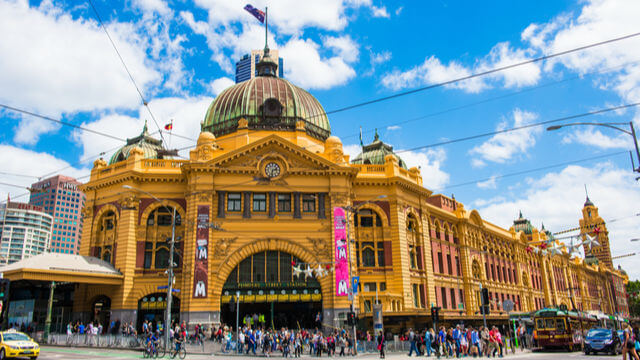 How can a suburb's 'safety' impact the cost of home and contents insurance?
In addition to potential safety concerns, living in a high-crime neighbourhood could also have an impact on your hip pocket. According to Guild Insurance, if an area is statistically shown to be prone to more crime or damage to homes, this can impact how much it costs an insurer to provide home and contents insurance. This can result in higher premiums for customers in these areas.
However, Guild Insurance says this is just one aspect of how it calculates premiums and that other factors, such as whether your suburb is susceptible to natural disasters like floods and bushfires, are typically more important in determining cost.
If you do live in a high crime area, one way you may be able to reduce premiums could be by installing additional security measures. Security features such as deadlocks and monitored alarms can reduce the risk of crime-related claims and will generally be reflected in a lower insurance premium, Guild Insurance told Canstar.
Note: Top 10 lists above are based on Melbourne suburbs (as defined by Domain) with the lowest or highest combined total of division A, B, C & D incidents recorded (via Crime Statistics Agency Victoria) per 100 residents. Number of residents per ABS 2016 Census QuickStats. Excludes incidents recorded at Justice institutions and immigration facilities, and where the postcode or suburb/town is unknown or outside of Victoria. Excludes division E (justice procedures offences) and F (other offences).
Main image source: f11photo (Shutterstock)
---
Compare Home Insurance
If you're comparing home and contents insurance policies, the comparison table below displays some of the policies currently available on Canstar's database for an Australian aged under 50, seeking cover in NSW or ACT for a cost to replace building and contents of below $550,000. Please note the table is sorted by Star Rating (highest to lowest), followed by provider name (alphabetical) and features links direct to the providers' websites. Use Canstar's home insurance comparison selector to view a wider range of policies.
---
---