Tracking of average home loan interest rates on our database shows the lowest rates can be found on fixed terms. An expert reveals what to consider when locking in during a time of high uncertainty.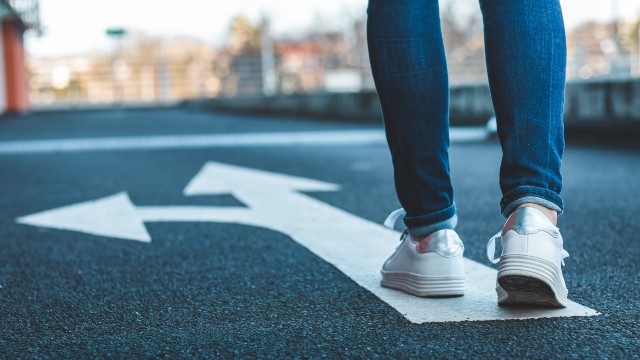 Australians experienced many unexpected changes recently – the impacts of growing cases of coronavirus here and abroad, greater uncertainty in financial markets, economic assistance from the government and two cuts to the official cash rate by the Reserve Bank of Australia (RBA) in March.
We also saw fixed home loan rates drop dramatically across the board last month, with Canstar's database showing more than 1,300 decreases to owner-occupier and investment fixed rate loans where borrowers pay principal and interest, compared to less than half that number of variable rate cuts.
Canstar finance expert Steve Mickenbecker said usually only around 15% of Australian home loan rates are fixed, but with fixed rates trending lower that could all be about to change.
So, should you buy into these falls to try and take advantage of saving on interest at your bank – or a new one – during these uncertain times?
How do fixed rates and variable rates compare, and is now the right time to fix?
The RBA's move to slash the cash rate twice in March to the historic low of 0.25% would typically have resulted in mainly variable rate reductions across residential and investor home loans. But many lenders, including the big four banks, opted instead to introduce lower fixed rate mortgages.
With fixed rates now as low as 2.09% (various comparison rates across different products), some mortgage holders are asking themselves if now is the time to consider fixing their interest rate.
After all, with the cash rate still at the historic low of 0.25% after yesterday's RBA board meeting, and economists anticipating that interest rates could be in this low territory for some yet, more people may opt to lock in a fixed rate in future.
Fixing a home loan may look like a favourable option when you compare the average variable rate for owner-occupiers paying principal and interest on Canstar's database of 3.51% to the average three-year fixed rate of 2.72% – there is a margin of 0.79 percentage points between the two. The margin is even higher for the average two-year fixed rate of 2.75%, being 0.82 percentage points.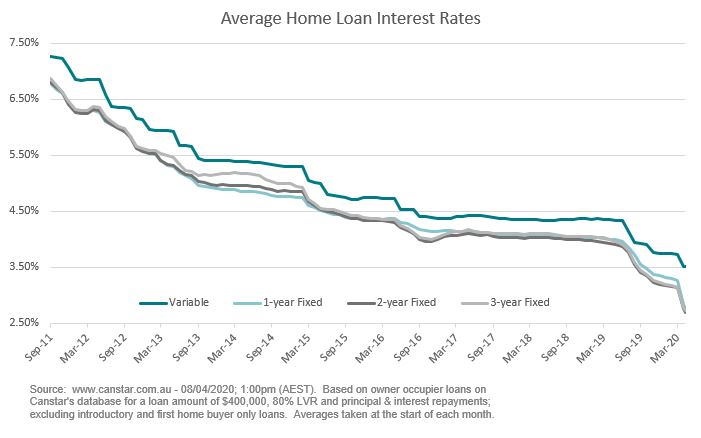 If you're currently considering a home loan, the comparison table below displays some of the fixed rate home loans on our database with links to lenders' websites that are available for the purpose of buying next home. This table is sorted by Star Rating (highest-lowest), then comparison rate (lowest-highest). Products shown are principal and interest home loans available for a loan amount of $350K in NSW with an LVR of 80% of the property value and have a fixed period of up to 3 years. Before committing to a particular home loan product, check upfront with your lender and read the applicable loan documentation to confirm whether the terms of the loan meet your needs and repayment capacity. Use Canstar's home loan selector to view a wider range of home loan products.
Canstar finance expert Steve Mickenbecker said borrowers have been faced with a tricky choice, because to take up the competitive rates on offer at the moment could mean having to convert their loan to a fixed rate.
On the one hand, some borrowers may find that locking in their rate now would give them a sense of certainty in what their repayments will be, and guard against any potential rate hikes during the fixed-rate period.
One factor of locking in a rate to keep in mind could be a lack of flexibility in some cases to make extra payments and pay off the loan early, given some lenders have a penalty attached for doing so, Mr Mickenbecker said.
"Fixed rates are priced well below variable rates at the moment, and by a wider margin than we have seen in quite some time, making fixed rates attractive," Mr Mickebecker said. "But there is also high uncertainty at the moment and some mortgage holders may be fearful of job loss and having to sell their home."
For borrowers interested in taking the leap to lock in a home loan rate now, rather than riding out the somewhat unpredictable nature of variable interest rates, here are some things to consider when doing so:
5 things to consider when fixing a home loan interest rate
Mr Mickenbecker outlined a few points borrowers may want to consider when taking out a fixed rate home loan, including:
1. Can you make extra repayments?
Before committing to a fixed rate, it's important to understand what, if any, restrictions the bank puts on making extra repayments. For instance, some lenders may charge a fee or limit the number of extra repayments a customer can make during their fixed-rate period.
2. Could you benefit from some cash flow certainty?
One advantage of taking out a fixed rate home loan is that the borrower knows what their repayments will be each month or fortnight, because the interest rate stays the same for the duration of the fixed term. This could be an attractive option that may make budgeting easier and help shore up cash flow.
3. Can you leave the loan early, and at what cost?
It's a good idea to confirm whether the lender allows early repayment of the loan and be clear that if market interest rates fall a borrower could be up for a cost, potentially in the thousands of dollars, to compensate the bank. ASIC's Moneysmart notes these 'break fees' will generally be higher the more interest rates have come down since you took out the fixed-rate loan.
4. What does the revert rate look like?
Another aspect to consider is the revert rate, which is the interest rate a loan moves to after the fixed term. Revert rates are typically higher, which could mean having to renegotiate a loan at the end of the fixed term to retain a competitive interest rate.
5. Are you locking in your repayments at an amount you're comfortable with?
Fixing a home loan interest rate is about locking in the repayments at an affordable level for the borrower's circumstances, not about speculating on future interest rates movements.
If borrowers are unsure whether or not to be entirely locked into a fixed-rate term for a number of years, another option could be to consider splitting a home loan to have a portion of the balance charged at a fixed rate for a period of time and the rest charged at a variable interest rate, which is an option available at a number of lending institutions.
As with all our content, Canstar's Coronavirus coverage will always be free for our readers.